Need something with BBQ power that doesn't break the bank? Here are 5 of the very best 2-burner gas grills to transform your cooking.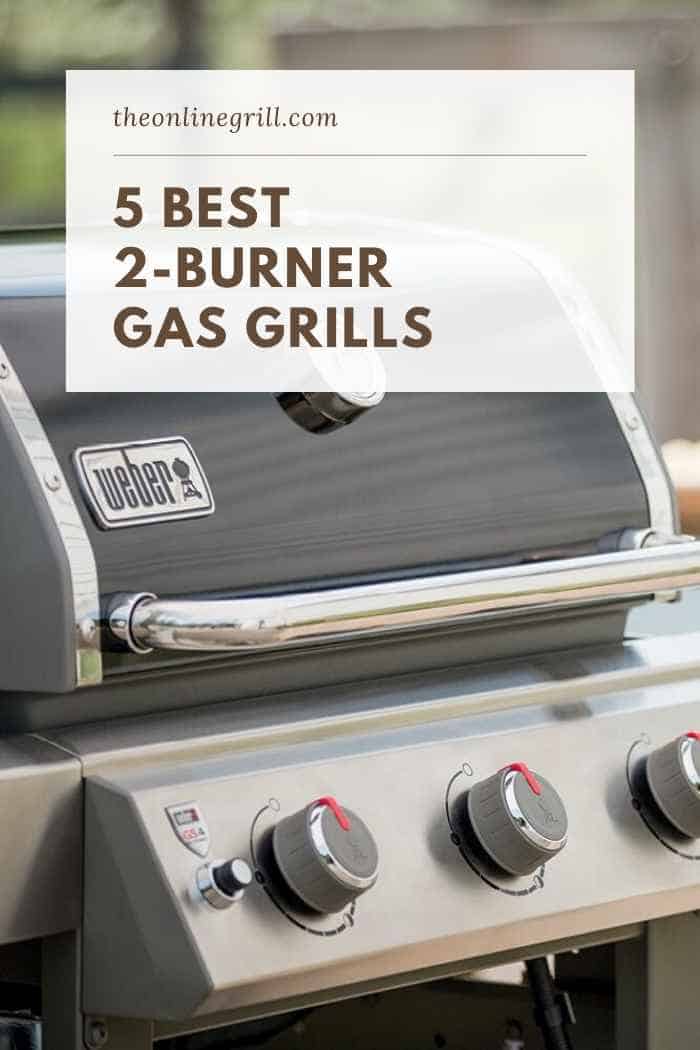 2-burner propane grills are a great entry point to outdoor grilling for newbies. They're easy to use, reliable, and affordable.
Our Top 3 2-Burner Gas Grills
Char-Broil Performance T22G

: A really well-designed grill, made from durable stainless steel. Not only is it sturdy and high-quality, but this grill will last you for the long term.

Char-Broil Signature TRU-Infrared 325

: Extremely fuel-efficient thanks to its built-in infrared cooking system. Just like the other Char-Broil heading our list, the Signature uses up to 30% less gas than standard propane grills. All while producing food that's up to about 50% juicier.

Weber Spirit II E-210

: A premium portable propane grill. Comes with easy controls to make keeping on top of the ignition and burner range simple.
Don't let the modest price of these grills fool you. They still offer excellent grilling flexibility. Their dual burners can accommodate two sets of food cooking at once, and their stripped back build means that they're also easy to move around.
This doesn't mean that they're lacking in firepower or features. You just need to know what to look for.
In this guide, I'll show you the top 5 2-burner gas grills, as well as everything you need to look out for when you hit the market.
Let's get into it.
Char-Broil Performance T22G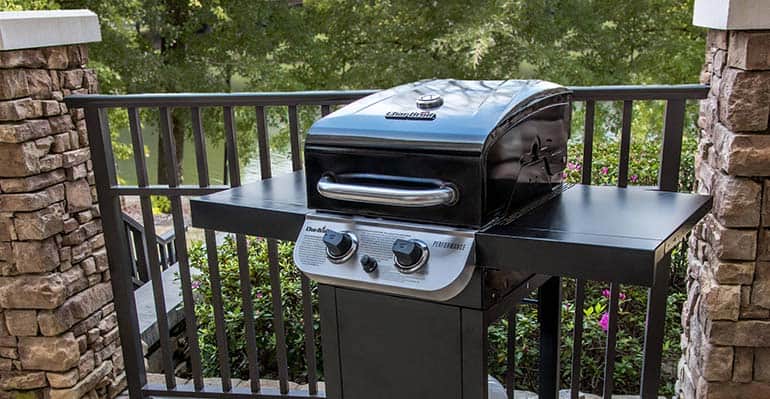 Quality of construction is something to always keep in mind when choosing your 2-burner grill, and here the Char-Broil Performance 300 doesn't disappoint.
It's a really well-designed grill, made from excellent quality and durable stainless steel. Not only is it sturdy and reliable, but this grill will last you for the long term.
Its fantastic build doesn't just stop at sturdiness. It's built to be corrosion and rust-proof, making it excellent as an outdoor fixture in your backyard or patio.
Ultimately though, grills are judged on performance. Char Broil more than delivers here.
The Char Broil Performance uses infrared technology to ensure even heat distribution across its cooking surface, all while using 30% less propane fuel than regular gas grills. This energy efficiency will save you immense costs over time.
The use of two burners allows you the flexibility to cook more than one type of food at once, using two different grilling temperatures simultaneously.
Ease of use features prominently on the Char Broil Performance. Its cooking temperature is incredibly easy to control, while the built-in thermometer has a clear and accurate reading of grate level temperature so you can gauge heat levels where it matters most.
It features a one-touch ignition button that gets the grill going quickly, allowing you to start grilling almost instantly.
It has a warming rack to rest cooked food on while you continue grilling, as well as folding side shelves to give you even more room to work with.
This is a grill built with simplicity and high performance in mind, and it delivers on both counts. A top gas grill.
Need something with a bit more power? Check out my guide to the best 4 burner gas grills.
Char-Broil Signature TRU-Infrared 325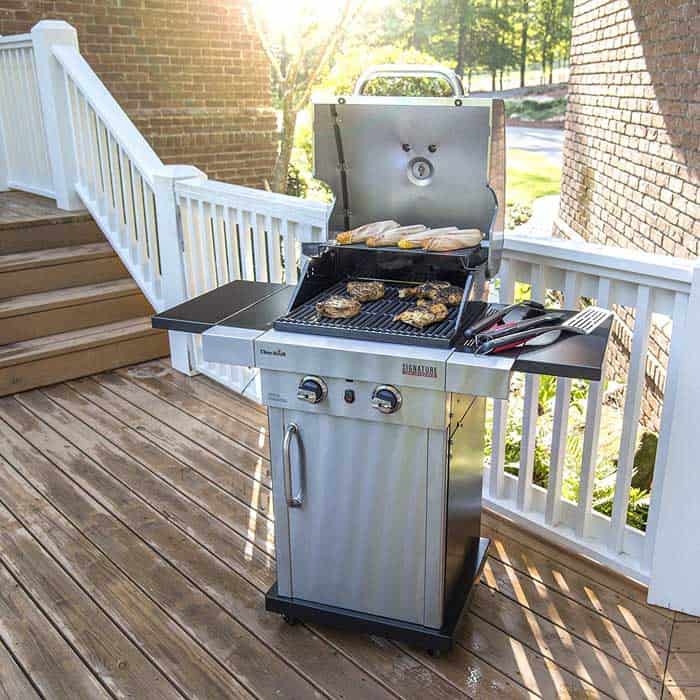 In second place is a grill by a brand that feature pretty consistently in my top lists for different types of grill: Char Broil.
And it's for good reason: This is one incredibly reliable and efficient two-burner grill.
Ease of use and portability are two crucial criteria that should be considered with two-burner grills. With the Char Broil, it has a set of movable wheels that makes it really easy to store away, bring out, or even take on the road.
This grill is really economical on gas usage thanks to its true infrared cooking system. Just like the other Char Broil heading our list, the Signature uses up to 30% less gas than standard propane grills, all while producing food that's up to about 50% juicier.
The infrared system creates even heat distribution, which means no cold spots and no flare-ups. In short, this means evenly, thoroughly cooked food.
It has a lid-mounted temperature gauge that allows for elementary monitoring of the temperature. While I would always recommend getting a proper grill thermometer, this built-in probe is a good start.
With ease of use at its core, the Char Broil is also easy to ignite and start using. It features what Char Broil have called its SureFire electronic igniter. This is ignition system is designed to light the grill all on just one push of the button.
Convenience is often the name of the game when it comes to gas grills, and this ignition system is a vital component of that.
It doesn't stop there though. It has warming racks and storage space built in, helping make the time you spend on the grill fuss-free and – dare I say it – enjoyable.
This is a durable grill, and one for the long term. It's built with high-grade stainless steel throughout and is well insulated enough to keep up high levels of performance.
A very worthy runner-up.
Weber Spirit II E-210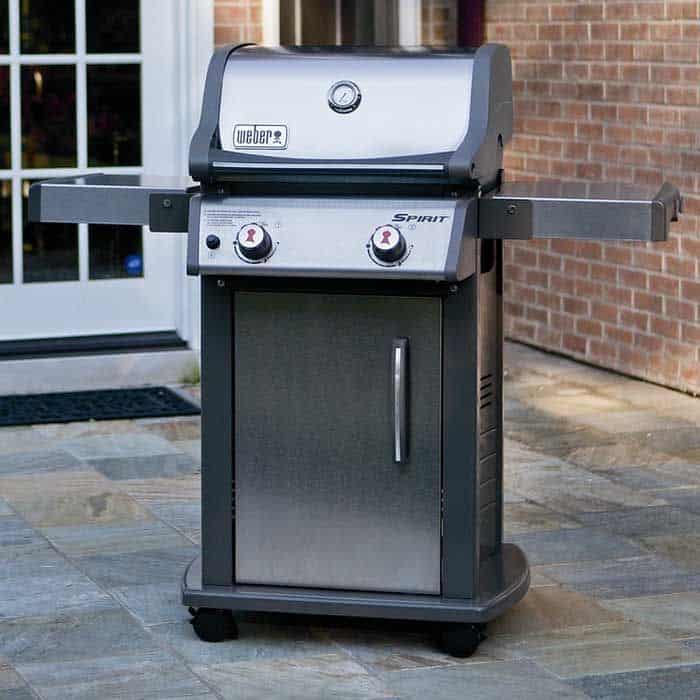 Weber often feature on our best of lists, but this is testament to the fact that these guys just know what they're doing.
The Weber Spirit EII E-210 is no different and is a great grill that will stand you in good stead for years.
It's built from high-quality stainless steel, which will see it through the elements and frequent use. Its cooking surface has cast-iron grates that are a joy to cook on, and will see it stand up against rust and corrosion throughout barbecue season.
The two burners help cook different foods simultaneously, which is a huge time saver. Ideal when you have impatient people to feed!
Not only that, but its warming racks mean that if one food is done earlier than the other, then you can put it to one side without letting it turn cold or spoiling.
Weber's electronic igniter is as robust as any other grill on this list. It just needs one push of a button and it's good to go. It'll heat up quickly, giving you a grill that's ready to use in minutes.
The whole frame sits on wheels for easy portable use, making it great for both indoors and outdoors, as well as taking on the road with you.
It features a removable grease pan, which collects fatty run-off as you cook. After each use you simply remove and clean it. This is a huge time saver and helps maintain your grill well over months of use.
To help you keep on top of heat levels within your grill chamber, there's a lid-mounted temperature gauge. With this you can quickly check out the temperature of the grill for efficient cooking.
The grill has side shelves to help provide additional space needed for resting food or keep handy tools nearby.
Char-Broil Professional Series 2200 S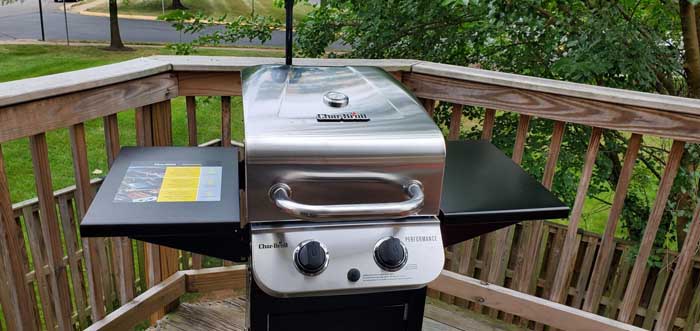 Like so many of their grills, Char Broil's Professional Series is a fantastic gas grill, built for long-term use and reliable cooking.
At the heart of its excellent performance is its infrared burners, which sit just below the cooking grates. Infrared technology in grills helps ensure even cooking temperatures across the entire grill surface and can help make food especially juicy and without any cold spots. Not only that, but it is far more energy efficient and can help save on gas use by around 30%.
It's not all about the infrared burners. Also integral to its excellent performance is its cast-iron cooking grates. These are durable enough to last for years and are also rust-resistant and make cleaning quick and easy.
It has a superb built-in ignition system all thanks to its sure-fire electronic ignitor. All you need to do is push 'go' and you are up and running.
The burners are built from quality stainless steel, which means they're almost guaranteed to last for years.
The grill comes with some excellent additions too. It has a warming rack so that you can easily rest food to one side without it turning cold. It also has a lid-mounted temperature gauge to help you stay on top of cooking temperatures at all times.
A solid fourth place option, but one that is absolutely deserving on this list.
Landmann 42202 Falcon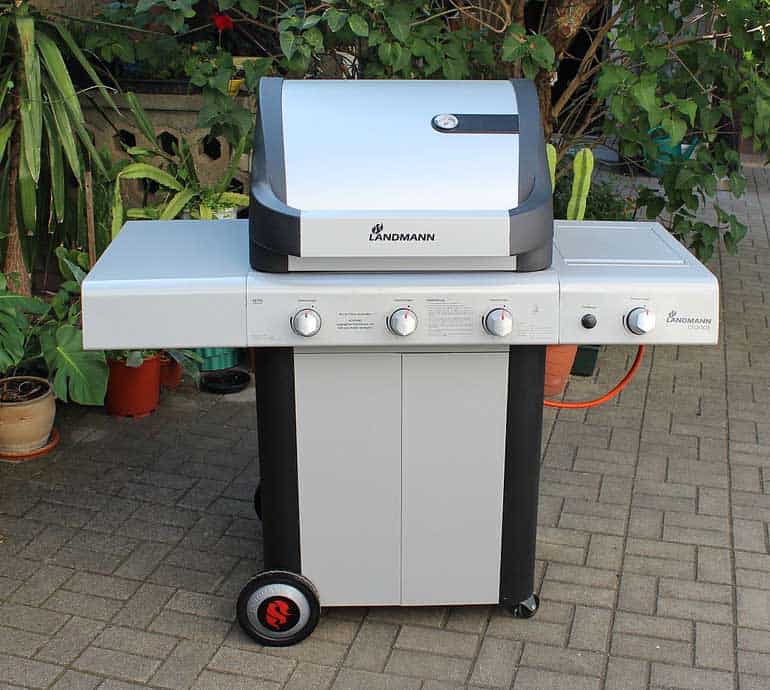 Landmann don't often feature on my best of lists, but this grill is too good not to share. While it doesn't have infrared burners, its iron grates are more than up to the job.
Its burners are made of aluminum steel, and are superbly responsive to their controls, giving you much finer control over their power output than with other grill models. They're controlled independently of one another, which makes the grill perfect for cooking different food separately.
It is a highly durable 2-burner grill built from the best quality of steel and chrome plated material. This makes it rust and corrosion resistant, making it superb at standing up to the elements whenever the weather takes a turn for the worse.
Its portable and its parts are easily removable to allow for easy cleaning and maintenance.
---
Why you should buy a 2-burner gas grill
While a 2-burner might not pack in quite as much power as a hefty 4 or 6 burner monster, they actually offer a lot more than you might think. Here are some of the best benefits of a 2 burner gas grill.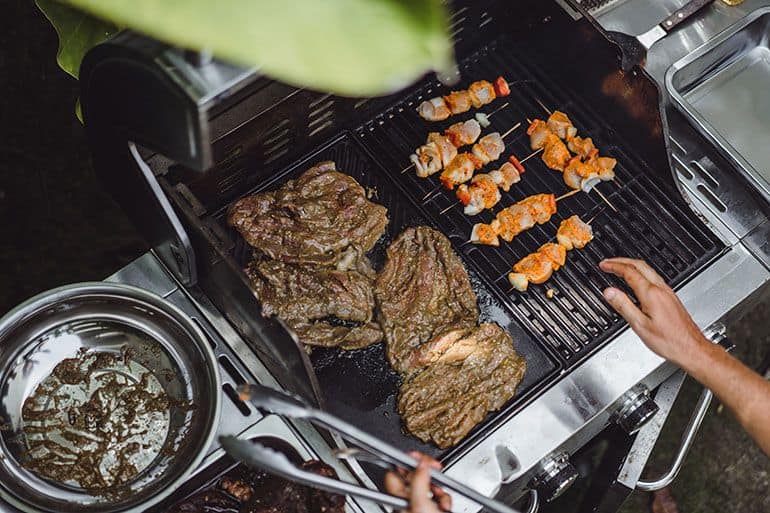 Fast cooking performance
One of the key USPs for 2-burner grills is their speed with a relatively smaller means of power behind it, getting it started and up to your target temperature is quick and easy.
Compared to charcoal grills, they take mere moments to heat up, and only need a fraction of the time that 4 or 6 burners need too. Perfect if you have hungry and impatient guests waiting on you.
They can also cook two dishes at the same time, practically halving the time you would need for a lot of other types of cooker.
Easy start
Most of the 2-burner grills are also easy to ignite since they have purpose built electronic ignition systems. With this you can easily light all the burners for quick cooking by just a push of the button.
This is a brilliant innovation compared to the challenge presented when trying to light a charcoal grill (if you don't know… it's difficult!). These systems are also safe and easy to manage.
Temperature control
Controlling heat levels within a grill is key, and what's really great about gas grills is that tweaking heat is far easier than their charcoal counterparts.
At a simple turn of a knob you can adjust temperatures, and you can also do it burner by burner, allowing you to cook different food simultaneously.
Using a charcoal grill is made especially difficult by difficulties with temperature control, so gas grills are welcome relief from that.
With the introduction of infrared burners, this control has been made even easier as heat levels are really consistent across the grill surface. Previous problems like flare-ups and cold spots are a thing of the past.
Last update on 2022-07-04 / Affiliate links / Images from Amazon Product Advertising API