Infrared grills produce even and consistent cooking temperatures for unbelievable grilled meat. Using thermal radiation provided by their infrared burners, it's a modern heat setup that delivers fantastic results. Check out our guide to the best infrared grills that the barbecue world has to offer.
It's hard to go long without hearing about infrared burners these days. The function has skyrocketed in popularity over the past few years, and its place in the grilling world has cemented while giving users an easy way to get excellent fuel efficiency, high searing temperatures, and even heat distribution.
At a Glance: Our Top 3 Picks
Best Infrared Grill: Napoleon Prestige 500
Excellent heat retention and huge cooking space. Built to last and boasts the best heat distribution we've ever seen on an infrared model
Runner-Up: Char-Broil Performance TRU-Infrared 450
Large cooking area and robust porcelain-enamel grates make this a worthy runner-up. Great heat distribution and easy to use.
Best Budget Option: Char-Broil Patio Bistro
Budget-friendly and easy to use. It might be small, but its TRU-Infrared setup prevents flare-ups and still delivers well-cooked and juicy meat.
These grills are far from just a gimmick. Their build is designed to ensure every ounce of power is used to its maximum, all while using radiant heat to cook food beautifully without leaving it prone to drying out.
When it comes to power efficiency and moisture-locking performance, there are few better types of cooker than infrared.
If you're new to the infrared game then this list of the best options out there will show you what you've been missing out on.
Napoleon Prestige 500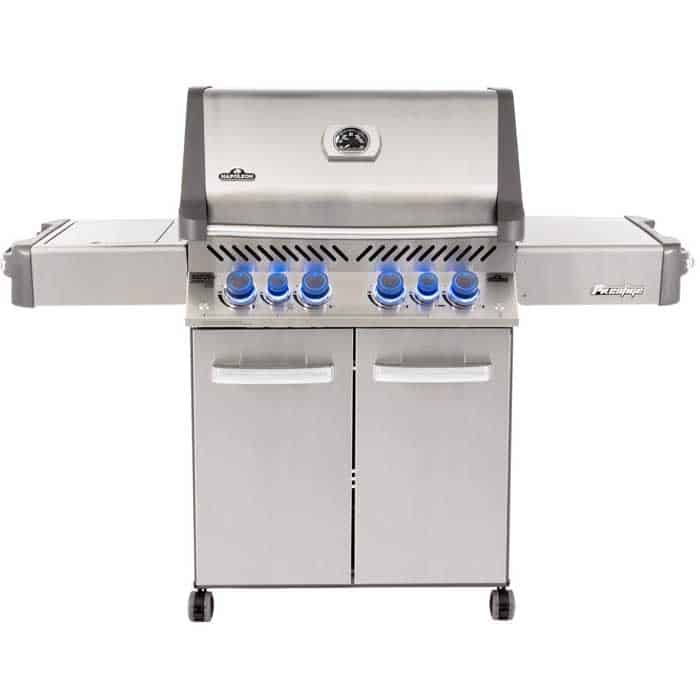 The Napoleon Prestige 500 uses its 48,000 BTUs of power to the maximum, with excellent heat retention and very generous cooking space. It's built to last and has probably the best heat distribution we've seen on an infrared grill.
I get excited whenever I get my hands on a Napoleon unit. Part of it is because it's not every day you get to use a high-end product, but the Canadian brand makes grills that are simply incredible to use.
Napoleon know what they're doing, and the Prestige 500 is proof of that.
With 48,000 BTUs of power spread over four burners, this grill has a lot of power considering that it's a (sort of) portable unit.
On top of these burners sits a generous 500 square inches of cooking space, with an added 260 square inches on its side burners and warming racks. It has porcelain enamel grates sitting over its infrared burners for excellent heat retention and distribution.
The Prestige 500 is powerful, it cooks evenly, and it will get the very most out of your propane stock.
Napoleon Prestige 500
4 Stainless Steel Main Burners, Produces 66,000 BTU's
Feed a Crowd with 760 in² Total Cooking Area
Durable, Marine Grade 7.5 mm Stainless Steel Iconic WAVE Cooking Grids
Char-Broil Performance 450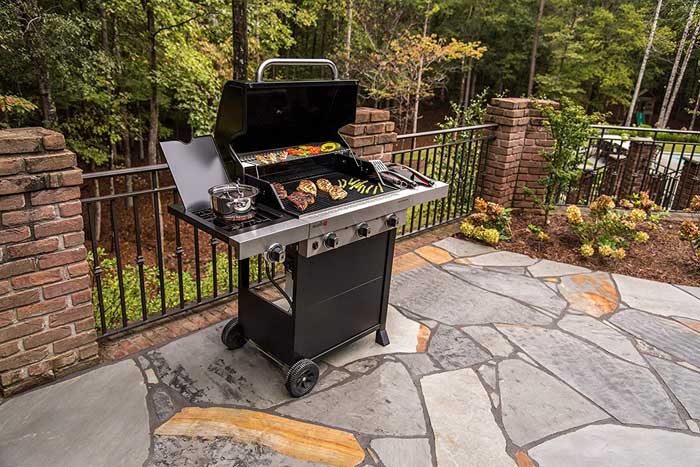 If you want to make the step up from Char Broil's Signature series, then the Performance 450 is the perfect entry point to their more prestige level grills.
This 3-burner unit isn't just one of their most popular infrared models, but is one of their most popular models out there. Period.
It has 34,000 BTUs in total, with 24,000 across its main grilling area, and the other 10,000 allocated to its side burner.
This is technically a mid-size unit, but at 450 square inches its cooking space is more than large enough to handle enough food for home use.
Its porcelain-coated grates are perfect for solid heat retention and distribution, and are also rust resistant. Any cooker that boasts these immediately has my attention, so I'm pleased that Char Broil offers them at pretty much every level of grill they now offer.
It doesn't stop there though. This Char Broil infrared also has porcelain enamel on its warming rack. This is hard to find on most other grills, as the warming racks are often neglected and left with cheap materials. Not so here.
Char-Broil Signature 525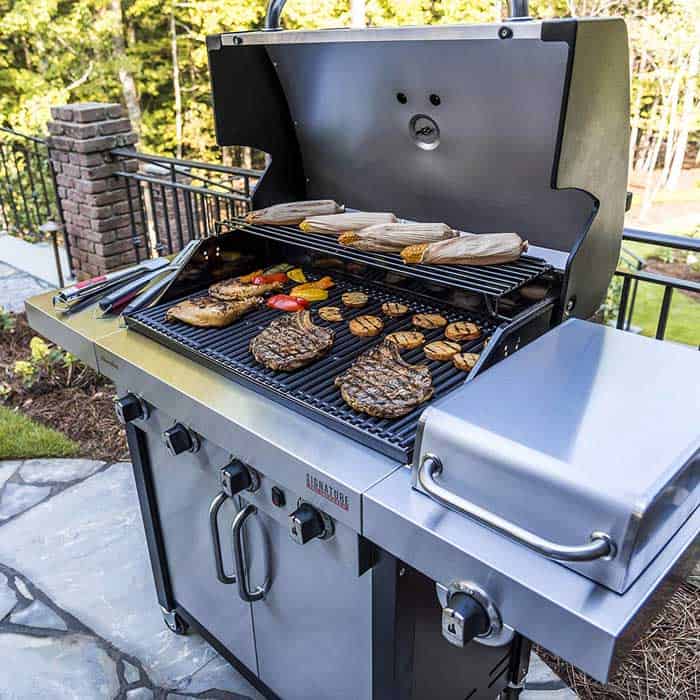 Char-Broil are one of my favorite brands when it comes to striking the perfect balance between affordability and excellent performance. This Tru-Infrared grill from the brand is the perfect example of this.
This model actually had a redesign in 2015 where its steel grates were replaced with porcelain-coated cast iron grates. These are far better at retaining and distributing heat, and this works in combination with its infrared emitter to provide a highly energy-efficient cooking environment.
This updated model also packs in a more powerful punch. It boasts four 8,000 BTU burners spread over its surface, which work together to fuel the grill's emitter, transforming convection heat into infrared heat.
It also comes with a 13,000 BTU side burner for cooking side dishes or even searing meat for a beautiful BBQ finish.
What sets this grill apart is the cooking space on offer. Its grates offer a generous 725 square inches of room to work with, making it one of the largest units on this list.
Sale
Char-Broil 463377319 Performance 4-Burner Cart Style
Power Source: Propane/ liquid petroleum gas. The propane tank is not included.
Exclusive Stainless Steel finish for increased style and durability
Reliable electric ignition to fire up your grill and 10, 000 BTU side burner
Char-Broil Patio Bistro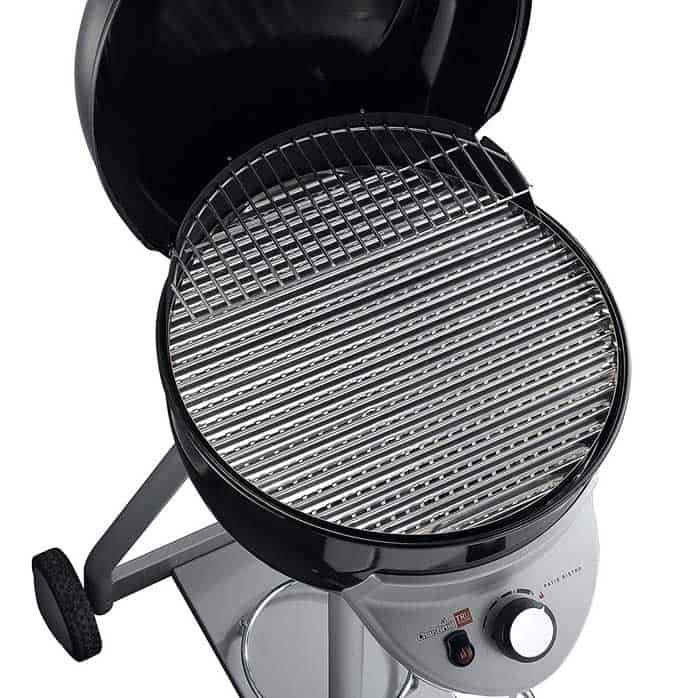 This is a compact and portable electric unit that's perfect for small patios and balconies alike. It's a perfect option for either newbie BBQ cooks, or people who just want something small and simple.
Its modest size makes it easy to move around and also store away, and while its 240-square-inch grate size is well overshadowed by more premium grills, it's more than enough for cooking for 4 people.
Check out my guide to some of the other best small grills
Again, its power output of 13,000 BTUs is low compared to premium gas models, but its infrared technology more than helps to make up for this without even using that much fuel. All of this while achieving an even cook, without any hot spots or flare ups.
Char-Broil 20602107 Patio Bistro
ELECTRIC GRILL: This grill is powered by electricity to give you the convenience of grilling...
COOKING TECHNOLOGY: TRU-Infrared cooking technology prevents flare-ups, delivers even heat and...
COOKING AREA: Grill up to 12 burgers, 6 chicken breasts or 4 steaks on 320-square-inches of...
Solaire Propane Pedestal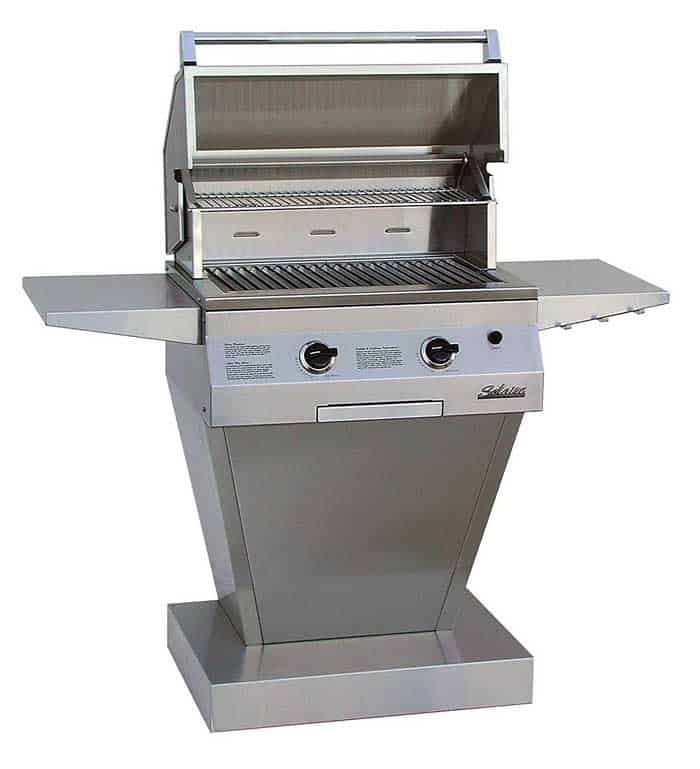 This unusual looking grill from Solaire packs in 24,000 BTUs of power underneath its infrared plates.
While 24,000 BTUs might seem a bit modest, this grill is extremely energy efficient (partly owing to its infrared burners, partly owing to its shape). It heats up in just a few minutes, which is extremely quick, even for a gas unit.
It offers features that we come to expect from modern cookers, like a drip tray and a warming rack. However Solaire have gone the extra mile and also included a grill cover, a griddle plate and an insulated jacket.
It's a sturdy and robust model, and testament to this is the fact that Solaire have included a lifetime warranty with it. If they're that confident in this grill then you should be too.
Magma Newport 2
This highly portable grill has foldaway legs for easy mobility and storage. Its size is very unassuming, so is perfect for small homes or apartments. Because of this it can even be great for camping.
It's made with marine-grade stainless steel that makes it extremely durable and robust, and even stands up against the elements should you decide to take it camping with you. Considering that infrared grills are often aimed at people with a strict budget, this is excellent value.
It only has one burner, which only fires at 11,200 BTU and a mex temperature of 500°F. This is quite low compared to other grills, however its heat plates does ensure that the heat that it does provide is spread evenly and efficiently.
Sale
Magma Products Catalina 2 Infra Red
New tempered glass viewing window New beautiful rounded edge design Redesigned dynamic...
Made in the U.S.A. Constructed of 100% 18-9 marine grade mirror polished stainless steel Full...
Equipped with integrated fold-away legs Locking front access grease tray 12"x18" main grilling...
Char-Broil Commercial 3-Burner
One of its strongest features is that it has superb temperature control that even allows you dial down the levels to go for low and slow cooking.
This is a great grill that offers a lot more than some of the other infrareds on this list. It comes with 3 burners, combining to offer you a good deal of BTU power, while its grate area covers a very generous 500 square inches. It also gives you enough space beneath its grates to accommodate wood chips or pellets, which you can use to recreate the authentic smoky taste that a charcoal grill or smoker would.
It's also a great performer. It packs in a good deal of power, while its stainless steel plates distribute heat efficiently and evenly. These plates are also placed to reheat excess oil and moisture, infusing your meat with extra flavor.
As nice little bonuses, it offers a wide temperature range, a side burner, and a warming rack.
Sale
Char-Broil TRU-Infrared Commercial 3-Burner
Exclusive stainless steel finish for increased style and durability
TRU-Infrared cooking technology prevents flare-ups, delivers even-heat and cooks juicier food
450-square-inches of primary cooking space is great for most cookouts
Royal Gourmet Mirage MG6001-R
We go from a modest tailgate grill to something a lot more serious. The Royal Gourmet Mirage boasts a lot of power, with its different burners combining to provide 96,000 BTUs of cooking power.
It has close to 700 square inches of grilling space, with porcelain cast iron grates to ensure that heat is distributed evenly across its surface. Further to this it also has a large warming rack to help you load on even more food, as well as built-in thermometers so you can easily monitor your cooking temperatures.
Given all of this, it's incredible value for money and one of the best grills of its kind out there.
Royal Gourmet Mirage MG6001-R Two Split Lid 6-Burner
700 sq. in. of primary cooking area, plus warming rack provides a secondary cooking area with...
Porcelain cast iron cooking grates with slope design and better for keep meat's natural...
Two heavy duty stainless steel lids with cast aluminum end caps, built-in thermometers and...
Char-Broil Signature 420
Char Broil's Signature series is more stripped back and beginner friendly than their Performance range, but don't let that fool you. This is still a powerful grill that offers plenty of cooking space, as well as a mean side burner on top of its main three burners.
Just as strong at smoking as it is at grilling, the Signature 420 uses its infrared burners to their full potential.
To help ensure maximum grilling power efficiency, it has porcelain enameled iron grilling grates. The porcelain coating helps distribute heat evenly across the cooking surface, further reducing the risk of cold spots and flare-ups.
Char Broil have also kept natural gas in mind, and have an add-on in the form of a conversion kit. If you want to make the change from propane to natural gas, then you can do so easily with this unit.
If you want something bigger then you might want to look towards Char-Broil's Performance grills, but if you're after something that represents better value for money then you Signature 420 could be perfect for you.
Char-Broil Signature TRU-Infrared 420
420 square inches of primary cooking over porcelain-coated cast iron grates
155 square inch porcelain-coated warming rack, 13,000 BTU side burner
Three top-ported 443 stainless steel tube burners for lasting performance and better...
Char-Broil Signature 325
Back to the Char Broil Signature series here but this one is too good not to mention.
The most obvious difference between this and the other Char Broils on this list is the size. As specified in the grill's name, the grill surface is 325 square inches, compared to the 420 and 450 square inches on the premium models.
325 square inches is still enough for most home users though, so there is still plenty of bang for your buck to be earned here.
The Signature 325 features everything the other models offers, including one-touch instant ignition from their Surefire tech, and a very fast heat up time.
Underneath its satin enamel grates is the Tru-Infrared burners, which help to reduce flare-ups and allow your meat to retain more moisture.
Char-Broil Signature TRU-Infrared 325
325 square inches of primary cooking over porcelain-coated cast iron grates
120 square inch porcelain-coated swing-a-way rack for warming
Two top-ported 443 stainless steel tube burners for lasting performance and better temperature...
Blaze Grills 4-Burner Built-In
The prospect of getting a built-in grill can be daunting, but if you have the patio space to build a BBQ island to mount one on then you should seriously consider it.
Like a lot of built-in grills, this unit from Blazes rammed full of power Each of its 4 burners packs in 18,000 BTUs of cooking power, giving you 72,000 BTUs in total.
This is impressive in itself, but even more so when factored in with its infrared plate and positioning under 812 square inches of cooking space. Not only is it huge, but every single inch of space gets the absolute most out of its heating potential.
---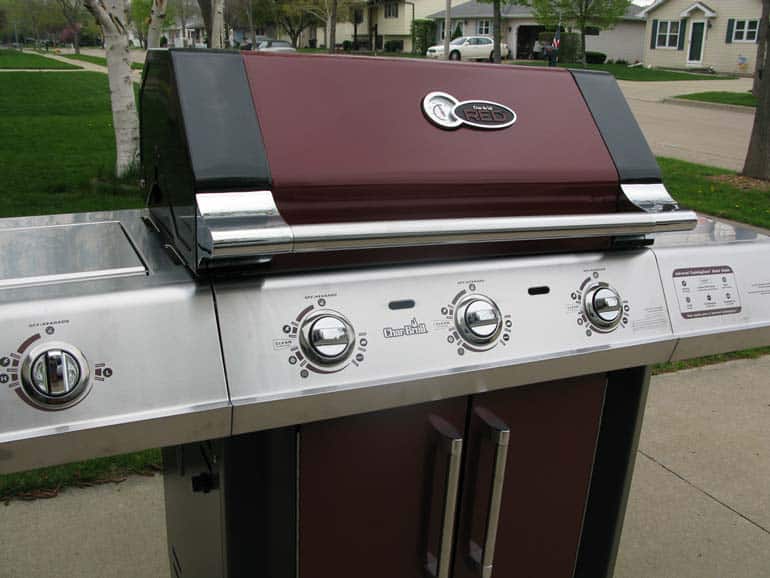 If you need something more affordable than a gas grill yet easier to use than a charcoal grill, then an infrared grill can be the perfect medium.
Here's why you should consider getting one.
What is an infrared grill?
Infrared grills differ from their standard charcoal or gas counterparts due to the fact that they heat up their food by radiation.
Where charcoal and gas models use hot air flow or convection heat to cook food, infrareds don't rely on this airflow. Instead, they contain a glass or metal plate that absorbs heat from its burners, which in turn then radiates it towards the food.
How does infrared grilling work?
The main feature that separates infrared grills from other types is the panel that sits underneath the grates of the grill. This panel is often constructed from ceramic tiles or certain types of metal.
This panel performs two main functions. One is to help reduce severe fluctuations in temperature across the grill's surface by protecting the main cooking area from direct exposure to flames. The other function is to distribute heat more evenly across the grill.
Source: Char-Broil
So rather than produce the convective air flow that we normally see with traditional charcoal or gas grilling, the panel absorbs heat from the burners and then emits it in the form of radiant heat.
This is very different to traditional grilling, but is a far better means of reducing the risk of flare-ups and cold spots, and is also a far more efficient use of fuel.
This also has another key benefit: Your meat is far less likely to dry out. Cooking it with radiant heat allows you to cook at far steadier temperatures, which helps your food retain a lot of its natural juices and moisture.
Of all the different types of infrared burners, ceramic is your best bet for achieving higher grill temperatures (source).
What are the benefits of an infrared grill?
Compared to both traditional gas and charcoal grills, infrareds are lightning quick at heating up. Depending on your target temperature, they usually take about 3-5 minutes. Charcoal grills are difficult to light, famously take somewhere around 30-40 minutes to heat up, and gas about 15, so this quick heat up time is a huge plus.
Not only do they achieve an excellent heat up time, but the temperature to which they're capable of hitting is remarkable. They average about 900 degrees fahrenheit.
The combination of both of these features means that you are effectively halving the amount of time you need for cooking (source), meaning you don't have to agonise over every step of your BBQ and you can get on with the more important things: Enjoying the barbecue.
Infrareds are also far more energy efficient than gas or charcoal. They use less energy, making them more environmentally friendly and cost-efficient for you to run.
The absence of hot air flow also means that your food is far less prone to drying out. With a lot of forms of BBQ, particularly indirect cooking, a problem can arise in the meat being over exposed to hot, dry air, which can leave your food bland and dry. With this air flow not being present in infrareds, your meat can retain its moisture, resulting in a far juicier cut of meat come meal time.
Flavor also compares really favorably on infrared grills. With the plate placed beneath the food during cooking, the juices that drip off fall directly onto it before vaporizing and going straight back into your meat, infusing it with even more flavor.
A big problem with charcoal grills in particular is uneven heat across the grill surface. This can result in hot and cold spots, and can be a challenge to get around in order to cook your meat properly. Due to the very nature of radiation cooking, this simply isn't an issue with infrared grills. They manage to cook your food evenly every single time, giving you consistently well cooked food.
Last update on 2023-10-01 / Affiliate links / Images from Amazon Product Advertising API