Built-in gas grills offer incredible cooking power for any patio or backyard kitchen. Their propane or natural gas-fueled burners are unlike any other kind of cooker, ensuring an incredible experience and the best result. Here are 11 of the best built-in gas grills to help take your outdoor cooking to the next level.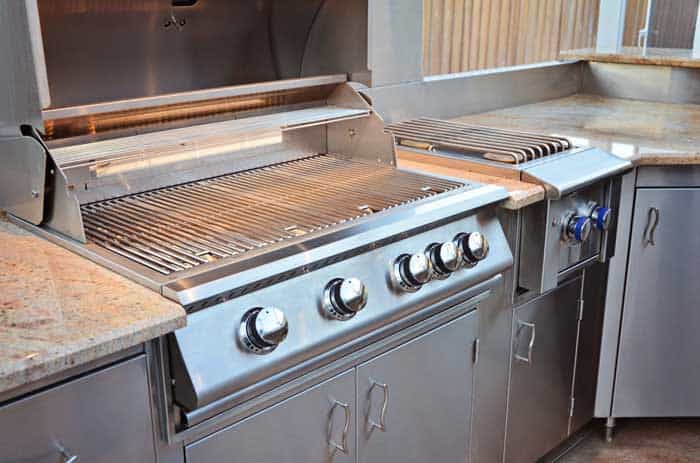 At a Glance: Our Top Picks
If you're looking to make the step up to an outdoor kitchen to brag about, then a built-in gas grill will prove to be an excellent investment.
Drop-in propane grills aren't just big for big's sake. Because they're fixed in place, they can be linked to a natural gas line, giving you a convenient, cheaper supply of fuel in constant supply.
Gas cookers might have their detractors, but when they're as powerful as these units they are more than capable of creating beautiful barbecued food.
Let's get into the very best out there today.
Napoleon LEX 605
We kick off our list with simply the very best fixed unit grill out there: The Napoleon LEX
This propane-powered grill comes with an incredible 850 square inches of cooking space, giving you more than enough room to really get stuck into it.
It can come as a standalone model as well as built-in, giving you the choice and flexibility depending on what best suits your current home setup.
Grill Features
Stainless steel wave cooking grids
The Napoleon LEX comes fully equipped with the brand's uniquely designed stainless steel wave grids, which are designed to provide a larger contact area to cook your food. This makes it far more energy-efficient than a lot of its counterparts.
Napoleon's wave grids help provide more contact surface area, making it a far more heat efficient grill.
Sear plates
Another innovation that I'm a huge fan of is its sear plates. These high-heat discs are designed to rapidly vaporize any drippings or run-off from your meat, which helps reduce flare-ups and improves the overall cleanliness of your grill.
The grill's excellent performance is largely helped by its excellent infrared stainless steel burners, housed in the main drum of the grill.
The infrared burner located at the bottom ensures you get perfect searing. It also has I-GLOW backlit knob that ensures you continue cooking even when darkness sets in.
It's packed with other little bonuses that you expect to see in an elite level unit, like a pre-installed temperature gauge, easy-lift lid, and detachable drip pan.
All of these come together to form an easy to use, high performance grill.
Quite simply the best built-in grill out there today.
Lion Premium Grills L75623
In at a very close second is this impressive unit from Lion Premium Grills. It's one of the best BBQ gas grills you can find, and at a very reasonable price.
This grill packs in 4 burners totaling an incredible combined BTU output of 75,000. Its endurance and caliber are that of a commercial grade 304-16 gauge stainless steel burner.
In fact, it's such a fantastic performer that it's been widely used in commercial kitchen and food trucks, as well as homes and backyards.
This isn't just a grill though. It also has a smoker feature, so you make use of smoking meats for beautiful low and slow cooking.
Grill Features
It doesn't have side burners, but the upside of this is that it then means you have even more grilling surface to use.
It's an extremely durable unit and is made with commercial grade stainless steel. A testament to its resilience is the fact that Lion Premium Grills have provided a lifetime warranty with it.
Read our full Lion Premium Grills L75623 review
It also features a huge cooking and warming space that is very sturdy. It also has an XL temperature gauge that ensures that your food gets completely cooked without burning. Other features include five huge knobs that should be pushed in order to turn, a warming rack that can be adjusted, and Quick Lite valves.
Weber Summit S-460
Weber's built-in natural gas grill comes with 4 stainless steel burners and its type is the insert kind Be absolutely sure the grill will fit in its intended space in your kitchen before buying it. You can use it for cooking various foods since it has great temperature control to ensure whatever you are preparing is thoroughly cooked.
It is easy to set up this grill and it gets to heat very fast. The rotisseries retain all the juices to make sure you don't end up with dry food. It also has properly made covers.
Grill Features
At the back, it has a full kit of independent rotisserie burner that has infrared set with an input of 10,600 BTU. Its design is roll-in-place, which is different from the most drop-in built-in grills.
The grill is also very easy to clean and doesn't require a lot of maintenance. It comes with a sturdy motor and a snap-jet self-standing burner ignition system. The cooking grates are 3/8 inches wide and it uses natural gas to cook food.
One of the best natural gas grills out there at the moment.
Bull Outdoor Products Outlaw
The Bull Outdoor grill is made of 16 gauge steel of the stainless type. Note that this grade is the finest of the metal of this type that you will find out there.
But this grill has more than just heavy gauge steel going for it.
For a grill, this is, by far, the industry's thickest material. Buying such a product reassures you that you are getting something that resistant to rust and corrosion, and that it will serve you for many years.
It has a double hood with 1-piece construction to ensure it doesn't have any loose screws or seams, which can lead to structural failure.
This double hood is to ensure the heat is kept inside where it is evenly distributed while the outside remains cool. With such a model, you are guaranteed that heat will not discolor your grill and so, it will remain shiny for years to come.
The grates are made of stainless steel too to enhance better heat distribution inside the grill.
Each burner has Piezo Igniters, which tend to be independent systems. Every igniter is protected by a stainless steel compartment that ensures that drippings do not end up ruining the spark ignition.
The four-bar burners are coated with porcelain, making this grill one of the best built in grills on the market.
Memphis Grills Elite
This is a grill that is in its own class as it comes with Wi-Fi controlled Intelligent Temperature Control, meaning you can control your cooking process from anywhere. It is a product of the United States, which makes it a trusted model.
Memphis grill uses pellets and has a double convention fan with a dual wall make that ensures that the heat inside the grill is evenly distributed. Compared to all gas, charcoal, or pellet grills, this is by far the best of Wi-Fi grill you will ever find due to its capabilities.
The Wi-Fi feature allows you to use their mobile App to help you adjust the heat if needed without having to physically walk to the kitchen. You will be able to see what is happening and know when your food is ready using this App. Cooking has never been this easy. The smoker also allows you to smoke your fresh fish so that it can last you longer.
The grill uses a 10-foot wire that used to connect the product to the Intelligent Temperature Control (ITC). As soon as the temperature reaches the required point, the ITC will automatically lower it to the warm setting.
One great thing about this feature is that it reads different temperatures according to what you are cooking and so, you can prepare different dishes evenly at the same time without burning some.
Another great feature is you can easily personalize the system to text you or send emails as you go about your other chores. Such a capability will let you know your food is cooked. This gives you the freedom of multitasking, knowing that your food will neither get overcooked nor burnt.
Final Verdict
Memphis Grills have managed to build a 21st century drop-in without compromising on heavy-duty, durable construction.
KitchenAid 740-0780 Propane
At 30 inches in width, this propane drop-in grill from KitchenAid is at the smaller end of the scale, but its price makes it a great choice as an entry-level, affordable grill.
Despite this, it's still a very well-built drop grill head. It's built with stainless steel that's corrosion resistant and heat retentive.
It boasts 775 square inches of total cooking space, and this sits above four burners that can churn out an impressive 61,000 BTUs of pure grilling power.
KitchenAid's four main stainless steel infrared burners are built and positioned to ensure even grilling temperatures across the entire cooking surface
Grill Features
It also has a ceramic rotisserie burner, which is a neat little bonus.
It's designed with a series of flame tamers perched above the main burners. Although these are a little bit odd-looking, they act by helping to prevent flare-ups along the grill surface, while also vaporizing any drippings of run-off and repurposing them into added flavor into your meat.
Smokier, juicier meat. No complaints here.
The system helps ensure even heat across the cooking grid, making your grill more energy efficient and a better performer.
DiamondBack 4-Burner Propane LP
This is the most budget-friendly grill on this list, and while that's reflected in price it certainly isn't in performance.
It's build material is with heavy-duty stainless steel, and is built to last throughout the grilling season, and up against whatever the weather and elements will throw at it.
Its four infrared burners sit beneath its cooking surface, and offer 10,000 BTUs of power each to provide a total of 40,000 BTUs of power.
Grill Features
It has a full-width stainless steel drip tray to catch any run-off, and its burner guards help to reduce the risk of flare-ups while you grill.
It's built with porcelain-coated grilling grates that help to retain and distribute heat evenly across the cooking surface.
Blaze Natural Gas Insert
This monster of a natural gas grill is Blaze Grills' best ever, and it's not hard to see why.
Made with heavy duty 304 stainless steel throughout, this luxury grill is built to last. So if the price is daunting, then just remember that this thing is built to last for life.
It also has commercial-standard cast iron stainless steel burners beneath its porcelain enamel grill grates. From top to bottom, this grill is built to stand up to anything you throw at it.
Grill Features
What I really love about this grill is its heat zone separators. These allow you to easily create separate cooking for 2-zone grilling, which allows you to make use of advanced techniques like indirect grilling.
This isn't common with a lot of gas grills – even high-end ones – so Blaze should be commended for including it.
On top of its 56,000 BTUs of grilling power, it also has an infrared rear burner that allows you to make use of rotisserie or low and slow cooking.
Napoleon 5-Burner Natural Gas Head
This is one of the biggest and most powerful grills on this list, and is testament to the great work that the Napoleon brand do, year after year.
Packed into its beautiful, modern design is 5 main burners with 2 added burners. It all comes together to give you a seriously impressive 68,000 BTUs of raw grilling power.
It's all cased in a durable stainless steel build that not only looks great, but is designed to last for years.
It has a dedicated smoker burner and wood chip tube so that you can use the grill as a smoker.
It runs on natural gas, so will need to be hooked up to a natural gas line, but is fairly easy to set up if you have the facilities.
Grill Features
It's illuminated grill knob controls allow you to cook long into the night. These can be customised in line with your own preferred color scheme. Sure, it's not a completely necessary feature, but it definitely wins over someone like me!
They do also have a practical effect though. The knobs can glow to let you know which burner is in use, so you can stay on top of your searing and indirect grilling.
It also has a 18,000 BTU rear infrared rear burner and rotisserie kit included to allow you cook rotisserie chicken or vegetables.
Napoleon's wood chips insert allow you to add more nuance and flavor to your grill meat
Coyote C-Series
Considering its relatively smaller size, the Coyote C-Series still manages to offer an impressive amount of power. It has 40,000 BTUs of grilling power across just two burners.
This sits within a case of 18 gauge 304 grade stainless steel that's double-walled insulation. This makes its insulation so good that it makes up for any fears about low cooking power.
Grill Features
Its two burners sit under stainless steel cooking grid that distribute heat evenly, and is easily controlled with the grill's ignition feature and control knobs.
The Coyote C-Series is a great entry-level built-in propane grill, but for more serious or advanced users you might want to consider a 4-burner model with a bigger cooking surface.
Blaze Grills 40″ 5-Burner
This thing is powerful. Across its 5 burners and additional rear infrared burner it offers 80,000 BTUS of total power. This not only gives you a quick start time (also thanks to its one-touch ignition system) but also superb flexibility when grilling.
Its 5 burners sit underneath stabilizing grids that help to manage heat and distribute heat evenly to help reduce the risk of flare-ups and cold spots.
All of this sits beneath 915 square inches of total cooking space, giving you more than enough room to cook for big parties.
Grill Features
It also a full-width drip tray that collects any run-off or fat during cooking (a feature that is bafflingly missing from a lot of modern built-in grills). This helps makes cleaning up after use so much quicker and easier.
FAQ
As you can no doubt tell from the name, built-in outdoor grills (also called 'drop-in grills' or 'grill insert') are fixed to a cooking surface in your garden or patio. They're pretty intimidating units, but what they lack in mobility they more than make up for in their power.
They offer you superior performance to traditional charcoal or portable propane models. Their expensive price proves that they are for serious grillers, but they are perfect for barbecue parties.
If you're a serious BBQ enthusiast, then this could be the missing piece of the puzzle for your DIY outdoor kitchen.
What exactly is BTU power?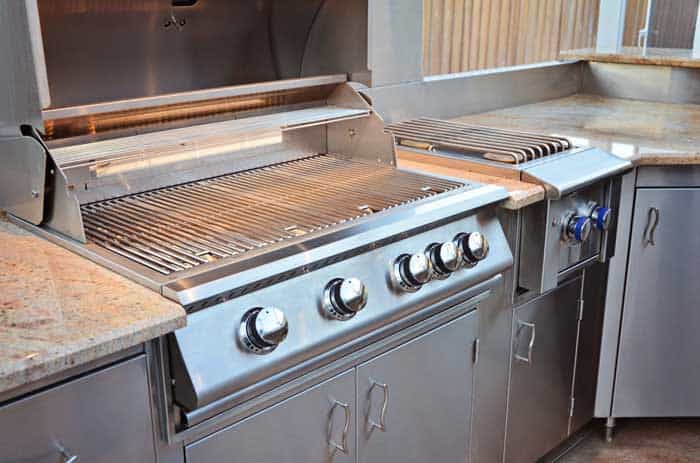 BTU is shorthand for British Thermal Unit, and is the unit of measurement used to quantify the maximum power output of your grill. Quite often these are expressed ​per burner​ in your grill, as well as a total output number. So it's not uncommon to see a grill listed as 3x 16,000 BTUs, and also 48,000.​​
I recommend going high when choosing your built-in grill. This isn't just vanity metric however. Higher BTUs tend to mean quicker startup time, as well as a greater range of temperature available to you when you cook.
Also keep a look out for infrared burners. These beauties work by converting the heat from a standard gas burner into infrared energy, which is far hotter and consistent, and doesn't lead to flare-ups.
This makes infrared burners perfect for the searing and caramelizing methods that we all associate with good barbecue.
How heat-efficient are built-in gas grills?
I've written a lot before about the importance of maintaining good grill temperature. This is just as true for gas grilling as it is for charcoal.
A grill that leaks heat is useless, and it doesn't matter if it cost ten dollars or ten thousand. The moment it loses heat levels, it's useless.
Pay close attention to two things: Heat retention and heat distribution.
Drop-in grill heads offers massive amounts of cooking and grilling space
Having a unit with excellent insulation will ensure good heat retention and that your chamber's ambient temperatures are able to stay stable for as long as you need them. Look out for models that are listed as double walled, as these tend to be especially strong at retaining heat.
Good heat distribution will provide even temperatures across the surface of your grill gates. Flare-ups are far more common in gas grills, but luckily the introduction of infrared burners and porcelain grates are helping to combat this.
How much cooking space do I need?
Any good built-in grill should come with ample cooking space. More space gives you the opportunity not just to cook more, but also to cook faster. It also gives you the opportunity to take on more advanced gas grilling skills, like indirect grilling.
Opinions will vary, but for me the ideal primary cooking space size for a drop in unit is anywhere between 500 and 900 square inches.
Another factor to consider is the grill's appearance. This might seem frivolous, but just because you will be using the unit to prepare food doesn't mean it should be hideous. A huge and weird-looking grill will stick out as an eyesore on your patio.
Choose a smart grill that comes with an impeccable design and modern layout. A grill should complement your patio, not the other way round.
What's the best ignition system?
One of gas grills' biggest selling points is how easy and quick it is to get them going. Where charcoal can take the best part of half an hour, gas systems can be done in an instant. This is thank to their ignition systems.
Not every system is the same however, and there are in fact three main types of ignition system.
The Piezo Electric Ignition System is the most widely used, and is built with a simply starter button. If you've ever pressed an ignition button and heard a ​click​ then chances are that you've used a Piezo.
Far less common are the hot surface system, which is a high-end function that uses rods to light the burners, and electronic systems that rely on batteries to operate.
Neither of these are ideal. Hot surface systems are far too prone to faltering, and electronics require new batteries routinely, which can easily build up costs and derail your barbecue.
How to install a built-in grill
Exactly where you choose to put your BBQ island and drop-in can depend on a number of factors, so for a full guide be sure to check out this article from This Old House. In a nutshell though:
Identify a good area for your island by considering somewhere that's a safe distance away from your house should there be complications with electricity, fire or gas. Also be sure that the area you build in is dry and shielded from wind.
Set up your BBQ island. This in itself is a big job, so be sure to check out our guide on how to build a BBQ island with steel studs, and check out our guide to DIY BBQ islands for some ideas. Doing this will give you a permanent fixture on which to install your drop-in grill head, as well as give you a counter surface around which to cook.
In Conclusion
The five reviewed built-in grills are the best you will find on the market and each has its own great unique features.
However, the Lion L75623 Premium Grill tops the list.
This is a grill worth buying due to its numerous benefits. It is sturdy, long-lasting and still, you will find it at a pocket-friendly price. Besides, it has ample cooking space to prepare food for a multitude of people. The 75,000 BTUs coupled with the high-grade stainless steel grates will definitely meet all your cooking needs.
Last update on 2023-10-01 / Affiliate links / Images from Amazon Product Advertising API