Are you planning to build your own backyard DIY BBQ island? Create the perfect patio grill station with these island ideas. Designs including wood pallets, cinder blocks, and cement, we have something for all spaces and budgets.
Being able to design and build the entire project gives you the unique opportunity to have an outdoor kitchen in line with your needs.
Want an extra burner? No problem. Want a side burner and rotisserie add-on built into the counter? Go right ahead. Don't want those clunky wheels on your grill? Get rid of them.
If you need some inspiration for your next DIY project, you've come to the right place. With designs including cinder block cookers, repurposed wood, and masonry islands, these best DIY BBQ islands will have you planning in no time.
If you're ready to get going, check out our step-by-step guides on how to build your own BBQ island or put together your own DIY outdoor kitchen.
Upcycled Pallet Outdoor Frill
Pallets are great for turning into everyday house items. They're cheap and pretty easy to get a hold of.
We have a repurposed pallet coffee tables, and I've seen plenty of seats, TV tables, and patios made from repurposing the wood. But they come into their own with a pallet BBQ island.
The pallets make it easy to create the main structure of your island, and are arranged around corrugated tin for a strong skeleton.
DIY Backyard Barbecue
If you want to go full-scale with purpose-made materials, this cement-based island should inspire some ideas.
Just be sure to plan drainage, gas piping and electricity. Oh, and plan to be busy for a few weekends!
DIY Portable Outdoor Kitchen
This takes the pallet aesthetic and cleans it up a bit to produce a tidy, portable BBQ island that even offers a sink.
Go All-In on the Amenities
At the completely other end of the scale sits this upscale outdoor BBQ kitchen island.
Built on the side of a pool house and under a roof, this island is shielded from the elements so it can be used year-round.
City Cooking Space
If you're stuck in the city with limited space, there's still a lot that you can accomplish.
With a narrow design that's positioned to make the absolute most out of the little space on offer, this grill sits in front of a fence for privacy.
Its wood finish matches the brick of the city's buildings, but has a stainless steel countertop to hold up to the weather.
Cinder Block Island on Wheels
This design leaves space for the grill door, so you have easy access to the propane tank.
This one does away with wood for safety concerns, and instead goes with cinder block as its core material.
More robust, more weather-proof, and much safer.
Subtle Repurposed Wood
There's nothing wrong with being functional. This stripped-down kitchen island is made with recycled wood, allowing the real star of the show to stand out: Your BBQ grill.
Full-Scale Grilling Counter
If you're going to make your own island, then you might as well go all in.
This BBQ island does exactly that by fitting in both a built-in propane grill and a charcoal smoker.
And why stop there? They've thrown in a sink, a refrigerator, and a gas-powered cooktop.
Maximum economy of space, all in one unit.
Get a Wall Range Hood
If you're building your stationary grill station next to a wall fixture, consider including an outdoor wall over-range hood. This will help clear the cooking area of smoke and grease, providing a safe cooking environment while also protecting the wall. If you have built your grill on decking then it will also help maintain the quality of the wood.
The good news is that modern hoods aren't as imposing on cooking space as they used to be, and are now relatively inexpensive and easy to install. If you want to keep your island smoke-free then getting a hood is a must.
If you are in the market for a range hood, the Cosmo 36-inch has served me well over the past year. You can check it out here on Amazon.
Stone Grill Station
The cost benefits of building your own island are probably most noticeable when working with stone. Pre-bought fixtures can cost upwards of thousands, but only buy what you need and you'll see the biggest differences.
What we love about Angela's design here is that, despite its stone build, this DIY grill island is still portable. Instead of fixing the grill to the fixture, her design builds the station around the grill.
Angela uses a stone veneer around her framework. This helps to create an elegant island that doesn't sacrifice any of the mobility of her propane grill while maintaining its stunning visual impact.
Check out the full story on her genius approach and step-by-step guide here.
Big Green Egg and Kamado Joe Counter
BBQ islands don't only need to be for built-in propane grills. Charcoal cookers like the Kamado Joe or Big Green Egg can easily be accommodated with the right setup.
This design and free plan from The Lowcountry Lady features a large concrete counter, giving you plenty of cooking and food prep room next to your grill. It's built with shelving and cupboard space to allow you to gather everything you need in one place.
Cinder Block Builds
Cinder blocks have been a popular build material for outdoor grills for decades. They're robust enough to offer good heat retention, while they're porous to allow good ventilation. It's this reason why we use them over something like compressed concrete blocks. Plus, it doesn't hurt that they're fairly cheap to buy.
When set up right, they're also not bad looking. Case in point: This design from OurFifthHouse.com. They're stacked and lightly painted for texture, before then topped with simple patio stones. Sometimes the simplest designs are by far the best.
Full Weber Kettle Station
Longstanding fans of the Weber Kettle should jump at the chance to replicate this stripped back wood island for their beloved cooker. Full plans and how-to guide can be found a ladygoats.com.
Gina's design uses a cedar fence picket top but can be swapped for a concrete counter. The grill lip rests on the structure's bolts, so doesn't carry any safety concerns around grill-to-wood contact.
Upcycled Wood
This beautiful wood, concrete and brick project is the perfect weekend patio backyard project.
ManMadeDIY.com's design is also a great example of why you don't need a big budget to build an impressive island. With some creative thinking, you can repurpose leftover wood to give your project the perfect starting point.
This isn't just a grill lumped onto some heap of scraps, though. On top of the wood is a concrete countertop, and the design has a fully functional sink to round off the kitchen.
Concrete Countertop and Corrugated Steel
Another example of how well recycled materials can work, this island is built with reclaimed corrugated steel. Hey, if you can find the wood lying around then there's even a chance that you could build the entire thing for almost nothing at all.
The space in the middle of this island allows you to place any kind of grill between the two surfaces, giving you the perfect amount of space for food prep.
DIY Outdoor Kitchen with Decking
If you have the budget and space, creating a decking area as the foundation for your outdoor kitchen can help create more than just a cooking area. It can create an entire hosting space that a simple portable grill counter can't provide.
Aniko's walkthrough over at Place of My Taste lists a full step-by-step guide for her project. It's one of the best examples of how proper planning can help you maximize economy of space without over cramming the area.
Traditional Masonry Brick and Stone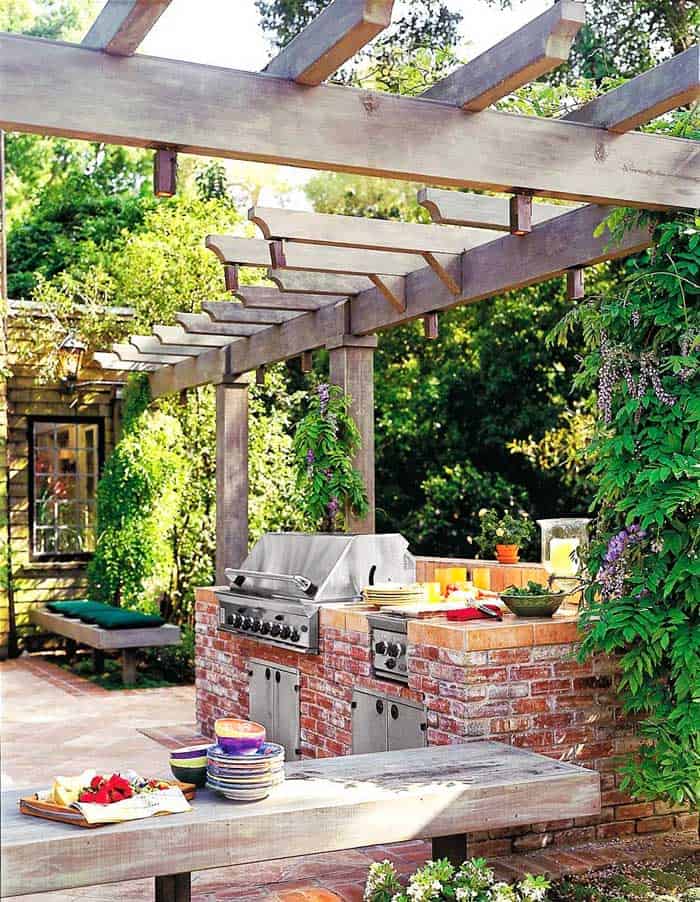 If you want a traditional design resembling something from the Mediterranean, This Old House's guide should be your template.
Mortared brick and stone create a beautiful look that isn't as difficult to achieve as it might look. The bulk of the main structure can be made with reclaimed red brick, while the countertop can even be adapted to incorporate old paving slabs.