The best fire pit chairs to complete your outdoor patio area. Comfortable fire pit seating ideas for all weather conditions and all budgets.
Fire pit chairs provide the perfect blend of comfort and durability for evenings around the flames. Designed to withstand the heat from your garden fire pit while providing comfort, these chairs are a must-have for anyone looking to upgrade their outdoor lounge space.
And the good news is that there's plenty of choice out there. From weather-resistant seating and ergonomic designs to adjustable recline features, the options are vast.
Get some quick patio inspiration for your own pit with this shortlist of the best fire pit chairs out there today.
Polywood Adirondack Chair
The very first Adirondack chair was designed all the way back in 1903 by Thomas Lee, and the company hasn't looked back since. If a design is good enough to last for that long, then it's certainly good enough for most patios!
The inspiration for the design lay in Lee's need to make a range of chairs at his home in Westport, New York. He wanted to create something simple and sturdy, but ultimately comfortable.
He achieved just that, and the Adirondack design has stayed faithful to that ever since.
Polywood's take on the design has remained one of the most popular versions of this. It's made from heavy-duty plywood timber
The Polywood Adirondack chair is one of the favorite kinds of those seats. It's constructed from heavy-duty plywood timber and is built to last.
Unlike a lot of other types of wood that require ongoing care and maintenance as they fall victim to the element, this chair only needs a light clean from time to time. Very little degradation over time, making it well worth the investment.
It's fade-resistant and UV-protected, so you can be sure that whichever of its beautiful color selections you choose from, that color will last.
Speaking of which, its colors range from turquoise (as pictured above) to simple blacks, orange, mahogany, and plenty more.
Lakeland Mills Cedar Log Lounge Chair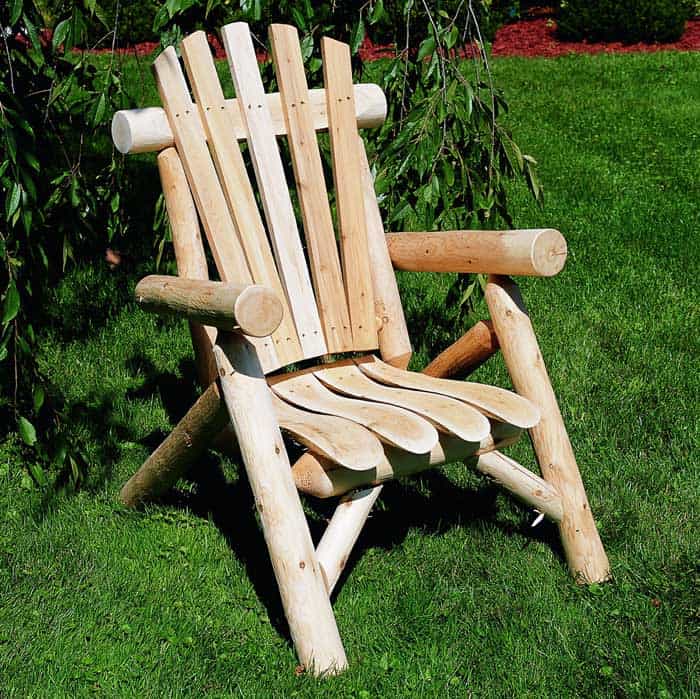 This rustic fire pit chair manages to pair a traditional country look with something a bit more unusual with its slightly curved aesthetic.
The shape makes this chair from Lakeland Mills one of the most comfortable ones on this list, making it perfect to spend the night by your fire pit.
Integral to its beautiful look is its build from white cedar. This type of wood is well known to be durable and extremely resistant to general wear. It also acts as an insect repellant, so won't be vulnerable to the effects of insect degradation, like woodworm and the like.
It's built to retain its color, but should it start to fade it will do so into a silver or gray-like shade that's actually very pleasant.
It does come unassembled, but for the simple reason that Lakeland Mills recommends staining it prior to use, and doing so without it assembled is a lot easier. Thankfully, putting it together is really straightforward.
Easy to put together, comfortable, and long-lasting. What else could you want?
Outdoor Interiors Eucalyptus Adirondack Chair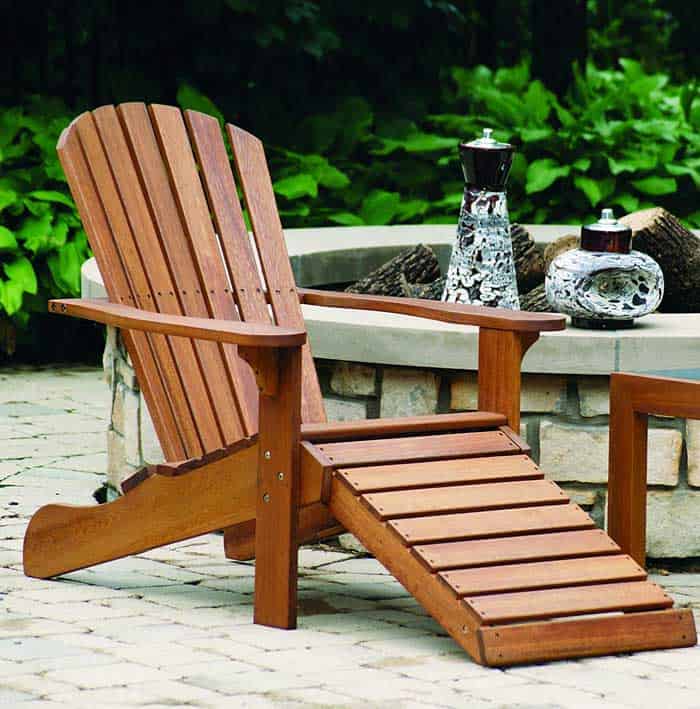 This chair from Outdoor Interiors is a different take on the Adirondack design to the Polywood version heading our list. This seat is strong, durable, and extremely robust to the elements.
The color of the chair will naturally fade over time, but if you use a linseed or walnut treatment a couple of times per year then you should be able to ward off the effects of the weather.
What really takes this chair to the next level though is its built-in ottoman-like feature. It can easily slide, giving a seat that's almost ridiculously comfortable.
Keter Corfu Armchair All Weather
A beautiful rattan-style design, this is a great option for those wanting something a bit more modern looking.
Its modern design doesn't come at the expense of comfort though, and is still a very ergonomically satisfying piece of patio furniture.
Sometimes plastic builds come at the cost of durability. Its resin is weather and UV-resistant, and features an open woven texture that won't fray.
Giantex 4-Pack Folding Chairs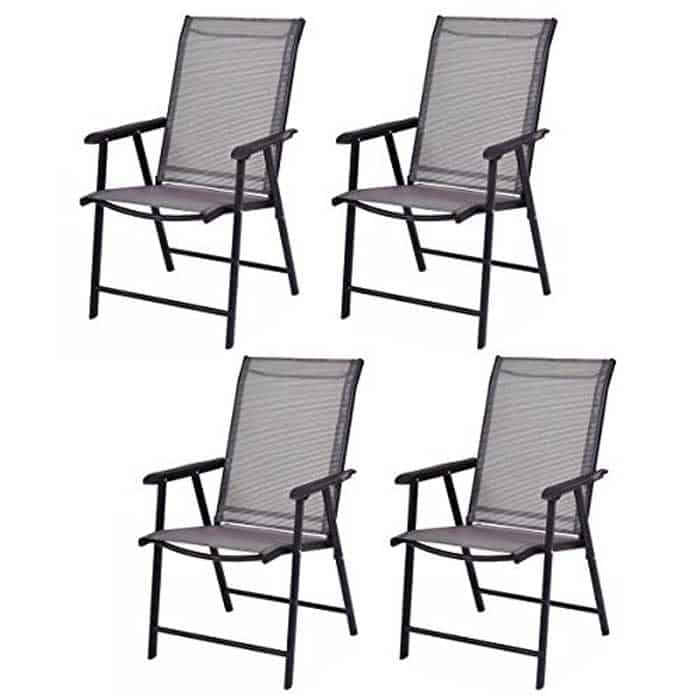 If you're on a tighter budget then these Giantex seats come in a 4-pack to give fantastic value for money.
Not only that but they're easy to stow away, and lightweight enough to be effortlessly moved around or even taken on the move with you.
Most importantly though they're very comfortable. They don't absorb heat in the way that other fire pit chairs might, which means that they're not too hot to sit on even during the height of summer.
This is largely owing to its Textilene material, which is also elastic in build and adds to the comfort (source).
Finally, these chairs are extremely durable and reliable. Beyond the cushioned and comfortable fabric, it's built around a thick steel frame that's up to the job.
GloDea X36 Natural Lounge Chair
Fixed with stainless steel, the GloDea X36 is made with beautiful yellow pine timber.
I really love the distinctive rustic design of this chair, and I think it goes beautifully with the aesthetic of a fire pit and patio, all while still being modern-looking in appearance.
It's low to the floor at only 12 inches above the ground, which makes it great for really relaxing into on summer evenings.
Unlike a lot of other traditional fire pit chairs, the GloDea is foldable for easy storage. So you can use it not just for your home outdoor seating, but you can even take it camping or store it away in your shed or garage.
The chair has a sealant on it to help protect it from stains and damage. As a result, the chair can effectively be left out all year (although I always like to throw a rainproof cover on my chair just in case!).
At 19 pounds it's easily portable while also heavy enough to stand its ground should the wind or rain pick up.
Sturdy, durable, and beautiful. What's not to love?
Best Choice Products Wicker Adirondack Chair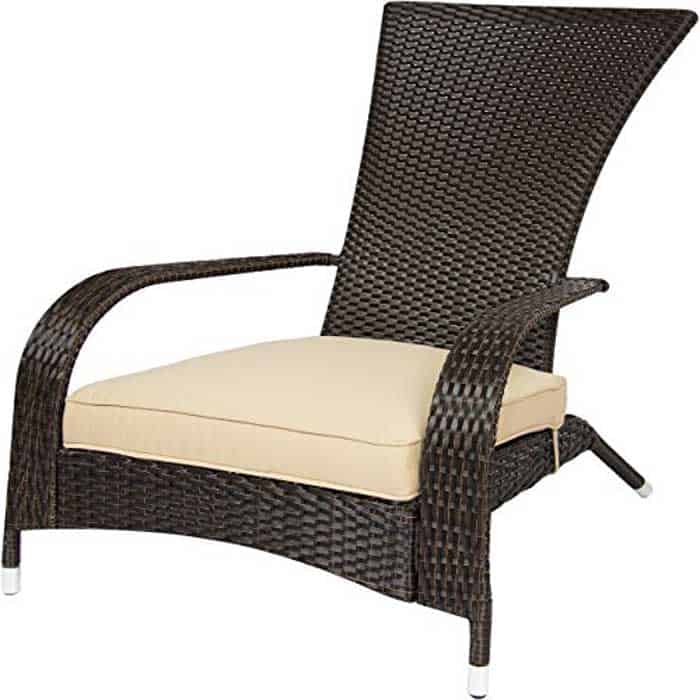 This chair from Best Choice Products also features an Adirondack design and merges it with wicker material to build a trendy but cozy home design.
Wicker materials are often quite up and down with how weather-resistant they are, but this chair makes for a fantastic exception. At its core it has a steel frame that belies its traditional aesthetic. Its frame is more than up to the task should the weather decide to kick up a notch or two.
It comes in a stunning dark brown color, and has a comfortable fade-resistant cushion that you can really sink into.
Lakeland Mills 4-Foot Cedar Love Seat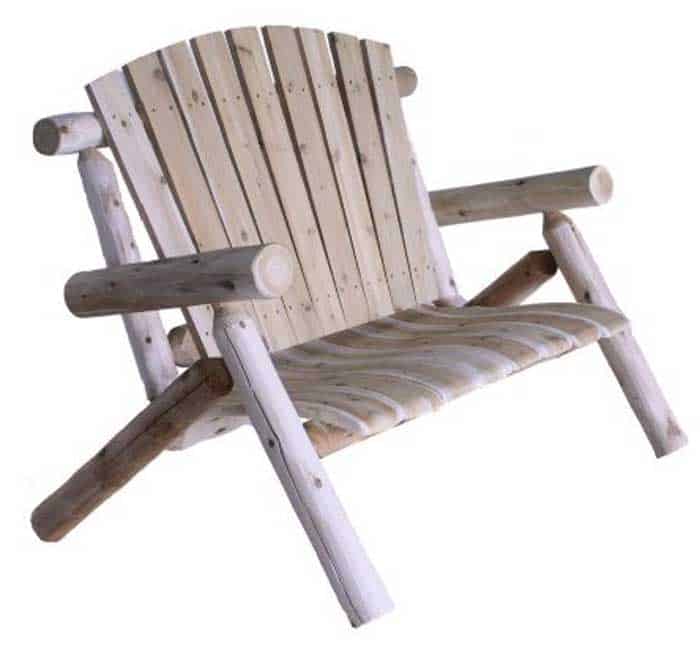 Lakeland Mills are synonymous with high-quality outdoor furniture, and this is another step in the right direction for the brand.
These fire pit chairs are deep-set and comfortable as hell to recline into. The wide-set build also allows for more than one person per chair so you can get, you know, cozy around the flames.
For this reason, I'd essentially call it a love seat, however I'm also incredibly selfish with my comfort so if you want to recline into it alone then it's a brilliantly comfortable seat.
The chair is made from beautiful white pine, which will fade into a lovely gray color over time. You can add a layer of coat to it if you want to protect it further.
One thing to keep in mind though is that it's quite heavy, weighing 59 pounds. So if you want something portable or easily mobile then this might not be the chair for you.
GCI Outdoor FirePit Rocker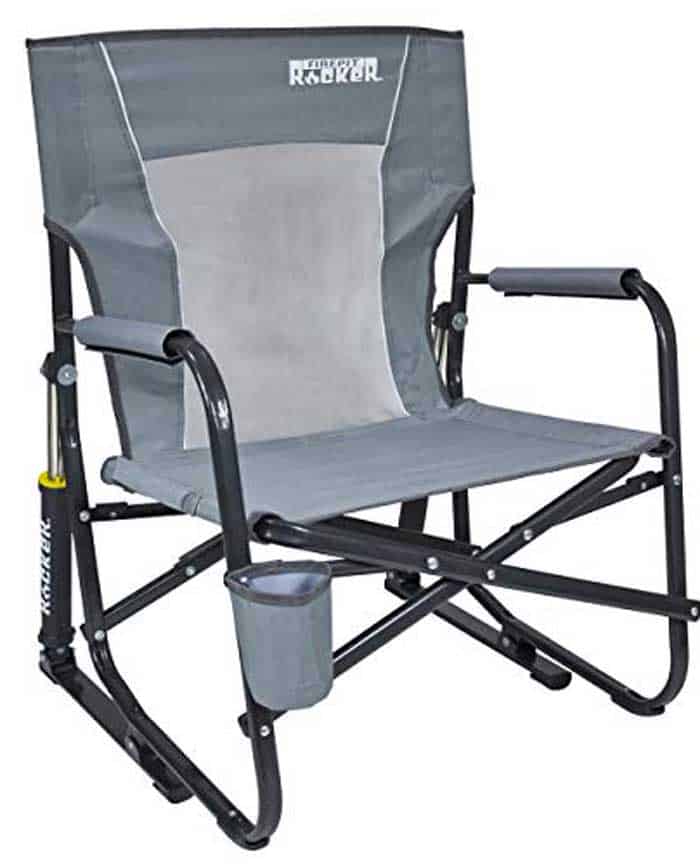 This seat is built with portability in mind. And while not everyone will like the foldaway look, the ease and convenience it presents will win over a lot of fans.
This makes it one of the best camping fire pit chairs out there.
It's built on a powder-coated steel frame that can support up to 250 pounds in human weight. This is pretty remarkable given its 12-pound weight.
This isn't a cheap, breakable piece of camping ware though. At its core, it's still a really comfortable chair. It has a spring-action rocking mechanism that makes sitting in it extremely smooth, with a gentle rock in it. Smooth enough to sleep in.
Also, let's face it: The cupholder is awesome. Anything that cuts down the number of times I need to get out of the seat is a winner in my books.
Stonegate Designs Curved Fire Pit Bench
Obviously not a recliner and technically not a 'seat', this seat still has a lot to offer people looking to build a beautiful fire pit fixture. It's made with durable cedar timber and should hold up to the elements over the seasons well enough.
While sold by the unit, they've been designed with forming a set in mind. They're even shaped to form a perfect circle should you get eight of them, surrounding your fire pit.
SUNLEI Outdoor Wicker Chair Set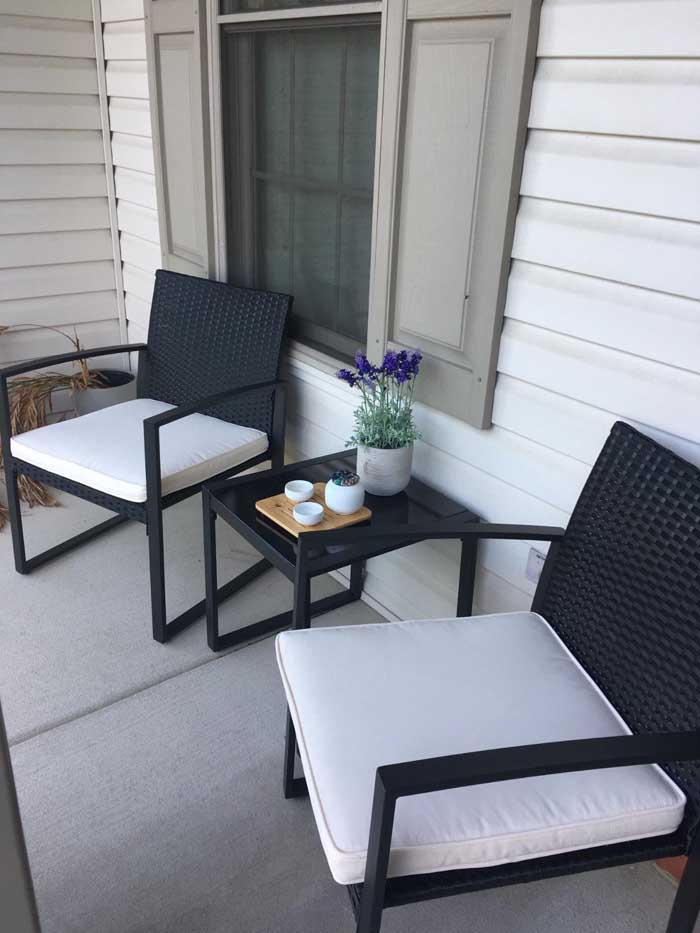 I love the look of these chairs. While they don't offer the same reclining angle as some of the other chairs on this list, they're beautiful in color and would look as good on your patio or balcony as they would around your fire pit.
These wicker seats come as a set of two, along with cushions and a coffee table. Beautiful, durable, and lightweight. The perfect summer chair.
---
FAQ
Got any burning questions about where to start with fire pit furniture? Our frequently asked questions are here to help.
How big should the seating area be around a fire pit?
First and foremost you need to decide on the size of your pit. After this you'll be able to accurately calculate how much room you have to play with for your seating area.
If you don't have your fire pit yet then you can use chalk to mark where it will be, and use this as a guide.
The key thing to keep in mind is that fire pits are supposed to be enjoyed from all angles, meaning that it should be comfortable to sit facing it from any angle.
Keep in mind that some people prefer to be closer to the pit, or further away from it. Bearing this in mind, try to allow enough room between the chairs and the pit to accommodate this, as well as behind the chairs. Also, try to leave enough room for people to walk between chairs without having to squeeze.
As a rule of thumb, Landscaping Network recommends leaving about 7 feet around the outer edges of the pit, which would allow enough room for foot traffic and furniture. As Landscaping Network says, it's better to have too much room than too little!
Will I need to assemble my chair myself?
A lot of chairs do come requiring assembly. However more often than not the reason for this is because manufacturers recommend staining or varnishing your chair first. This will help keep it durable and resistant to the effects of the weather or insects.
Fortunately, the vast majority of seats are then very easy to put together yourself and can be done in just 10-20 minutes.
Can you buy fire pits and seats together?
You can from certain outlets if they have deals on, but not many brands sell them as sets.
If I'm honest, I wouldn't recommend buying a set as quite often you find that either one of the components will be of poorer quality than the other. I suggest getting your fire pit first and then assess how much room you have for your seats, and what style you want, before buying your chairs.
Why should I pick a chair over built-in seats?
It might be personal preference, but I've never really liked built-in chairs in the garden or on the patio. One of the joys of sitting outside is being able to move around, and a built-in seat obviously doesn't offer this.
Built-in seating options don't allow you to adjust your height, nor do they allow you to move closer to the fire. Similarly, you won't be able to move closer to (or further from) someone.
However, there are some beautiful built-in options out there if you'd like something more permanent.