Portable boat grills offer an easy way to take your barbecue party out onto the open water. Find out everything you need to know about marine cooking and what features to look out for with our guide to the best boat grills of the year.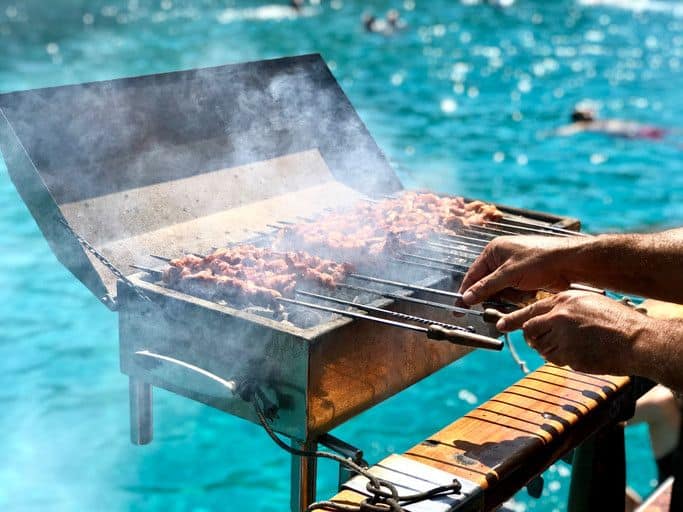 The best pontoon grills are able to pack in strong BTU cooking power into a compact space. All this while remaining lightweight enough to take out to water. It's more difficult than it sounds.
We've set sail to put our favorite boat grills to the test. In this guide you'll find our final list of the year's best offerings, and what features to look out for so you can make the right choice. Whether you want to go all in on a charcoal smoker grill, or just want an easy propane unit, we have something for everyone. Let's get into it.
At a glance: Our Top 3 Picks
Best Boat Grill:

Cuisinart Ponoon Gril

l


An impressive mounted marine cooker that offers easy propane cooking and excellent heat retention.
Runner-Up:

Masterbuilt Gravity Series 560


The perfect choice for those adventurous enough to brave smoking and charcoal grilling. A beautiful portable unit from one of the BBQ world's best smoker brands.
Best Budget Option:

Char-Broil Grill2Go X200


Compact and portable, it's the perfect option for sailing fans who want something simple and quick.
Cuisinart Petite Gourmet
Cuisinart's popular Petite Gourmet grill is one of the world's most popular small flat top unit, but the brand have made a boat-ready package that also includes a bracket set. This allows you to clamp it onto your boat's rail, keeping it steady and level for cooking out on the water.
It's well constructed, simple to install, and easy to wash. Cuisinart is famous for high quality builds and simplicity of use. If these two criteria are your main priorities, then this grill is perfect for you.
This item heats up quickly, and maintains even cooking temperatures across its surface. It can host enough food to sufficiently cook for about half a dozen people.
It attaches and detaches quickly so that it can be used on your boat, or easily dismounted to then take on shore.
This is largely down to its mounting brackets. These are sturdy and reliable enough to trust when mounted onto your boat, but also easy enough to dismount and take away with you. It should fit most boat rails or sides.
Crucially, the Cuisinart doesn't suffer from the same issues of hot spots or flare-ups that other small grills do.
Annoyingly, it isn't the most fuel efficient of appliances, and can easily burn through a 16 ounce tank in one single use. However I would add that this is quite common with small grills like this one.
What I do like is that it's one of the few models that comes with its own mounting brackets, so to have that extra cost of $40-50 instantly saved is something that I really appreciate. If you take into that economy saving then this is definitely a front runner among the top marine grills.
Cuisinart Petite Gourmet Modified for Pontoon Boat
Modified grill for pontoon boats lets you grill delicious foods out on the open water
Grill features 145 square inches of grilling surface and stainless steel burner and drip tray
Open fencing design is ideal for use with standard 1.25-inch square boat railings
Magma A10-215 Marine Kettle
First things first, this is a ​beautiful​ kettle. Normally I wouldn't say that aesthetics matter that much, but I feel like boating elevates this aspect, so if beauty alone is a key consideration for you then definitely get this grill.​​
Beyond its beautiful appearance and how it might add to the visual appeal of your ship, it's actually a very good cooker too.
Frustratingly, it doesn't have a mounting bracket and you will have to buy one separately. Furthermore, it doesn't have a deflector shield for its vents, which can make temperature control difficult.
The Magma is built with 304 steel, which is actually what they use for all their grill products. This type of steel is widely known to be extremely prone to the rusting caused by the effects of salty sea water, so you'll need to be aware of this if you are planning on heading out into the ocean. To help prevent wear, you'll need to clean and dry it after every use to help protect it against the elements.
Other grills tend to be made with 316 stainless steel, which is far more durable so the decision made by Magma here is a bit perplexing. Mind you, it does look beautiful.
Despite all of this, the Magma Kettle is extremely reliable. It has a solid enough ignition system, and its heat retention is solid despite its slightly more flimsy build.
It's relatively heavy, so can be a bit more cumbersome to transport around. However once it's firmly placed on your boat you'll be well on your way.
Sale
Magma A10-215 Marine Kettle
Made of 100% 18-9 mirror polished stainless steel with a combination "easy to clean" grease...
Hinged lid won't slam shut and has a "stay cool" handle with air cooled supports
Swiveling, windproof turbo venturi & control valve virtually eliminate blowouts, places the...
Magma A10-803 Connoisseur
Another Magma model, but it's a very worthy addition to the list. It doesn't lose any of its visual appeal however, and this is a much more dependable grill. It cooks evenly with no hotspots due to the way its ventilation has been set up. Just like with other Magma models, it is more prone to rusting due to its 304 steel build. It also doesn't have a mounting bracket, so you will have to buy one separately.
It's a really solid performer however. Its ignition system works brilliantly, and its big surface area means that you can accommodate a lot of people all at once.
Its exposure to the elements is also laid bare in windier conditions, where it can take a long time to reach ideal cooking temperatures. This isn't a factor that I would normally consider with other types of grill, but conditions are going to be more unpredictable (especially wind) out at sea.
It's an easy grill to take apart for when you need to wash it (which you will need to do regularly). It also has a grease drip pan, which is easy to remove for cleaning, so it's far easier to maintain that other boat grills.
Sale
Magma A10-803 Connoisseur
100% 18-9 Mirror Polished Stainless Steel; for Lasting Beauty and Superior Corrosion Resistance
Inner Safety Shell; Funnels Grease into Front Access Grease Tray Reducing Flare-Up and Heat...
Fold-Away Legs; Perfect for That Quick Picnic on Shore
Masterbuilt Gravity Series 560
Masterbuilt's Gravity Series is a beautiful portable charcoal grill that offers so much more than standard traditional units. Its 305 square inch cooking space actually means it's one of the most generously sized grills on my list. It's almost double that of some of the other grills here.
It has excellent heat retention and distribution within its chamber, so is far more fuel efficient than other similar models. That means that even a small propane tank will easily last more than single use.
Annoyingly, if you want to use a fully sized propane tank then you will need to invest in an adapter. These are fairly easy to get gold of though and are reasonably priced, but worth considering if you're thinking about making the leap.
In terms of performance, the grill is excellent. It has excellent heat distribution so is not at all prone to flare-ups or cold spots. Not only this, but it can reach target grilling temperature in just a few minutes.
It has an instant ignition button for easy light-up. It is fairly awkward to use however, but if you adapt the grill slightly by positioning the igniter close to the gas flow. It's an obvious design flaw, but one that's really easy to get around.
The grill is easily portable and has a lockable lid and foldable legs. It's also fairly light at 20 pounds, making it easy to load onboard your ship, or offload onto shore.
Masterbuilt Gravity Series 560
Reaches 225°F in 7 minutes or 700°F in 13 minutes
Control temperature and cook time with the digital control panel or with smart device control...
DigitalFan for precise temperature control
Char-Broil X200 TRU-Infrared
Anything with ​infrared​ in the title has my attention. Good grilling is all about heat consistency, and infrared burns are often a good guarantee of this. So how does this grill compare?
Now onto the infrared burners. For the unfamiliar, infrared burners are built to ensure that cold spots and flare-ups are kept to a minimum. Both of these are common flaws in gas grills, but since the introduction of infrared cooking this has become far less of an issue.
The infrared burners on this grill are excellent and allow fast cooking, all while maintaining even cooking temperatures across the surface of the cooking area. Not only this, but it helps burn fuel far more efficiently, meaning that you have far better cooking performance all while using less fuel.
Obviously there are positive environmental consequences here, but crucially it will also save you significant cost after frequent use.
It has a hardy build while not being too heavy. It can house its gas canisters inside the grill itself, so is really practical when loading or unloading from your boat.
Sale
Char-Broil Grill2Go X200
Road worthy and built to travel easy
Cast aluminum firebox and lid with dual stainless steel latches and temp gauge
High-impact frame with legs and carry handles
Last update on 2023-10-01 / Affiliate links / Images from Amazon Product Advertising API