The best things come in small packages. From portable charcoal cookers to propane gas models, here are the best small grills for your backyard.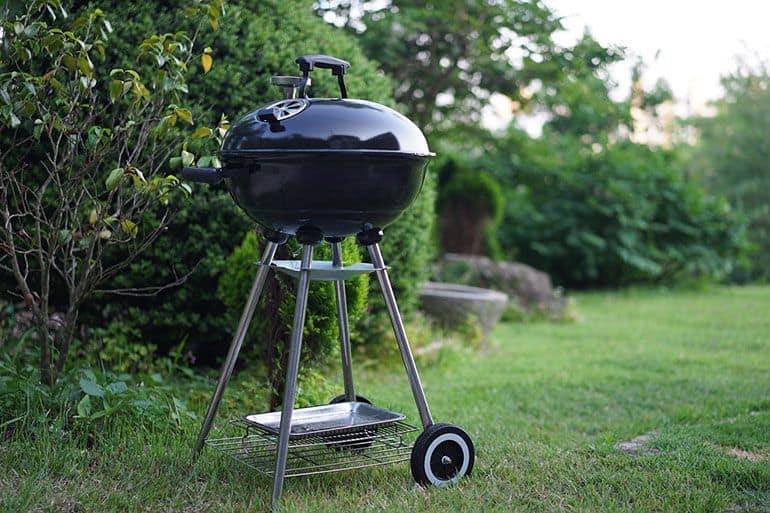 Modern small compact grills have emerged as the go-to solution for apartment residents and travelers, proving that you don't need huge outdoor space to enjoy good BBQ grilling. Designed to fit into tight spaces, whether it's a balcony or patio, these cookers provide plenty of punch despite their size.
By merging the bare essentials of traditional grilling with space-saving designs, these small grills cater to the needs of modern BBQ enthusiasts who want convenience without sacrificing that unique smokey and charred flavor.
Whether you want a traditional charcoal grill or an easy electric model, our guide to the best small grills has something for everyone.
At a Glance: Our Top 3 Picks
Best Small Grill: Weber Genesis II E-210
Weber's classic, stripped-back compact propane grill. Great for all patios, balconies, and campsites.
Runner-Up: Weber Smokey Joe
This iconic charcoal grill is proof that the classics never go out of style. Perfect for both grilling and smoking.
Best Budget Cooker: Char-Griller E3001
Dependable 2-burner propane grill that delivers everything you could need from a gas cooker. Comes in a stainless steel build and with 40,800 BTUs of cooking power.
Weber Genesis II E-210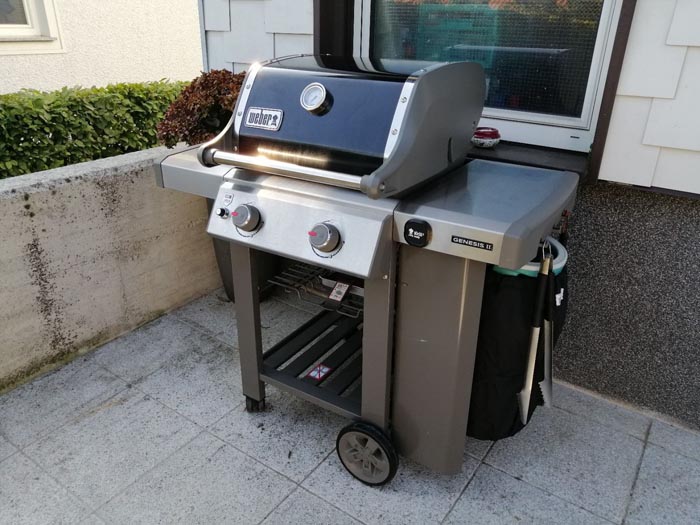 Weber is one of the top BBQ brands out there, so it should come as no surprise that one of their grills has made it into this list. They've consistently produced great gas and charcoal cooking gear over the years, and this model is no different.
This grill is one of Weber's smallest to date, making it perfect for home use.
This compromise in size doesn't mean a compromise in features though. It actually has some of the exact same features as it's larger counterparts.
Considering its size, it still offers an impressive 380 square inches of cooking space. It also has a foldaway cooking rack to the side, offering 114 square inches of space.
Underneath the cooking grates, it has two stainless steel burners, which are lined with 'flavorizer bars'. These help protect you from flare-ups but also incredibly help impart smoky flavors and beautiful grill marks on your food.
It's easy to start, needing just a turn of a knob, and also has an iGrill digital thermometer to monitor the temperature of your grill, or even the internal temperature of your food. This is paired up with the Weber iGrill app for your phone, allowing you to monitor heat levels remotely.
Weber Genesis II E-210
This product is a Natural Gas unit and you must have Natural Gas plumbed out to your patio or...
GS4 Grilling System includes two high performance stainless steel burners with porcelain...
Porcelain enameled cast iron cooking grates provide 380 square inches of cooking space with 114...
Weber Q-1400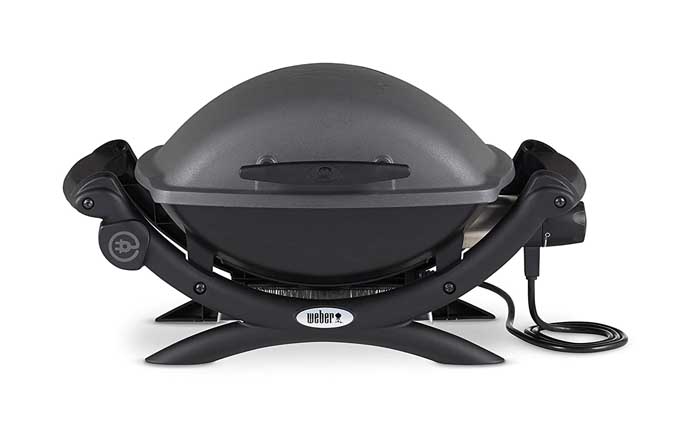 This electric grill is perfect for apartments because it offers an easy fire-less option for assured safety in the home. No need for coal, wood or gas. It just needs plugging in and you're good to go.
This grill has quite a modestly sized cooking area at 189 square inches. However this is backed by a 1560-watt heating element which allows for good cooking temperature levels and even the opportunity to sear your food.
The Q-1400's porcelain cast iron cooking grates provide beautiful sear marks on your food, which might come as a surprise given it's an electric grill. They also ensure even cooking, reducing the risk of hot spots or cold zones across your grill. It has easy temperature control, giving you a good range of heat options as you cook. It has a drip pan to catch any runoff from meat as you cook it.
Some grills that are small in size suffer from being heavy and hard to maneouvre, with all the features tightly packed in its small space. Not so with this Weber grill. Its frame is made with glass reinforced nylon, which makes it extremely easy to lift and move around should you need to pack it away.
Sale
Weber Q-1400
1560-watt electric heating element to heat 189 square-inch total cooking area
Porcelain-enameled cast-iron cooking grates and cast aluminum lid and body
Fully assembled out of box
Weber Smokey Joe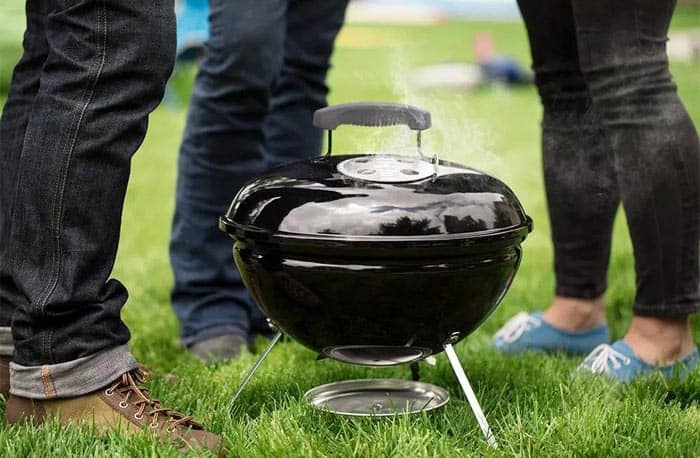 One of the best things about charcoal grills is how stripped down they are. They don't need gas canisters or electrics, just a barrel to accommodate your fuel. This is why charcoals often make great small, portable grills.
This small charcoal grill is built in the iconic Weber kettle style. Despite being small and compact, the Weber Smokey Joe has enough grill space to cook for a group.
Its kettle bowl and lid is made with porcelain enamelled steel so is durable and strong enough to last you a long time.
Weber Smokey Joe
Load up the car and hit the road with your Smokey Joe portable charcoal grill. Its durable,...
Holds up to five burgers made with a Weber burger press
Compact and lightweight for grilling on the go
Weber Q 3200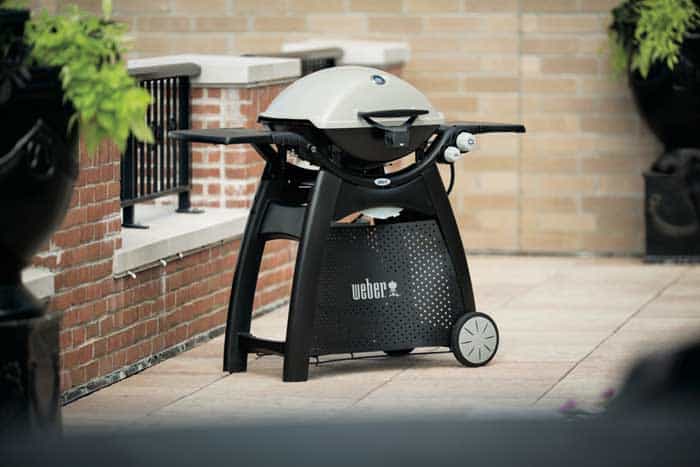 Weber have created this with compact size in mind rather than portability, so this a much better home or balcony grill than it is a tailgating or camping one. Its 83lb weight makes it too impractical to try transporting around.
An updated version of the Weber Q 320, what this grill lacks in mobility it makes up for in versatility. Its cooking grate size allows you to grill indirectly just like you would on a large gas or charcoal model. This allows you a much more authentic barbecue experience, all while having something compact that doesn't dominate your home.
Char-Griller E3001
Built with 250-square-inch cast iron cooking grates, the Char-Griller E3001 offers a decent amount of cooking space while also giving you a model that retains and spreads hit efficiently. It only weighs 50lbs, which makes it great for moving around as and when you need it. Despite it being lightweight, its powder-coated steel shell guarantees durability.
Char-Griller E3001
PREMIUM LIQUID PROPANE GAS GRILL - 40,800 BTU 3 Burner Gas BBQ Grill with a 12,000 BTU side...
CONSISTENT AND EVEN HEAT - Three burners with independent control knobs deliver continuous and...
LARGE COOKING AREA - 630 square inch total cooking area delivers great taste and bbq flavor:...
Solaire Anywhere Portable Infrared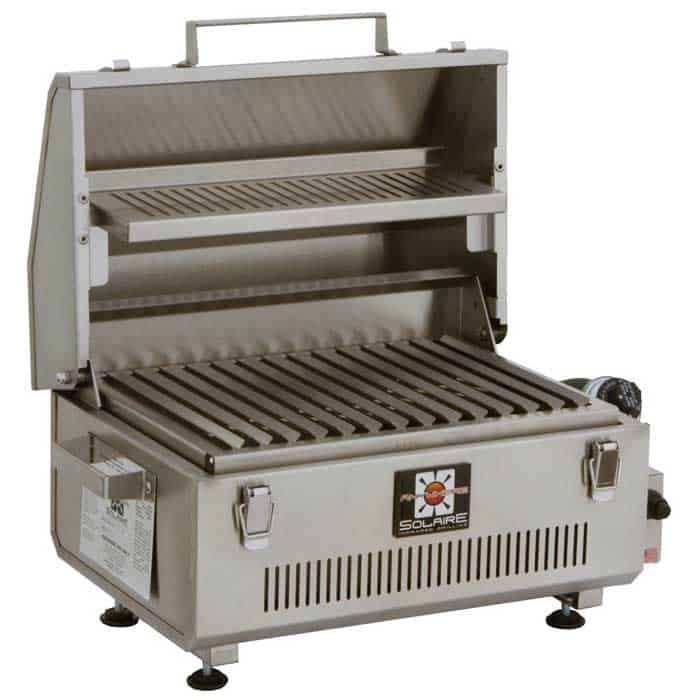 It's not often that the power capacity of an infrared grill is so efficiently packed into a small BBQ grill. Solaire has achieved it admirably. Boasting 14,000 BTU power, this grill is the most powerful on this list, arming it with impressive heat levels. Even more remarkably, it's all packed into a 20lb frame and marine steel shell, making it light but robust.
Its grilling grate size is a modest 155 square inches, so cooking space is limited. However if you're in need of something that can reach high heat levels quickly, then this is the grill for you.
Solaire Anywhere Portable Infrared
Real Infrared ceramic and Stainless Steel burner with electronic push-button ignition
140 Square inches of grilling area that fits six 4-inch burgers on special v-grate that...
Use made by 100-plus Year old family business
Char-Broil Patio Bistro Infrared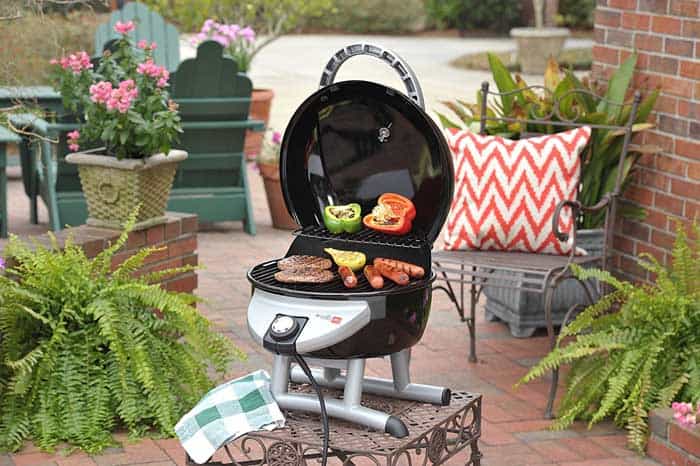 Electric grills make a great grill alternative if you're unable to have either a gas or charcoal grill. They don't emit smoke or gas to the same extent as more traditional models, making them much cleaner and safer for use in tighter spaces, like on a balcony or in a ventilated kitchen.
Its compact size doesn't mean that it's too limited in what it can offer you though. It can easily cater for a group of 3-5 people, and its 1,750-watt heating element means that you still get a good return on heat. As long as it can fit under the hood of the grill, then the Char-Broil can take care of it.
Sale
Char-Broil Patio Bistro Infrared
ELECTRIC GRILL: This grill is powered by electricity to give you the convenience of grilling...
COOKING TECHNOLOGY: TRU-Infrared cooking technology prevents flare-ups, delivers even heat and...
COOKING AREA: Grill up to 12 burgers, 6 chicken breasts or 4 steaks on 320-square-inches of...
KitchenAid 2-Burner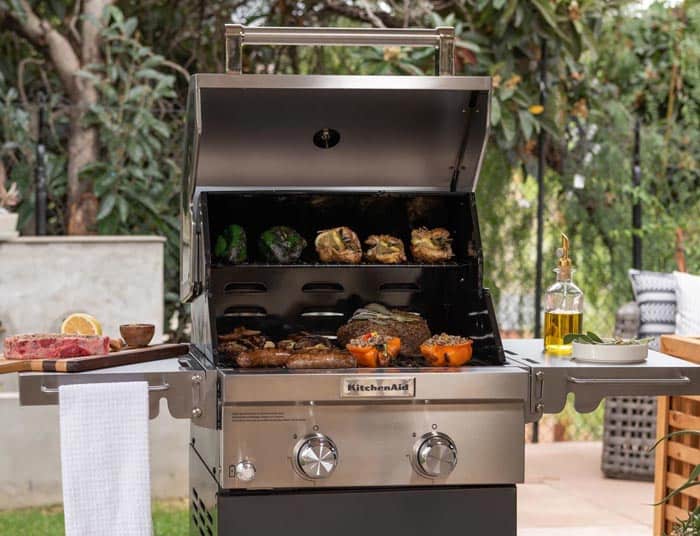 KitchenAid are much more well-known for their kitchen appliances than they are for anything else, but they do also offer a great range of outdoor grills.
Among this range is their 2-burner gas grill. Boasting 26,000BTUs, it is packed full of power without being so big it dominates your cooking area.
It has stainless steel cooking grates, making it durable and easy to maintain while also spreading heat efficiently. It also has flame tamers to prevent flare-ups from the grill, making it safe to use.
It has a built-in thermometer, which is a feature I don't see often enough on BBQ grills. This will help you not only monitor the temperature of the grill but also, far more importantly, the internal temperature of your meat.
Char-Broil Classic 280 2-Burner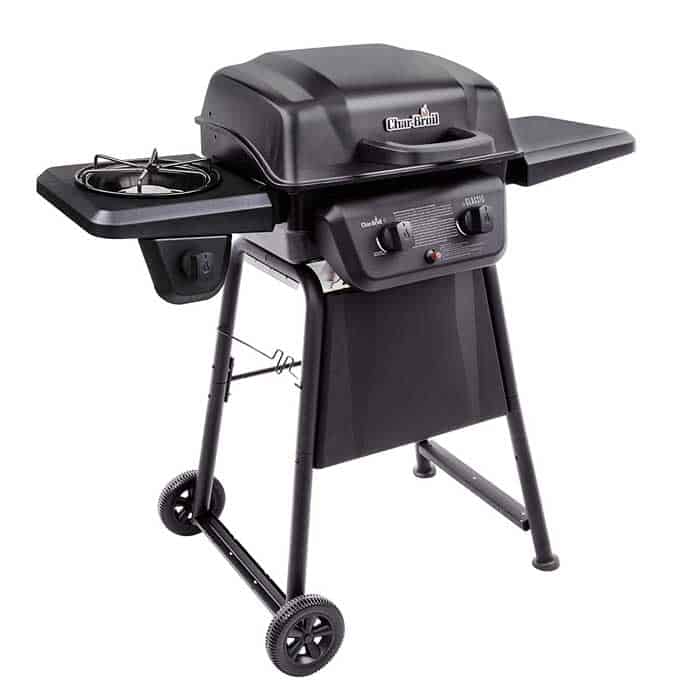 What I like most about this is that it has a good sized grilling area while also comes with a good deal of cooking power behind it. It has 280-square-inches of cooking space, offering a great deal of room to play with. Behind these grates comes 20,000 BTUs of power.
Its cooking space comes on top of porcelain coated cast iron grills, which is a sign of very good quality.
This type of coating works well in two ways: One is that it helps ensure even heat distribution across the grate surface, preventing the emergence of hot or cold spots; the other is that it helps make the grill more durable, guarding it against rust and general wear.
It has an easy ignition system, helping you to get things going at just the push of a button, and its porcelain-coated lid ensures that this grill will last you a long time.
Sale
Char-Broil Classic 280 2-Burner
GAS GRILL: Powered by liquid propane gas, this grill runs on a 20-pound tank, not included. It...
COOKING AREA: Grill up to 8 burgers, 4 chicken breasts or 2 steaks on the 280-square-inch...
BTU RATING: This grill has a 20,000 BTU rating with two 10,000 BTU burners. *BTU is a...
Weber Original Kettle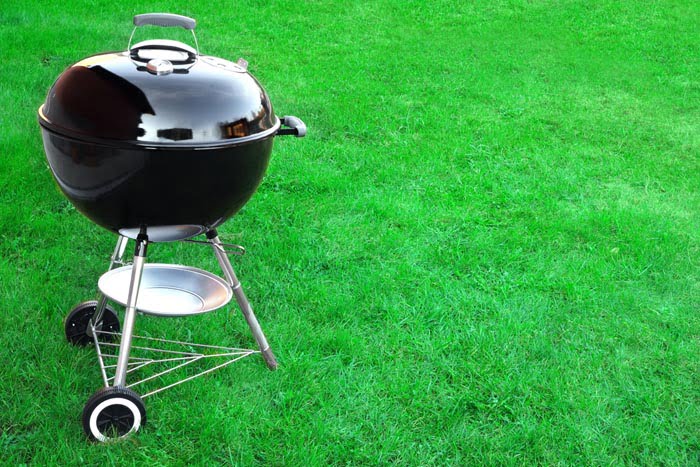 The Kettle isn't fancy and it doesn't try to overcomplicate things. Weber have stripped back everything to create a compact grill that goes back to the pure basics of barbecuing.
The Kettle is all about using raw power from wood and charcoal to cook with, and it's a pure delight.
At 22 inches in width, it's compact enough to suit most small homes or balconies. Despite this compact size, it offers a generous 363 square inches of cooking surface to play with.
It comes with an ash catcher, making keeping things tidy straightforward, while its heat shield ensures that you stay safe while using it. It's also listed as rust-resistant, so is built to last.
A grill that's small in size but big in character.
Sale
Weber Original Kettle
Stay true to the modern version of the kettle that started it all—the Original Kettle,...
Holds up to 13 burgers made with a Weber burger press
One-Touch cleaning system provides hassle-free ash cleanup.Removable, aluminum ash catcher
Fuego F21C-H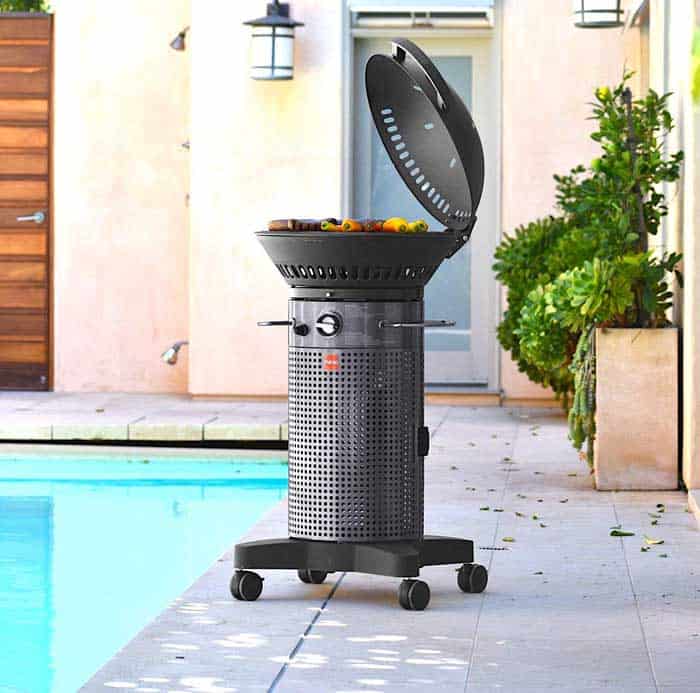 Strange in appearance, the Fuego lets you stay compact without compromising on real BBQ flames.
The cylinder futuristic design might put some people off, but there's plenty to admire and enjoy here.
Only 21 inches in width, this grill is easy to store away and won't come anywhere close to dominating your home space.
While small in stature, it still offers a really impressive 346 square inches of cooking space, providing more than enough room to cook for several people at once.
It's also a powerful machine, able to reach 500°F (260°C) in just a few minutes. Not only this, but you can set up two temperature zones on the grill, allowing you to cook on one and sear on the other.
Fuego F21C-H
Designed in California by former Apple Chief Designer Robert Brunner and winner of Vesta's Best...
Reaching temps of 500F in just 5 mins & up to 650F with a 15lb porcelain-enamel cast iron grate...
Compact 21" x 21" footprint perfect for small patio/balcony and 346 sq. in. cooking surface...
---
Fuel Types
Modern outdoor grills need a range of different fuels, each with its own advantages and disadvantages. Ensure you get the right type with our grill fuel guide.
Natural Gas
The type of fuel you use is critical, especially when looking for fuel to use in a small space. You will need to consider how safe the fumes from the grill area and how much smoke the fuel produces. Natural gas grills use hydro-based carbon fuel. They are more cost-effective than their closest competitor, propane gas.
It is an affordable fuel to use. It will cost you about one-third of the amount that you would spend on a propane gas refill. It is initially more costly; to install it, you will need a professional. This is where the numbers tend to rack up. However, once it is set up, it becomes convenient and easy to use.
Natural gas is also environmentally friendly and doesn't hurt the environment. Natural gas burns cleaner than other fuel sources and, as such, are great for use in a small space. The downside is that it is not for portable grills and needs a natural gas line.
Propane Gas
Propane gas is one of the more common fuels used for grills. They are easy to find and also easy to use. All you need is to turn a valve and switch the grill on. You do, however, need to be careful to make sure that you do not allow it to leak and cause a fire. Propane is not only convenient but is portable and easy to carry around. You can get tanks in different sizes, making them very portable.
It also provides a good amount of heat, meaning that it burns hot pretty quickly. As such, it is more effective for grilling. One of the downsides of propane is that it is more expensive in the long run. Propane gas helps when you want to cook in two different heat zones because you can easily control the heat output.
Also, propane gas is easier to clean off a grill. It works well in small spaces such as apartment patios.
Charcoal
Charcoal burns hot and will typically reach higher temperatures than what you can expect to get from a gas grill. Also, it is affordable. Charcoal also helps infuse a smokey flavor in food. On the downside, it's pretty messy. It does not do well in small spaces. It produces a lot of smoke which can also make a mess on nearby walls and furnishings. It also takes some time to heat up and creates ash that can get all over the food.
Electric
Electricity is an easy and affordable source of fuel. This will be the cleanest option, especially for a small space. They are also healthier for the environment, with no smoke emissions. The downside is that you can not use an electric grill, away from a power source or when you go camping, perhaps. Also, the food will not have a smokey flavor to it.
Pellet
Pellet grills are great as they will help give your meat the pellets' flavor, which you can handpick. It has low smoke emissions. Hence it can be used in a small space. Pellets also give off less acidic smoke. It also provides a steady flow of heat that helps to cook food evenly. The downside is that pellets do not get as hot as other fuel sources, so searing will be off the cards for you.
Plan Work Space
Because a grill will be emitting some heat and cooking emissions, you need to be mindful about where you place it. If you live in an apartment or community housing project, you may want to look out for the building's fire regulations. You want to place it in a place far from potential fire hazards such as furnishings or plants. A balcony with a high ceiling will be an excellent place to set up or an open space.
If you are camping or tailgating, look for space away from trees or anything that could potentially catch fire. Set the grill on an independent stand, preferably made of a fireproof material like cast iron or steel. If you are cooking on a camping table, ensure that you use a table stand to keep the hot surface away from the wood. Camping sites usually have regulations as well, and as such, you will need to know what these are and seek the relevant permission.
Planning the workspace also means thinking about the type of fuel you will use and a need to extend pipes, as in the case with natural gas and propane. Plan how you will get the fuel in, and make sure it is in a safe place. Also, ensure that the surrounding area has enough space around the grilling area to avoid any possible fires.
Fire Safety
You also want to make sure the space is safe from any possible damage like rain and moisture. Think about where you will be storing it and also how safe it is when it is stored. Propane tanks, for instance, need to be safely stored because they are combustible. To be safe, make sure to keep your fire extinguisher close by(which is specific to putting out fires caused by your fuel of choice).
Useful add-ons and accessories
For added fire safety, a fire blanket or grill cover can be very handy to keep close by. It keeps you safe and allows you to put out a fire if it breaks out quickly. It's a quick solution that you won't need to be an expert to use.
A stand or bracket for a grill will help keep your grill at a safe height, away from possible fire hazards, such as burning a table it is set on.
You may also find it useful to have a propane tank gauge to know your propane gas level.
Last update on 2023-11-28 / Affiliate links / Images from Amazon Product Advertising API