The Weber Q320 electric outdoor gas grill is a compact outdoor cooker that offers more than its small size suggests. How does it compare to other budget propane grills? Find out everything you need to know with our Weber Q320 review.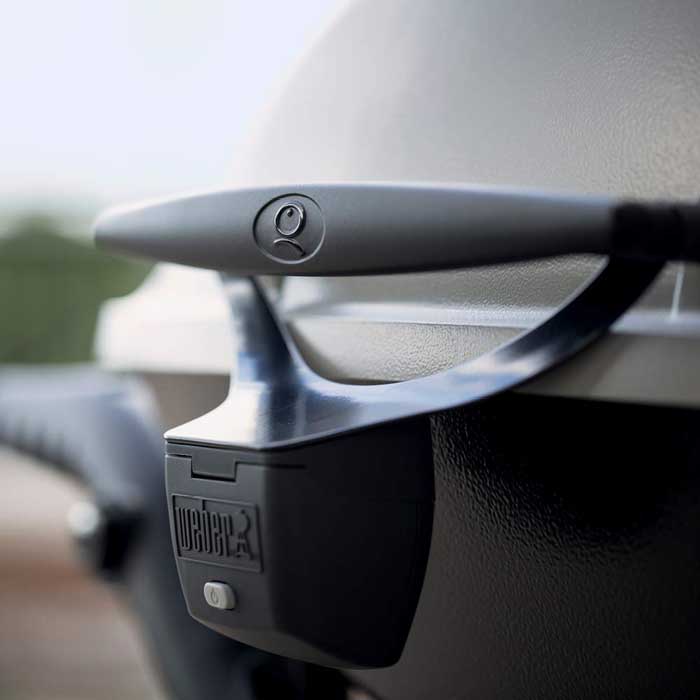 Weber are one of the most popular (if not the most popular) barbecue brands out there, manufacturing solid and reliable products that can be counted among the world's best outdoor grills.

Although most renowned for their charcoal efforts, Weber also boast an extensive line of outdoor gas grill models. Do they emulate their more traditional barbecue models? Our Weber Q 320 review brings one of their most popular gas offerings under the spotlight.
The Weber Q 320 has a very well thought out design, boasting excellent safety features. The tank storage system not only locks the propane tank in place so it can't shift around, but also uses the weight of the tank to counter balance the rest of the grill's weight. This is an excellent design feature, and its contribution to ensuring your safety and a comfortable cooking experience cannot be underestimated.

The Weber 320 features just two control burners – one for the inner burner and the other for the outer – and a single button to ignite them. Easy to use and a simplistic design with concise controls. The lighter is charged by a large red button (I love big red buttons) which worked first time every time we tested it. The button is also sturdy and placed cleverly enough not to be pressed accidentally by you leaning on the grill or while using other functions. It might be a small point to make, but we feel it is a valuable one.

The Weber Q 320 has a grate space of 393 square inches, which isn't as large as most of the other gas grills that we at Best Outdoor Grills have reviewed.

The grill features two burners below the grate, with the inner one responsible for heating the central regions of the grill, and the outer one taking care of the edges. Even heat across the cooking surface is aways an important criteria for an outdoor gas grill, so if you can be patient enough to cook smaller quantities of food at once then the Weber Q320 will ensure the quality of the cook is of a high standard.

Two fold-down trays feature on either side of the grill, allowing you a fair amount of space to rest plates of food ready for cooking, or ready to serve. While they are decent enough for their main purpose and do feel sturdy, they do make the grill a little awkward to move around.
Weber Q 320 ReviewOne of the main reasons people buy a gas grill is so that they can benefit from the speed in which these models heat up (a great explanation of how gas grills work can be found here). The Weber 320 is decent enough at this, taking about 10 minutes to reach its optimum temperature of 625°F, which is about average for most models like this.
The Weber Q 320′s cooking performance is good too, easily taking under 9-10 minutes to cook a burger patty, regardless of where it was placed on the grill plate. This means that heat distribution is near-perfectly even, which is always a strong sign of a great gas grill.

The handle temperatures on the grill stayed cool throughout cooking time, meaning it was safe to use without having to wear gloves for protection. Beware, however, that the body temperature does go up considerably more so it's worth taking care around it when cooking.
The Weber Q 320 is a great model that sits somewhere between a portable and full feature grill. Although its cooking area is not the largest, its performance definitely ensures that you will not be left wanting with the quality of your cook.
Last update on 2023-10-02 / Affiliate links / Images from Amazon Product Advertising API