Rotisserie grills offer you the chance to fire up delicious whole chickens, kebabs, and other barbecue dishes in a style unlike any other. With features like infrared burners, steel grates, and fuel type, there's of choice out there. Find your new favorite cooker with our guide to the best rotisserie grills today.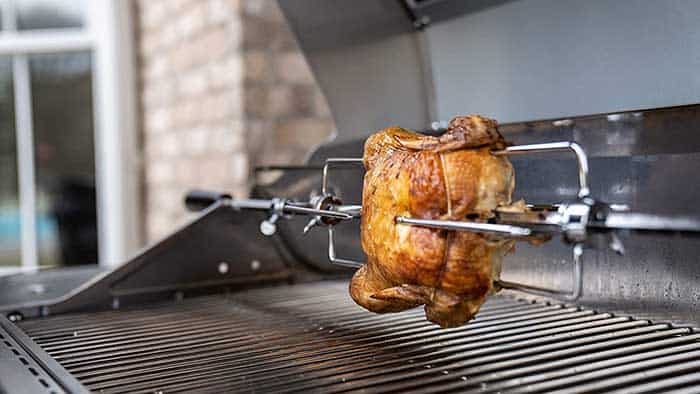 Offering even cooking and incredible flavor, investing in a rotisserie grill is a surefire way to elevate your backyard grilling. Rotisserie-cooked meat is juicier, but with a crispier skin that's unlike anything done on a high-heat grill.
But no grill is built the same: today's rotisserie grills pack in features ranging from powerful infrared burners to flavorizer bars, as well as side burners and a range of fuel options. So where do you begin in finding the right one for you?
We're here to help. These are the best rotisserie grills out there today.
Napoleon Prestige 500 RB
What we want with a rotisserie grill is power, we should demand it for it brings about the best results even if we have to invest a lot on a grill initially. That's exactly what the Napoleon Built-in Prestige 500 RB Natural Gas Grill Head brings to the table, well, other than a ton of nicely grilled food!
This operates at 66000 BTUs in total with four of its main stainless steel burners but wait, there's more with a 15500 BTU Rotisserie rear infrared burner. So, it does not only bring power but a large cooking space too which we all know, meat griller love to have for that backyard BBQ party.
It's got stainless steel Iconic Wave cooking grills and an easy-to-lift roll top lid. It is also easy and safe to operate at night or in low light conditions with its night light knobs with SafetyGlow. It's super easy to use as well with a Jetfire ignition. It also comes with stainless steel sear plates that have got dual levels. And lastly, an Accu-Probe temperature gauge is also onboard.
This grill brings whatever and everything that you need to go burn those meats and whatever your heart desires. It's powerful, durable, probably the only grill that you'll ever need for a long while, and most of all, the natural gas fuel is a huge selling point too.
Napoleon Prestige 500 RB
LARGE COOKING SPACE: 760 square inches of cooking space on main and side burners fit up to 20...
POWERFUL BURNERS: 4 infrared main burners capable up to 66,000 BTUs powered by natural gas
DURABLE STAINLESS STEEL MATERIAL: Cooking grids, tube burners, sear plates, basin, and body...
Weber Summit E-470
The Weber Summit E-470 Grill w/Rotisserie also brings a lot of space and a decent amount of power into the mix. That's a total of 580 square inches of cooking space. 48800 BTUs for the main burners, a side burner with 1200 BTU, a sear burner with 10600 BTU, and lastly, a 10600 BTU rotisserie burner.
That's a lot of cooking and grilling all at the same time. This is one is perfect for large gatherings and will definitely yield great flavor with your desired consistency for whatever food you desire to grill.
You will have access to an easy-to-read fuel gauge so you are always in control and an LED tank scale display is also in place. The cooking grates are made out of the finest materials today namely porcelain-enameled steel that's very durable and quite easy to clean.
The burner tubes themselves are, of course, made out of stainless steel. You also have flavorizer bars and a grease management system for a better cooking experience. This Weber Summit grill offers so much but, take note, that it's much more expensive too.
It looks good, really tough, and will give you a wide range of foods to grill and enjoy.
Sale
Weber Summit E-470
580-sq in Total Cooking Area
Four 48,800-BTU Main Burners, One 12,000-BTU Side Burner, One 10,600-BTU Sear Burner And One...
LED Tank Scale Display And Fuel Gauge For Easy Viewing
Broil King Regal S590
The Broil King Regal S590 Pro Gas Grill comes with a patented Dual-Tube that's made out of stainless steel so you may grill steak up to perfection. The burner and innovative Flav-R-Wave cooking system onboard are really designed to make sure that you cook/grill your food evenly for the best results and flavor. Make sure that they are delicious and juicy all the way through.
The cooking grids are guaranteed to be as durable as they come with a thickness of 9mm. That also makes this grill about 50% heavier than your standard ones to ensure that it operates with better heat retention and gives you those bold sear marks we all love.
Aside from being durable this unit is also pretty versatile and packs a lot of power. The main burner has 55000 BTU to offer and with 625 square inches of overall cooking space, we're sure that you can fit a lot on this grill and get that party started. The rotisserie at its rear runs at 15000 BTU and the side burner at 10000 BTU.
It's got LED control knobs to boot! Tough choices to make at this point buddy, we know. These are all pretty much great grills to have.
Sale
Broil King Regal S590
Patented stainless steel Dual-Tube burners with 2 ribbons of flame per burner and a 15-year...
Flav-r-Wave heat plates that provide the ultimate in even heat and vaporization; delivering...
Proudly made in North America - with domestic and globally sourced components
Monument Grills 4-Burner Propane
The Monument 4-Burner is next on our list and really, it won't be complete without it. This grill can cook a lot and does it really well with consistency and yields great flavors but if you're looking for something more conservative and don't really host large gatherings that much then this is for you.
Great for some casual backyard BBQ this 4 burner propane gas grill can do it all. Meats, veggies, chicken, fish, you name it. And, it's one of the most affordable on our list to boot.
It's got 513 square inches of overall cooking space but you'll get 210 square inches more if you utilize the swing rack and extra side burner. It's got a warm rack for keeping food at the desired temp at all times and a side burner that's perfect for that sauce.
You can do it all at a very reasonable price. It's also quite easy to use and maintain with its 304 stainless steel material. On a budget? This might work for you.
Monument Grills 6-Burner
We have another entry from the Monument Grills brand with their 6-Burner Stainless Steel Propane Gas Grill variety. Still, made out of 204 stainless steel you know that it's durable and easy to clean.
This one is really for large gatherings for you'll get the most power and space with this unit right here. It's got not 4, not 5, but 6 main burners! That's a total of a whopping 84000 BTUs. And for the cooking space? Well, only 634 square inches of it. Plus, you get the signature warming rack of 266 square inches that this brand is known for.
The cooking grates are made out of stainless steel and it's got stainless steel flame tamers to make sure that you grill/cook as evenly as possible for the best flavors. It also comes with a full set of accessories and everything you'd need to whip up that BBQ party right on the get-go.
Perfect for large and memorable occasions indeed.
Sale
Monument Grills 6-Burner
STAINLESS STEEL BURNERS - six main 304 stainless steel burners and one side burner with 84,000...
LARGE COOKING AREA - 900 square inches of total cooking area offers plenty of grilling space;...
STAINLESS STEEL COOKING GRATES - Stainless steel cooking grates designed for even cooking
Last update on 2023-12-01 / Affiliate links / Images from Amazon Product Advertising API