Smokeless grills are a great alternative to smoke-billowing charcoal or propane models. Replicate that backyard cooking experience without the mess. Here are 11 of the best smokeless grills to help you get your BBQ fix.
Smokeless grills are compact cookers that can offer outdoor and indoor searing, in an efficient and reliable appliance. As the name suggests, they don't produce smoke. This makes them versatile, and able to accommodate a lot of different types of food. Not just for grilling, but also for baking and frying.
Fans of grilled sausage sandwiches, fish, and vegetables rejoice. You may have just found your new favorite grill.
At a Glance: Our Top 3 Smokeless Grills
Best Smokeless Grill:

Philips Smokeless Indoor HD6370/91


1600 watts of cooking power sit behind this elite indoor electric grill. Made with die cast aluminum and a non-stick surface, the HD6370 is built to last for years.
Runner-Up:

Gotham Steel Electric GSISGM


Infrared technology and an efficient grease system make this grill entirely smokeless without compromising on cooking performance.
Best Budget Option:

Hamilton Beach Electric Indoor


Able to reach 450°F for meat searing and with a large grate area, there is plenty to enjoy here. Impressive durability and a robust build make the Hamilton Beach superb value for money.
Philips Smokeless Indoor HD6370/91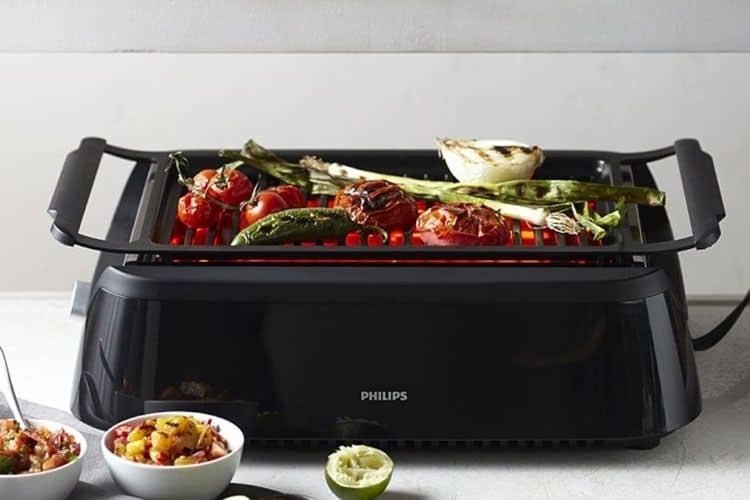 Philips has produced one of the best indoor smokeless grills today. The HD6370 is a powerful unit that offers up an impressive power output of 1600 watts. This power means that it can cook up to 450°F (230°C), which is the optimal temperature for searing meat. This means no need to adjust temperatures as you cook. Switch it on, set your meat, and go.
The key to this excellent heat performance is its infrared cooking technology. Similar to what we see in some of the best infrared grills, Philips has managed to harness this cooking power for a more modest indoor unit. This means quality grilling, less splattering, and less mess.
The HD6370 features a non-stick cooking surface, which reduces the need for any cooking oil. It's made from quality die-cast aluminum for long life and dishwasher-safe easy cleaning. It boasts a drip tray, so any fatty run-off is diverted away from the food and not burned into smoke.
How does this excellent performance work? The grill features special reflectors that help guide heat towards where it matters: Your food. This means quality heat distribution and energy efficiency.
We also love its Keep Warm function, which helps to hold the meat at a safe temperature until you're ready to serve.
Philips Smokeless Indoor HD6370/91
Advanced infrared technology and special reflectors guide heat to the indoor grills cooking. No need to adjust the heat! The indoor grill quickly heats up to a consistent 446°F.
Gotham Steel Electric GSISGM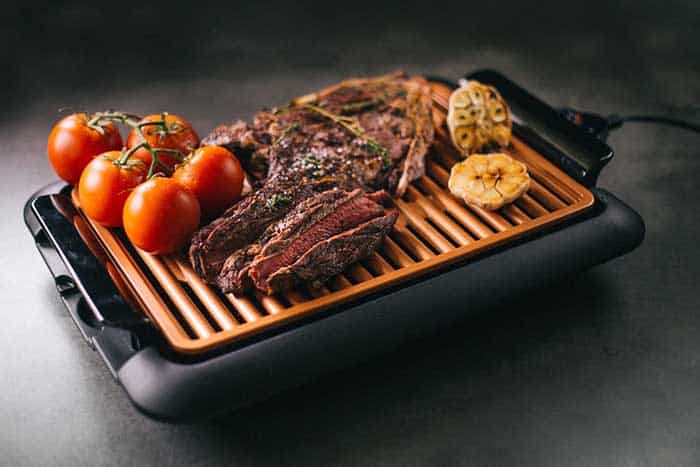 Gotham Steel's Electric grill comes in at a close second, and it's easy to see why it's so highly regarded. With a large cooking space of 240 square inches and non-stick ceramic surface, it's big and versatile enough to satisfy anyone after a good smokeless cooker.
It features smokeless technology to help reduce flare-ups and waste. Its heated grilling grates allow you to cook oil-free while generating heated grates that are up to the job.
Its grates are ceramic coated, which helps the Gotham Steel to deliver an evenly heated cooking surface. This same non-stick surface makes this portable grill easy to clean up after, as well as its drip pan for catching greasy run-off. This helps to funnel dirty oil away from the food to reduce smoke and unhealthy build-up on your food.
Gotham Steel Electric GSISGM
Nonstick ceramic surface heats evenly giving you perfectly-cooked and browned food
Deluxe Size: 14 x 9 cooking surface; 18 x 13" including handle and frame
The Gotham Steel portable electric grill pulls apart for easy cleanup and storage
George Foreman Indoor/Outdoor
The George Foreman brand is familiar to millions, and their Indoor/Outdoor grill is one of the best examples why. It's a versatile unit that performs superbly on a range of meats, fish, and vegetables.
It's one of the biggest smokeless grills on this list, boasting a huge 1500 square inches of cooking space. This makes it the best suited to outdoor use of all the grills on this list.
The Indoor/Outdoor's cooking performance is equally impressive. It features angled plates to help aid in funneling fat and grease away from food, and into its integrated drip trays. The heat retention and distribution on the George Foreman is just as remarkable. We didn't note any significant hot spots during use, and the chicken breasts we tested on it were evenly seared and cooked through.
Its non-stick plates can be taken out (making it one of our picks for best grills with removable plates) and are non-stick, so post-cooking cleanup isn't a chore. Just as important, its built to be corrosion and rust resistant, so this unit will last you for years.
George Foreman Indoor/Outdoor
George Tough Nonstick Coating - There's a lot to love about this nonstick coating; it's...
Indoor or Outdoor Removable Stand - Don't let the weather keep you from the glory of grilling;...
Adjustable Temperature Control - The temperature probe lets you choose from five heat settings...
Power XL Smokeless Electric Indoor
The Power XL has space in abundance, while still being portable and lightweight enough to cater for use on the road. It packs in awesome cooking power. The GR 200-5 iteration of the range has 1500 watts of cooking power, allowing it to ramp up to a maximum searing temperature of 450°F.
Just like all good smokeless appliance, it has a non-stick griddle hot plate and a drip tray for grease run-off. The ribbed design features hold to help keep your food free of oil build up.
Easy to clean, powerful, and large. What's not to love?
Power XL Smokeless Electric Indoor
The Outdoor BBQ Grilled Taste XL features a sizable grilling surface measuring 13.75" x 8". In...
Non-Stick Ceramic Grill Surface: Super Non-Stick Cerami-Tech Coating means you don't have to...
Removable Grill Plate The Cerami-Tech Grill Plate is dishwasher safe and lifts out easily for...
Hamilton Beach Electric Indoor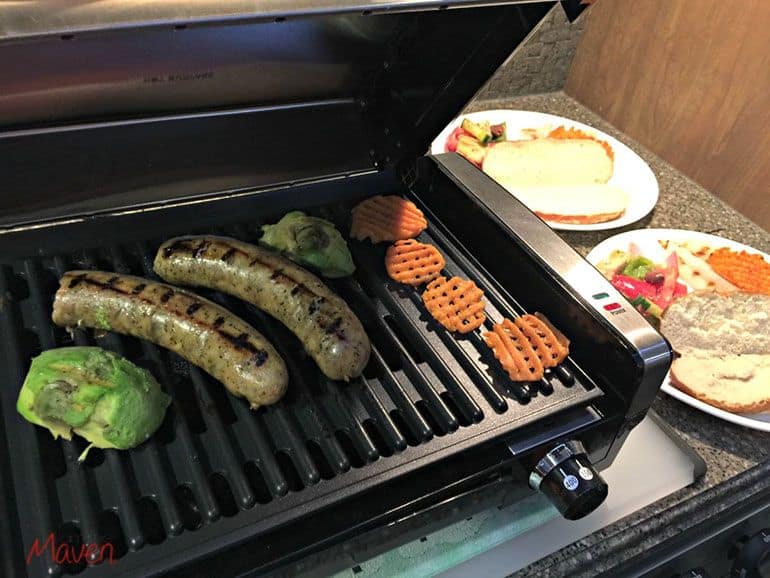 With the Hamilton Breach, you can now grill quality and healthy food for the whole family. It features a large grate area to cook food for eight people. It measures about 43cm by 30 cm. Besides this, the compact appliance also has a high power output rated at 1200W and the temperature can reach up to 240-degrees. This makes it ideal for cooking different dishes depending on the recommended temperature. Some of the dishes that you can cook on the grill include vegetables, steaks, and sausages among others.
It includes eight grill spatulas that are ideal for the non-stick surfaces. Moreover, it has up to eight color-coded mini raclette pans. With this, you can easily tell pans that contains their sauce or sides.
The durable build of the Hamilton Beach makes it great for long-term use. It is very strong and corrosion resistant grill. The cleaning is easy thanks to the non-stick cooking area plus removable parts. You can easily clean the grates since the food won't stick on the surfaces. It has an adjustable temperature control for cooking a wide range of dishes. You just need to dial the required cooking temperature to cook delicious foods. The smokeless grill also cooks very healthy foods since it can separate the fat from foods. It also features the fat and grease dripping tray that collects all the fat from the food.
Hamilton Beach Electric
ENJOY OUTDOOR FLAVOR INDOORS. Grill your favorite foods year-round in any weather with this...
LOCK IN JUICES AND FLAVOR — SEAR AT 450° F. The high searing heat of 450° F (232° C) locks...
KEEP AN EYE ON YOUR FOOD: This indoor grill with hood comes with a convenient window in lid...
Hot Shot Indoor Electric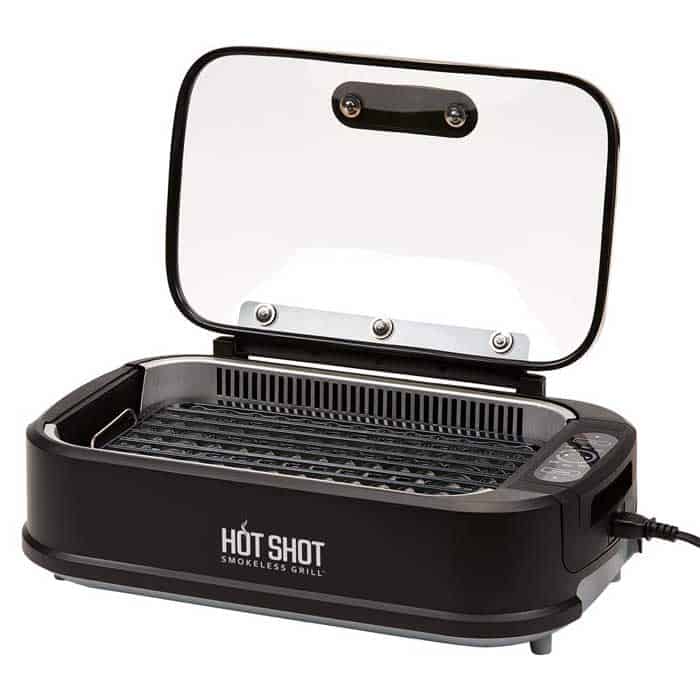 The Hot Shot is an indoor smokeless grill with a sleek appearance that's bound to win over an army of new fans. While it's cooking surface is a bit smaller than some of the others on this list (14 by 8 inches), it comes with two interchangeable surfaces that can be removed and swapped for one another. One surface is non-stick grates to replicate good BBQ grilling, while the other is a griddle surface to help you match the cooking from flat top grills.
It has a drip tray included so you won't get any nasty, fatty run-off. This will help prevent smoke, while also making your clean-up operation a lot simpler after you're done.
Hot Shot Indoor Electric
Smokeless Indoor Grilling & Searing – Enjoy grilled steaks, ribs, pork barbecue, and burgers...
non-stick grill grates .Doubles as a professional Panini press. Want authentic grill marks? Use...
Compact and Portable Grill Design – Easy to plug in and use in your kitchen, a picnic area...
Simple Living Advanced Indoor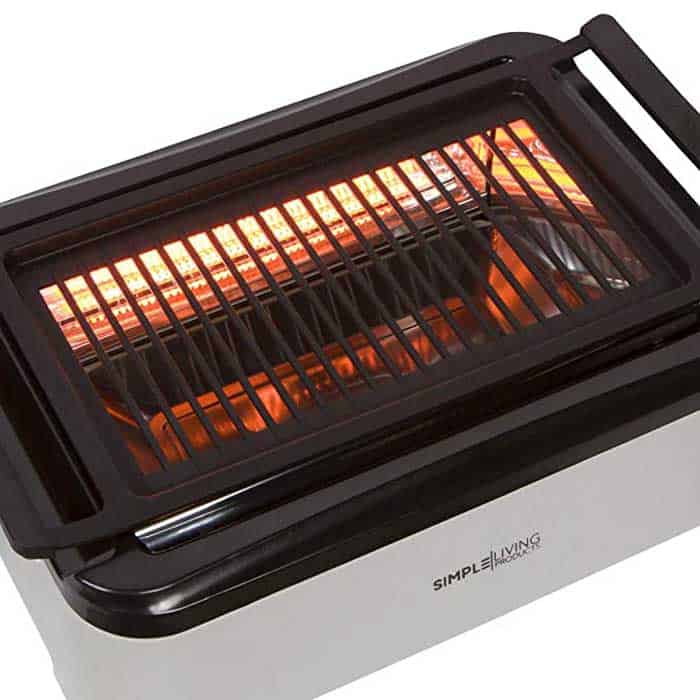 It's not hard to see why the Simple Living grill is so popular.
It's built upon infrared burners, which are fantastic for distributing heat efficiently and evenly. It also has built-in reflectors, allowing it to squeeze everything it can out of its 1600-watt power capacity.
These reflectors work by directing infrared heat towards the grill surface, saving energy waste. They also double up by reducing oil run-off and the nasty smoke that can lead to.
It has an easy-to-use, non-stick surface that covers about 110 square inches, which is enough to serve about 4-6 people.
Any negatives? My gripe would be that it doesn't have a temperature dial control, meaning that it can only really cook at 446°F. Perfectly fine if you're directly grilling, but it doesn't leave room for much else.
It's a small, easy-to-use appliance that does high temperature searing efficiently. The use of infrared burners and reflector plates should be applauded. It's just a little bit disappointing that it doesn't offer much flexibility beyond this.
Simple Living Advanced Indoor
✔ ADVANCED INFRARED TECHNOLOGY - Infrared heaters remain at the consistent temperature of...
✔ HEALTHIER SMOKELESS GRILLING - Below the heating elements is an always cool drip tray, when...
✔ THE MUST HAVE GRILL - With lightning fast heat up, this grill delivers the optimal...
Techwood Smokeless Grill
Further to the reflector plate technology that is so crucial to the design of smokeless grills, this model from Techwood has an airflow and fan system that aids the distribution of heat to even greater level. This helps make the most of its 1500-watt cooking power.
At 135 square inches, its cooking surface area is on the small side, although is still enough for a group of 4 people.
It has a temperature range of 220°F to 450°F, allowing you to cook and sear food over direct heat well.
It also has a built-in overload protection system, which automatically switches the grill off once its internal temperature threshold has been hit.
Techwood Smokeless Grill
[🍗 Indoor Smokeless Searing] - This electric indoor smokeless grill is adopted advanced...
[🍗 Health & Delicious BBQ] - Techwood 1500W electric smokeless indoor grill cooks delicious...
[🍗 Heats up Quickly & Precise Control] - Techwood indoor smokeless grill with a LED accurate...
ChefWave Smokeless Indoor
ChefWave's indoor grill has managed to reduce smoke by up to 80%, which is impressive considering the unit's impressive cooking area size. The stainless steel grates sit over infrared burners, which helps ensure solid heat distribution.
This unit is all about the add-ons though. It comes with a fish basket, kebab set, and rotisserie set to give you the choice of a whole range of cooking approaches. Despite being quite small in size, the rotisserie can hold enough weight to cook a 6-pound chicken.
The grate sits above a drip tray to catch any excess run-off from your grilled meat, while the infrared burns help to reduce smoke. The grates are removable to help easy clean-up, so that its pristine enough to reduce any unnecessary smoke.
All of this sits over a powerful 1780-watt grill for quick heat-up, so you're ready to go in no time. It has adjustable controls so you can tweak cooking temperatures in line with what you need.
The rotisserie motor is a little on the loud side, but beyond that this is a pretty flawless smokeless grill that offers plenty of flexibility and features.
ChefWave Smokeless Indoor Electric Grill & Rotisserie
Premium Indoor Electric Smokeless Grill: Enjoy all the fun of an outdoor BBQ indoors! Infrared...
Make Versatile and Healthy Foods: This 5-in-1 indoor BBQ grill comes with a rotisserie spit...
Save Time and Easy to Clean: Heats up in minutes and leaves foods evenly seared and juicy....
Tenergy Redigrill Infrared
The Tenergy Redigrill is an excellent indoor cooker that ensures excellent heat distribution for perfectly cooked meat.
It can reach a maximum cooking temperature of 446°F, and it can typically do this within 5-6 minutes of turning it on.
Its burners are powered by infrared burners, which helps the grill to make the most of energy efficiency as well as reducing smoke by up to 80%. These heat the food directly, and not the air around it. It also means that food is cooked more evenly, significantly reducing the likelihood of hot spots across the cooking surface.
The Tenergy's real weakness is its ability to sear. That means it's more limited when cooking chicken breasts or steak, and even weaker if you want to use more advanced techniques like reverse searing. That aside, it's a perfectly great grill for vegetables and other meats.
It has removable plates to make cleaning easier for the griddle top and grease trap, as well as giving you flexibility to use other grill inserts.
Tenergy Redigrill Smoke-Less Infrared Grill
Smoke-less technology - Tenergy's indoor infrared grill creates 80% less smoke than other...
Advanced infrared heating technology - Our electric barbecue grill evenly cooks meats, fish,...
Easy-to-use and clean – Two-piece setup home grill takes less than a minute to start...
GoWISE USA GW88000 2-in-1
GoWise have been better known for their air fryer appliances, but this first foray into home grilling is a solid effort.
It can reach a maximum cooking temperature of 482°F, which compares well to its peers. It doesn't have infrared burners, so sometimes cooking consistency can be a little unreliable. However, for something fuss-free that's easy to use and clean, there aren't many better than the GoWise.
Armed with non-stick removable grill and griddle surfaces, this thing is built with the clean-up operation in mind. All the removable parts are dishwasher safe, and should only need one go-through. Its compact design means that it's easy to store away without dominating your kitchen cupboard space.
GoWISE USA GW88000 2-in-1
Experience grilled food taste cooked indoors: You no longer need to wait until the weather's...
Included with the grill are non-stick grill and griddle plates. The removable grill and griddle...
Built-in fan eliminates smoke: Grill to perfection indoors without worrying about setting off...
---
Benefits of Using Smokeless Grills
Smokeless cooking is one of the best ways to grill safely and healthily. Here are some of the main advantages of investing in a smokeless appliance.
Healthy Cooking
Drip tray inserts found in smokeless are designed to divert grease and liquid fat away from your food as it cooks. This separation helps to reduce flare-ups across the appliance surface, and stop your meat from cooking in its own grease run-off.
The non-stick cooking surfaces also mean that you don't need to use cooking oil, allowing the food to cook cleanly and healthily.
Ideal for Indoor and Outdoor Use
Unlike traditional propane or charcoal models, smokeless grills are powered by simple electricity. This means that they are safe to use indoors, and also easy to take on the road for easy campfire or tailgate grilling.
Easy to Clean
Non-stick surfaces make these units easy to clean, as well as the drip trays that collect grease and fat while you use them. Many of them also have removable plates, allowing you to run them through the dishwasher. All the smokeless grills have non-stick surfaces, which makes them easier to clean.
How to Clean a Smokeless Grill
You will need to clean your smokeless grill regularly to preserve its non-stick ceramic or aluminum grates and maintain good performance. Luckily, many electric grills have plates built upon on incline to help direct grease into a drip pan. This makes cleaning a lot easier.
If your grill has removable plates, wait for your appliance to cool down before trying to take them off. Submerge the plates in hot soapy water for a few minutes to help dislodge any stuck-on debris or leftover food. Use a non-abrasive sponge to clean away any remaining cooked-on food or grease. Set the plates to one side on a rack and leave them to dry. Once dry, put them back on the grill.
If your grill has non-removable plates, this can be a little bit difficult but there is a simple hack we can use to get around it. After you have finished using the grill and before it has cooled down, take a sheet of aluminum foil and place it face-down on the grates. Unplug the grill and allow it to cool with the foil on it. Once it has cooled, remove the foil. This should help remove some (if not most) of the leftover food or grease. After this, use a non-abrasive sponge and soapy water to remove any other excess dirt.
Last update on 2023-10-02 / Affiliate links / Images from Amazon Product Advertising API