Yakitori grills offer street food-style seared meats, all from the comfort and convenience of your own backyard. Their compact and light build makes it quick and easy to make your favorite grilled skewers, allowing all Yakitori lovers to relive that Japanese market experience. Here are 3 of the best Yakitori grills to help take your grilling to the next level.
Yakitori grills are are an interesting addition to any kitchen, and make for a great way to make home grilling and cooking more sociable and – dare I say it – more fun.
Yakitori is a Japanese style of cooking where small pieces of meat are pierced on a skewer, and then grilled over a small bed of coals.
It's the DIY form of cooking that has made other types of cooking, like Korean BBQ or Chinese hotpot, so popular.
This guide will show you different types of Yakitori grills, and help pick out the best one for you.
At a Glance: Our Top 3 Yakitori Grills
Fire Sense Large Yakatori Charcoal Grill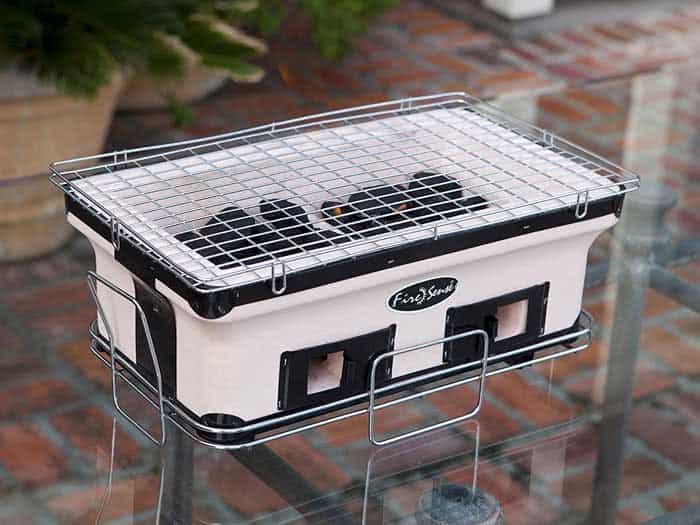 Who this grill is perfect for
Those of you looking to entertain or cook in groups can make great use of its 17×10 inch cooking space, cooking multiple skewers at once.
It's also great for anyone with safety concerns about cooking at parties, as its safety clips make sure that everything stays firmly in place without the risk of spilling over.
Fire Sense Yakitori Grill Review: In Short
This grill combines the best of both worlds in Yakitori grilling by matching a clay exterior with a ceramic interior. This clay mode construction gives it a beautiful authentic look, while its ceramic inner lining ensures that it will grill your food evenly without leaving any cold spots.
What also makes it stand out is its ease of use. It has four ventilation doors at its base that you can adjust to control heat.
It also offers one of the largest cooking areas among our list of Yakitori grills, with 170 square inches of grilling area to work with. This clips onto the grill bowl securely, so no wobbling or flipping over while you use it.
Its adjustable vents make it stand out from the crowd, while its authentic clay build makes sure that it will look good on any patio or table surface.
Easy to use, extremely durable, and a large cooking space. What more could you want?
Party Griller Stainless Steel Charcoal Grill
Who this grill is perfect for
This free-standing Yakitori is great for users who want a stand-up grill in the backyard with a more durable build. If using an outdoor charcoal or gas grill has been your default over the years, then transitioning to this will be easy.
Party Griller Yakitori Grill Review: In Short
This is a unique Yakitori grill that is built with cooking quantities in mind.
Crucially, it's also a lot of fun to get to grips with. If you're like me and have been used to the setup of traditional North American grills, then phasing into using this one won't cause too much of a culture shock.
It's also built from sturdy stainless steel, so will stand up to heavy use for a good amount of time. A sound investment.
It has adjustable vents at each end of the grill so can increase or decrease air circulation and, with it, heat.
Finally, its stainless steel build means that it's a lot easier to clean up than most other types of grill.
Party Griller's Yakitori is an affordable and durable that should be perfect for anyone looking to make the change from traditional charcoal grilling. Its adjustable vents make it easy to use, and stainless steel build guarantees a good lifespan.
It is not a traditional Yakitori and is certainly not a tabletop grill either, so will not be for everyone. However for users who are open to a more liberal interpretation of Yakitori, this is a great option.
Uten Barbecue Portable Yakitori Grill
Who this grill is perfect for
This grill is great for people who want to try Yakitori on the grill, or who want something that is easy to stow away and have out of sight.
Uten Barbecue Portable Yakitori Grill: In Short
Despite the fact that it's lightweight and portable, Uten Barbecue has not cut any corners with its durability or reliability. It's made with premium chrome mesh wire and iron to make it heat-resistant and safe to use.
Its relatively small build means that it's both easy and fast to light up, so you'll be up and running within minutes. This does however mean that it can dent easily if not handled with care, so if you want something that's built to last then you might not want to look elsewhere.
It also has 12 airway vents along its side, which give you a lot of flexibility when it comes to temperature control.
The perfect portable Yakitori grill for camping or travel fans. Uten hasn't allowed portability to be a reason to compromise on quality, with materials that are built to retain heat well.
Durability is a concern with this grill, with the material being prone to denting, but if you just need something that you can take on the go with you then the Uten is perfect.
---
What is a Yakitori grill?
Yakitori grilling has similar appeal to Korean barbecue in the way that it has a party and social attitude to cooking, and allows you to grill while you eat.
What makes it distinct from Korean barbecue is that it's primarily done through using skewers.
This might seem limiting, but it's far from it. Despite the fact that its name is derived from the Japanese for 'grilled chicken', Yakitori makes the best of a wide variety of meats and vegetables, and allows a lot of room for creativity.
Yakitori grills are much more compact than traditional outdoor grills, and are usually rectangular and extremely narrow. This build is designed to allow the ends of the skewers to rest upon the edges of the grill. It's their compact design that makes the perfect project for making a DIY yakitori grill.
The grill's charcoal is held beneath the food, but the grill is long enough to allow you to employ techniques like 2-zone cooking and indirect grilling.
This is crucial because Yakitori grilling is done best when it's done low and slow. Just like with BBQ smoking, Yakitori is often done at about 200-250°F.
What makes a great Yakitori grill?
The best Yakitori grills are rectangular and compact in shape. This shape helps you use indirect grilling, while also ensuring that heat is spread as efficiently as possible for your skewers.
Yakitori is also traditionally served at the table, so it's important that the grill is small enough to sit as your table's centerpiece without dominating the area.
An important feature is also a ceramic interior. This lining will help the heat emitted from the charcoal radiate, which helps ensure consistent and even cooking temperatures.
Traditional Yakitori grills were made with clay, so if you want something a bit more vintage in build and appearance then you'll want to look out for this. This isn't fundamental however, and personally I don't think adds anything to the actual performance of the grill.
What's the best charcoal for Yakitori grills?
What makes Yakitori grilling even more unique is that the charcoal needed to be used is also different to regular lump charcoal that we might use for outdoor grilling.
The charcoal you'll want is Binchotan BBQ.
Lump charcoal or briquettes can be used, so don't worry if you can't get hold of Bunchotan. But if you're able to get some then I strongly recommend it.
Binchotan charcoal burns cleaner, which is what makes it great for using at a table setting. It's also better at producing even heat than more traditional forms of charcoal.