Want all the fun of cooking outdoors in a portable, easy to use form? In this rundown of the best outdoor electric grills, we show you how can take the BBQ with you without breaking the bank.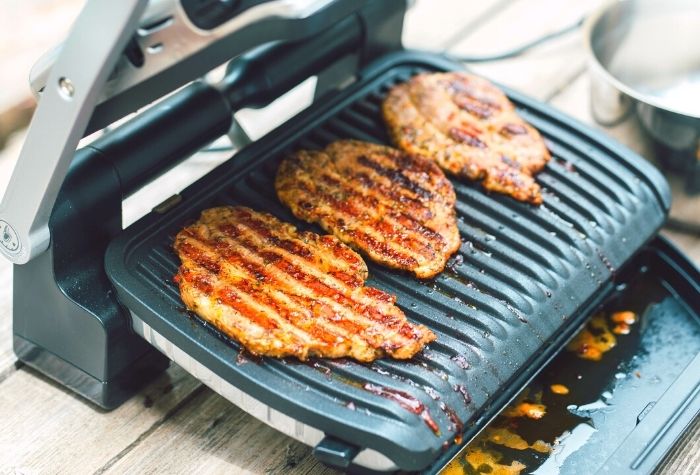 Outdoor electric grills offer quick and easy grilling that their gas or charcoal contemporaries don't. Simple to take on the road and even easier to clean up, these fuel-efficient cookers provide simple grilling for your next camp or beach trip, or simply for use at home on your apartment balcony.
From Weber to George Foreman, these best outdoor electric grills are our top picks to get you that iconic backyard cooking smoke and char.
Weber Q2400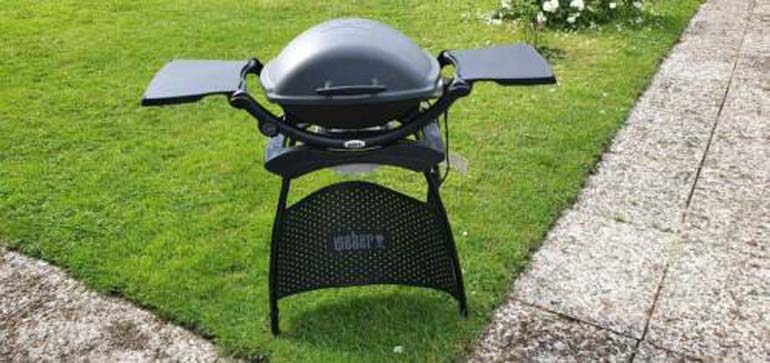 Weber Q2400 is one of the top electric grills that are available in the market. The major advantage with this grill is – it gives you more than the heat which you need to cook. You will get around 600 degrees. Isn't this heat sufficient enough to cook? It is certainly sufficient. When it comes to heating time, it takes around 20 minutes.
When it comes to appearance and ease of use, this grill is sleek. Its front is sturdy. Its handle is large. And, the side handles are ergonomic. It is a good space saver and portable. The power requirement is – 1,560 watts /120 Volts.
George Foreman GGR50B Indoor/Outdoor Grill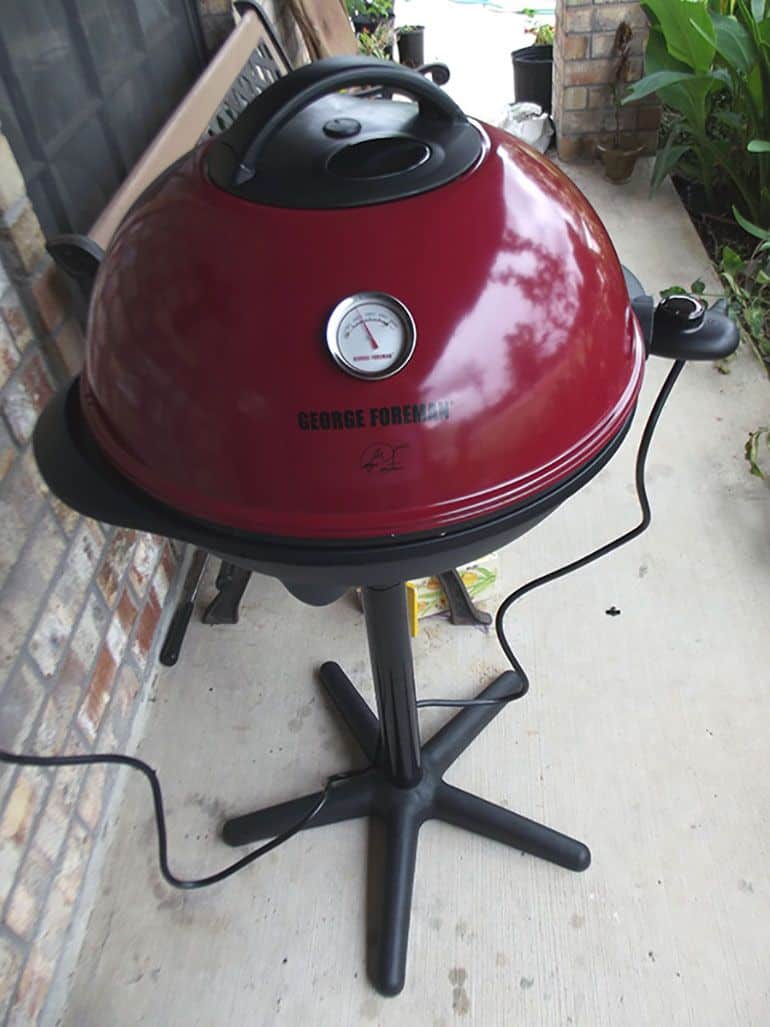 As the name sounds, the George Foreman GGR50B Indoor/Outdoor Grill is not just an outdoor grill but it can be used indoor too. It is one of the best combo (indoor and outdoor) grills, which provides you with many features including the removable pedestal and tabletop grilling. Even the price is also reasonable. It has the capability to serve you with around 15 servings, which includes – kabobs, veggies, meats, and desserts, etc.
Its coating is nonstick, which makes it easier for you to clean. It is highly durable. It also has temperature control, which is adjustable with five options to choose from.
We've taken a look at this grill before when ranking our picks for the best smokeless grills, so it's no surprise to see it appear on other best of lists too.
Cuisinart CEG 980T Outdoor Tabletop Grill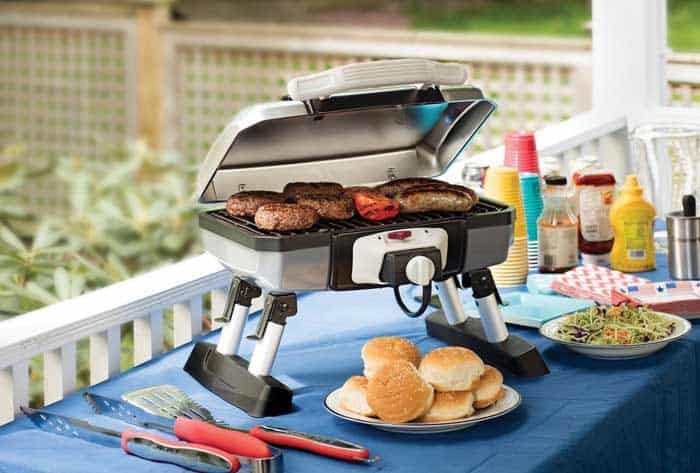 The Cuisinart CEG 980T Outdoor Tabletop Grill is also one among the best portable electric grills. This grill is so portable that you can even pack it up and carry it with you. It doesn't need any assembly. It has a grill area of 145-square-inch and has the capacity to cook around four pounds of fish, eight steaks and burgers, six to ten chicken breasts.
This grill comes in two models – tabletop and versistand model, which has longer legs. However, the grill is the same in both the models. You can raise veristand model up to your chest.
Char-Broil 17602047 Infrared Electric Patio Bistro
The Char-Broil 17602047 Infrared Electric Patio Bistro is a kind of odd man out among the peers because of its unique infrared feature. In other words, you can do the cooking with infrared. It has a good 240 sq. inches grilling space though it is a bit less when compared to Weber Q 2400. Its porcelain-coated grates are rust-resistant and you can clean them easily. It also has a warming rack of around 80 square inches, which is perfect for sides. You can use this grill for cooking everything including vegetables and steaks, etc. The temperature is adjustable. And, there is enough prep and storage space.
Its Char-Broil infrared technology enables heating faster and evenly as well for juicier food. This electric grill is a vantage product for the people who love infrared cooking.
Breville BGR820XL Smart Grill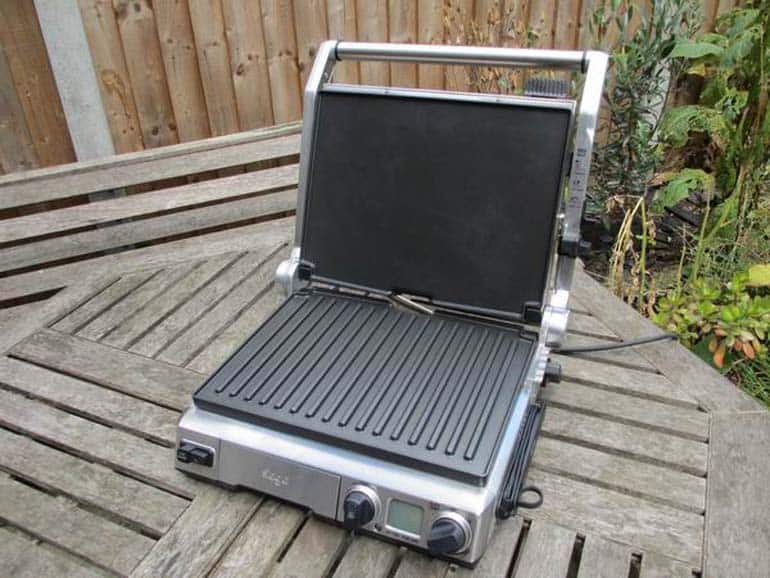 The Breville smart grill is an attractive stainless steel patio grill. It has a wide base, which provides better stability when compared to the other electric grills. Its pedestal is well built with attractive looks. It has two important features, which include – digital read-out and a precision thermostatic control system. This electric grill has a 250-square inch cooking surface; however, it has a single burner.
More than all these features, the heat that this grill produces is amazing. It has the capacity to produce up to 725 degrees F. That's amazing.
Kenyon B70082 Steel Electric Grill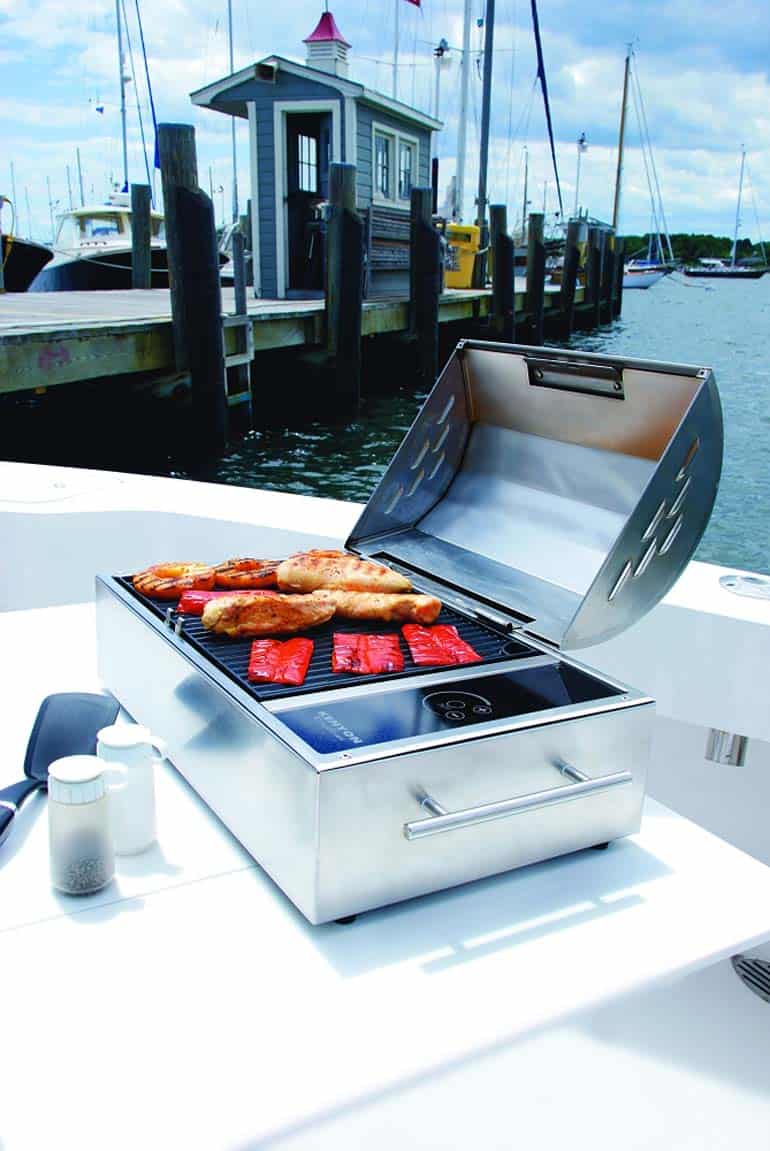 Perfect for both indoor and outdoor use, the Kenyon B70082 offers a solution for apartment and condo dwellers who need a flexible option that doesn't compromise on quality and durability.
The key with electric grills is their ability to heat up quickly, and the Kenyon does this without fuss. In our tests it fired up to high-heat grilling in minutes, making it a reliable option for outdoor portable grilling as much as fuss-free indoor cooking.
---
Assume you are an ardent fan of grilled chicken. Also, assume you are living in an apartment or condo where the open flames are not permitted. What do you do in that situation? Will you curtail your desire of having grilled chicken temporarily? Assume one more situation. You want to go on camping with your near and dear or with your friends where you want to enjoy grilled chicken. But, here too open flames are not permitted. What do you do? Will you stop going on camping?
There are many situations like these where you wish to enjoy the grilled chicken but you can't do so due to the restrictions on the use of the open flames.
However, you don't need to lose heart. There is a savior in the form of the electric grill using which you can cook grilled chicken outdoors and enjoy with your people.
The electric grill is in vogue for the last few years. Though it is not at par with its strong cousins such as charcoal and gas grills in terms of cooking power and grill, it certainly has the capacity to provide you with the decent meal depending on the type of grill you have.
That's not all. There are other advantages of these electric grills. The most important one among them is – you can take an electric grill with you easily wherever you want to take it. This is because; they are designed for portability purpose. Wherever you don't have the choice of using charcoal and gas grills, an electric grill is the best option. In addition, these electric grills are not expensive but priced reasonably making them pocket- friendly to everyone.
However, on the reality side, there are some disadvantages with these new age outdoor cooking equipment. They are actually facts, which you need to keep in mind before going for an electric grill. This makes you don't repent later in case you are not completely satisfied with your electric grill. So, the main thing what you need to understand is – using an electric grill you may not get the required heat, which makes the cooking time longer. You also don't get the authentic grand aroma of grilled chicken, which you get while cooking with charcoal and gas grills.
So, if you have a bit of patience and if you don't mind ignoring the above mentioned small disadvantages, then the electric grill is the best option you can bank on for enjoying your beloved grilled chicken outdoors.
Now, let us have look at the five best electric grills available in the market. Along this journey, we will also see their features, advantages, and disadvantages.
For people living in apartments and condos, cooking grilled chicken is not permitted in their balconies or courtyards. The same is the problem for the people who like to enjoy with their close people in outdoor cooking grilled chicken. Here too, open flames are not permitted.
In such situations, an electric grill is the best option. The major advantage with an electric grill is – it is portable and easy to use. On the performance front, it is not an even match to the conventional charcoal or gas grill. However, it has the capacity to provide a decent meal depending on the type.
Another advantage is – these electric grills are not very expensive but affordable by many. The major thing what one has to keep in mind before opting for an electric grill is – with an electric grill cooking might take longer time due to insufficient heat. One more important point is – they don't get the authentic grand aroma, which comes out while cooking with charcoal and gas grills. So, if one doesn't mind spending a bit more time on cooking, then the electric grill is the best option to enjoy grilled chicken outdoors.