The Traeger Mesa 22 offers backyard wood cooking and precise temperature control within a budget-friendly model. Does it succeed? Our pellet grill review takes a closer look.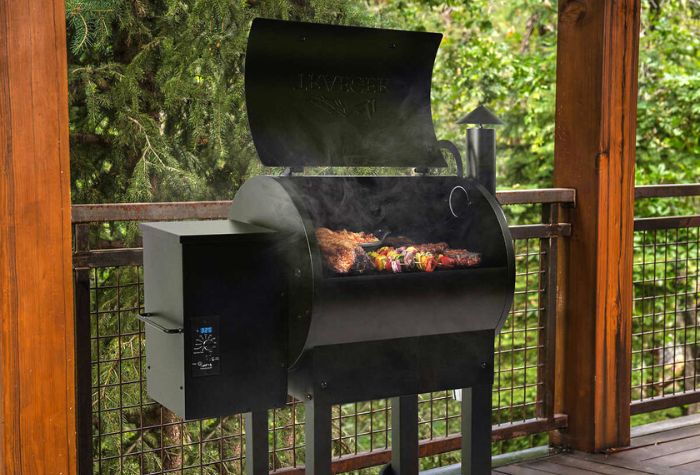 Part of Traeger's ongoing partnership with Costco, the Traeger Mesa 22 offers pellet cooking to people who want an easy pellet grill without the price tag often seen on other grills.
There's no denying that this is an entry-level grill and doesn't have the features and functionality of the brand's more elite models. Still, for the average family grill to suit small gatherings or quick grilled or smoked dinners, the Mesa 22 has a lot going for it.
Quick Review
The Mesa 22 is suitable for small families, and while it doesn't have the app compatibility of many of the more expensive grills, the Digital Pro Controller keeps the temperature steady enough for smoking. With room for plenty of food for a family cookout and a hefty 18lb hopper, it is a good option for slowly cooking a pork butt, some ribs, or just about anything else you can imagine.
★★★★☆
Main Features
Digital Pro Controller for temperature stability
450°F maximum temperature for searing and grilling
Digital meat probe allows you to tell when things are cooked with internal temperature readings
Options to grill, smoke, bake, roast, braise & BBQ
Generous 18lb hopper capacity can handle slow cooking and keep the fire going
Ignition
This has a more traditional ignition system than most other Traeger options on the market. There's no control via the Traeger App, and you don't get a touchscreen control panel, but that's not always a bad thing. Sometimes these are just added items to potentially go wrong or create confusion.
To ignite, set the dial to your desired temperature and flick the switch to the 'on' position. It really is that easy. Because the grill is electric-powered, keep in mind that it will need to be connected to a power source.
Temperature Range
The temperature range on the cooker itself goes from 180 to 450°F (82 to 232°C). There is also a smoke setting which heats to 160°F. We're not totally sure why it has been called 'smoke' other than this being a decent temperature for cold smoking, rather than conventional barbecue smoking (which tends to be done at a temperature of 225°F and up).
The high end of the cooker at 450 degrees is not as high as some other options, but it certainly allows you to sear and grill with no problems.
Build Quality
The build quality is what you would expect for the price range. You're not getting the heaviest metals and exceptionally sturdy welded connections, but you get plenty of build quality, and it is backed up by a three-year warranty. For a home grill, this is fine. Not exceptional, but roughly what we expect for the price.
Cooking Performance
How does the Traeger Mesa 22 stack up compared to other grills regarding cooking performance? 
Smoking
Smoking could be a little better on this grill. There are some excellent features, one of which being the inbuilt temperature probe so you can check the internal temperature of the meat. This will tell you when it is cooked, as internal temperature is the ideal signifier of when the meat is ready.
However, not a huge amount of smoke enters the grill from the pellet hopper design. The control you have with this grill may be great, but it doesn't always add the smoky flavor you want. Many users have had more success using a smoke box inside the grill, which can add some extra flavor.
Grilling
For grilling, you get plenty of space, and the grill quickly and easily hits the sort of temperatures you require to grill up some steaks or burgers. There's enough space, but that extra compatible rack might be a good idea for increasing the space and keeping food warm until you're ready to serve it.
Cooking Space
The cooking space is one of the areas that has come in for a little bit of criticism, and we feel like Traeger probably could have improved this grill by adding a second shelf to increase the amount of cooking space and just give you a few more options. It is compatible with the brand's extra grill rack for 22-Series grills, so you can remedy this if you wish.
However, it is certainly not a small grill, especially for general home use. The 418 square-inch design is enough for around four whole chickens, so this gives you an idea of how much space there is on offer. It's great for a family get-together, as long as you're not inviting the whole neighborhood to join in.
Pros
Decent temperature stability, but most importantly the probe makes it easier to check when food is ready.
Large hopper (18lbs capacity) allows you to set and forget when you are smoking, it continues to cook for long periods.
Precise enough temperature control to bake or cook using other methods.
Affordable, especially for a pellet grill.
Cons
The smoking features don't impart that much flavor, so you need to experiment with smoke boxes, rubs, and types of wood.
Doesn't come with a second shelf/rack even though it has space for one.
The build quality is good, but not elite, which is a symptom of the price range more than anything.
Final Verdict
While many people are looking to buy huge grills for commercial use or massive cookouts, plenty of people also just want something they can use for a family BBQ in the summer. This grill is affordable, and adds a lot of fun and convenience to your cooking, with set-and-forget functionality.
The Traeger Mesa 22 is a Costco exclusive, but it is compatible with the rest of the 22-Series accessories, so you can add a second shelf, negating one of the biggest negatives of this grill.