Delicious BBQ smoked leg of lamb prepared with a garlic & lemon marinade before cooked low and slow over hickory wood. This beautifully tender lamb cut is taken to a whole new level on the smoker.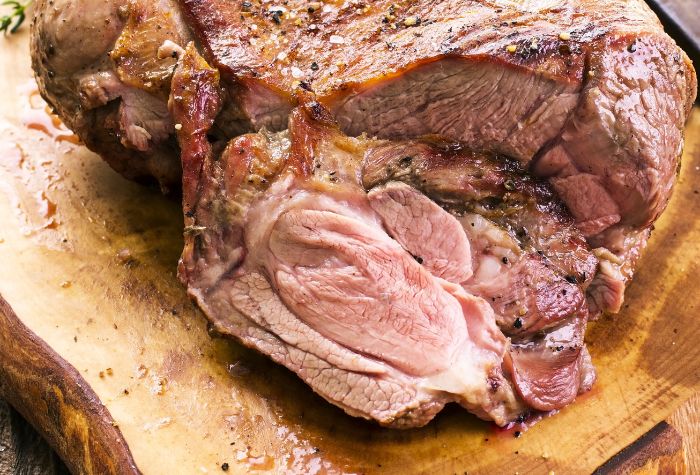 Smoked beef and pork are delicious, but you haven't lived until you've tried smoked leg of lamb. With a hint of rosemary and garlic, this meat stays incredibly juicy and absorbs the smokey flavor you love.
You can keep the fat on a leg of lamb when you smoke it because it melts away, making for tender, juicy meat that's easier to carve than other meat, whether bone-in or boneless. The meat will take on the flavor of your seasoning, marinade, and wood chips, making it an excellent chance to try new flavors in your smoker.
Smoking a leg of lamb is the best way to enjoy this lamb cut, with the low and slow method helping to render the fat and allow the meat to absorb the smokey flavors, all resulting in an incredibly tender and juicy plate of meat.
From buying the best lamb cut to perfecting your meat prep, find out how to smoke leg of lamb today. Let's get cooking!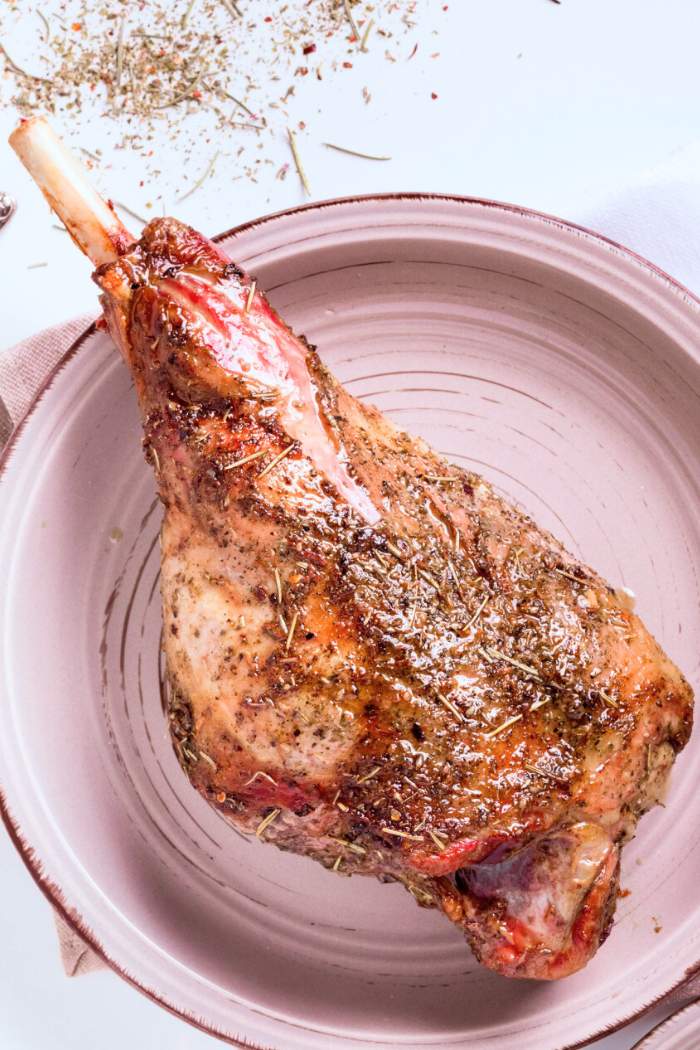 What is Leg of Lamb?
Leg of lamb is a large primal cut of meat from the top hind leg of the animal. It can be cut into smaller leg chops, but more often than not, you'll see it cooked and served as a centerpiece dish with the bone left in.
Lamb typically has a gamey flavor, but you might get a slight sweetness if you've managed to source milk-fed or grass-fed lamb. Much like the lamb shoulder, the leg cut is comprised of a hard-working group of muscles so tastes best when it's slow-cooked to allow the fat and connective tissue to slowly render and become infused with flavor. The leg has more fat than other lamb cuts like rack, rib, or loin, so you'll get a stronger flavor when you smoke this meat.
Bone-in leg of lamb usually weighs between 5-6 lbs, while its boneless counterpart is closer to around 2-3 lbs.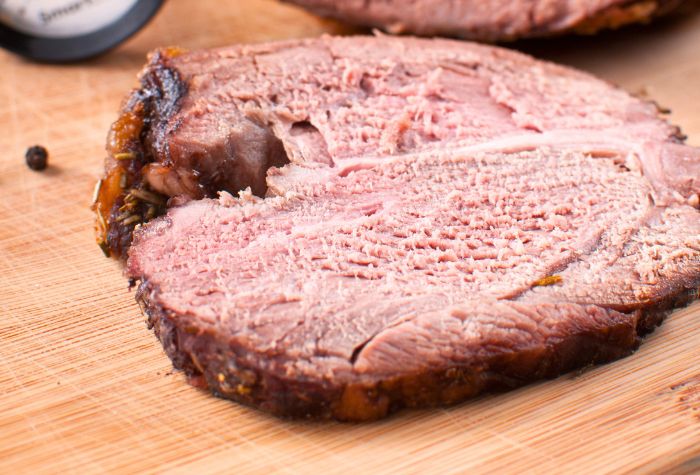 What to Look Out for When Buying Leg of Lamb
When picking a leg of lamb from the store, pay attention to the color of the meat. You don't want it to look too dark, so find the lightest meat. If you buy a frozen leg of lamb, thaw it in the fridge for 24 hours if it's boneless or 36 hours if it's bone-in.
Most butchers split the leg of lamb into two parts: the lower shank and the upper sirloin. If given the choice, go for the upper sirloin – it's fattier, adding more flavor as you smoke it. The fat also keeps the meat tender, so it's easier to carve before serving.
You can buy a leg of lamb in two variations: boneless or bone-in. Go for bone-in. While boneless might be tempting because it can cook faster and more evenly, it doesn't offer the same flavor as bone-in. It can take a bit more time but it's worth the extra effort.
You should also check out the fat content on the lamb before buying it. Ideally, you want some fat on top of the leg of lamb because it will melt away during smoking, adding more flavor to the meat. The melted fat keeps the meat juicy and tender. If possible, buy lamb with fat on top because you can always cut it off before serving it.
Smoking Wood
Because lamb is such a unique meat with a fairly robust flavor, we recommend sticking to traditional hardwoods like oak or hickory. These are the best woods for smoking lamb because they provide ample smoke flavor without creating a jarring flavor mismatch that detracts from the naturally sweet and almost-gamey taste of lamb. If you want to add a touch more sweetness, try creating a blend of hickory with apple or maple.
Times & Temperature
At 225°F (107°C), leg of lamb needs about 30 minutes per pound of meat to reach medium doneness.
Aim for an internal temperature of 145°F (63°C) for medium. If you prefer your lamb rare, aim for 120-125°F (49-52°C), while if you prefer it well-done go for 150-155°F (66-68°C). Always use a digital meat thermometer to gauge the temperature of your meat.