Smoked lamb shank cooked low and slow over hickory wood. From meat prep to dry rubs, discover how to smoke lamb shank today.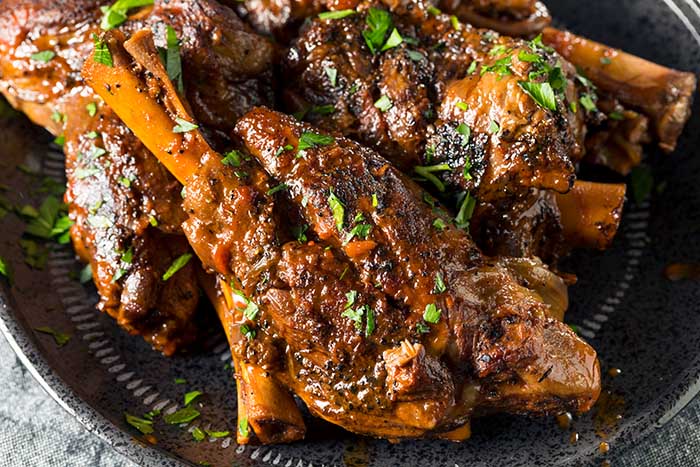 Lamb shank is an underrated meat cut that's taken to a new level when smoked low and slow over hickory wood fire. Turning melt-in-your-mouth tender, this lamb dish can be enjoyed year-round.
This beautiful lamb cut doesn't need a marinade or brine and can go straight on your smoker at 225°F. Halfway through our smoke, we'll cover it in a homemade red wine and beef broth braise, and cook it to an internal temperature of 195°F for pulled lamb perfection.
Discover how to smoke lamb shanks on your backyard smoker grill today.
What is Lamb Shank?
Lamb shank is from the bottom leg section of the animal and can come from either the front leg (foreshank) or rear (hindshank). An average shank cut weighs up to four pounds and is shareable between two people.
Lamb shank cuts are delicious and juicy due to the center leg bone running through the meat. The collagen and connective tissue connecting the flesh to the bone increase the flavor, especially when slow-cooked or smoked.
While conventional oven-roasting your lamb will work, barbecue smoking your lamb shank is a great way to elevate the flavor of the meat. Like with so many cuts of lamb, the meat's delicately gamey flavor pairs perfectly with the aromas of charcoal and hickory wood smoke.
How to Buy Lamb Shank
Your first decision is whether you want a foreshank or hindshank. Lamb shanks from the United States tend to be larger than Australian or New Zealand lamb shanks.
Avoid any meat that appears bloody, gray, pale, or ashen. A good lamb shank cut will look pink and brown with a small amount of blood and won't be overly greasy or yellow.
You can buy your lamb shank with the bone in or out. The lamb is either shank end or sirloin end if you're buying bone-in. Sirloin ends tend to be more tender, while the shank ends are frequently more flavorful.
Meat Prep
First, purchase the meat from a good butcher. A good butcher will prepare the lamb shank, so that little extra work is required before cooking.
With a kitchen knife, you'll want to trim the silverskin, the slippery membrane that surrounds the meat. You can easily slip the knife under the silverskin and slide it off the flesh. Also, trim any fat you see hanging off the lamb or any large sections of white fat or tendons you can see.
Before starting the barbecue smoking process, apply any dry rub you'd like to use to season your meat. You can let the lamb shank marinate overnight if you prefer.
Best Smoking Wood
The best wood for smoked lamb shank will partially depend on the flavor you're looking for. There are several kinds of wood to choose from, but apple, cherry, oak, mesquite, and hickory wood are popular choices for barbecue smoking lamb shanks.
Hickory is the most popular choice for smoked lamb shank. The wood has a powerful aroma and flavor, so you should always be careful when using it to smoke any kind of meat. When used to smoke meat, hickory wood will give the meat a darker color.
When using hickory wood to smoke lamb shank, be careful not to overdo it. Too much hickory smoke overpowers the taste of the lamb and can also give your meat a bitter and unpleasant flavor. You can mix your hickory with a milder wood like oak, cherry, or apple to prevent this.
Times & Temperatures
The smoking of a lamb shank takes place slowly over a long period. This allows all the tissue and muscle in the meat to grow tender and juicy. Once you've added your marinade or dry rub, preheat your grill or smoker to no lower than 225 degrees and no higher than 250 degrees Fahrenheit.
While the USDA advises cooking lamb leg or shank portions to a minimum of 145°F (63°C), and common wisdom is to cook shanks to 165°F (74°C), we're going to cook to an internal temperature of 195°F (90°C) to give us the tender pull-apart meat texture we want.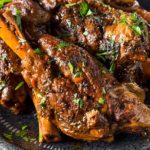 Smoked Lamb Shank
Smoked lamb shank cooked low and slow over hickory wood. From meat prep to dry rubs, discover how to smoke lamb shank today.
Print Recipe
Pin Recipe
Equipment
hickory smoking wood

digital meat probe

2 aluminum pans

(1 pan per 2 shanks)
Ingredients
Dry Rub
½

cup

kosher salt

½

cup

ground black pepper
Braise
2

cups

beef broth

4

sprigs

rosemary

2

white onions

chopped

4

carrots

sliced into rounds

4

cups

red wine
Instructions
Fire up your smoker to 225°F (107°C). If you are using your charcoal grill, ensure you are set up for 2-zone indirect cooking. Once the smoker is at the target temperature, add wood chips to the firebox or wood tray.

Prepare lamb shank by trimming off excess fat and silverskin membrane. Rinse with cold water and pat dry with paper towels.

Combine salt and black pepper in a small bowl to form the dry rub. Use a fork to remove or crush any lumps that may appear.

Apply a generous amount of dry rub to lamb, covering all sides and working into any crevices across the shank's surface.

Place lamb shanks on smoker grates and close door. Cook until meat internal temperature is 160°F (71°C), about 2 hours.

Remove shanks from smoker and place in aluminum pan. Pour braising liquid over shanks. Wrap pan tightly in aluminum foil and place back in smoker.

Smoke until meat internal temperature is 195°F (90°C), about 2 hours. Remove shanks from smoker. Leave in foil and allow to rest for 20-30 minutes before serving.