Nothing quite beats campfire cooking, and a grill grate is one of the best ways to cook in the great outdoors. Here are five of the best campfire grill grates to take your camp cooking to a new level.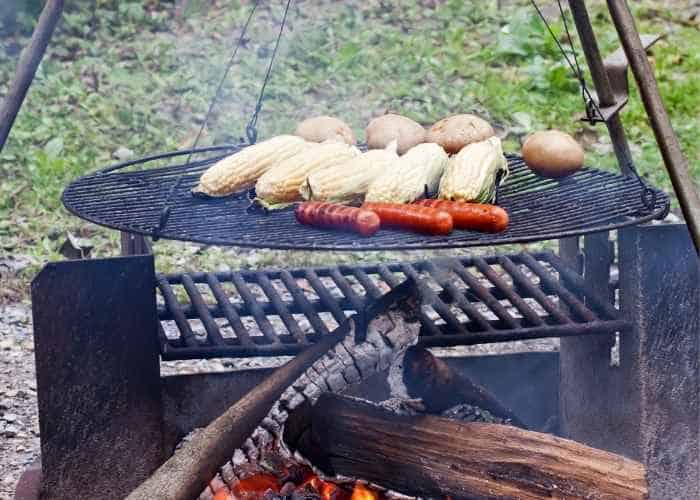 Campfire grill grates offer a seamless way to turn a roaring campfire into a cooking hotspot for outdoor enthusiasts. These portable grates are designed to be placed over open fires, allowing you to quickly grill your favorite meals while camping.
Available in a range of sizes and designs, there's a perfect fit for any campfire. From adjustable height settings to foldable functionality, and cast iron builds to grid designs, there's a lot to consider.
We're here to help. Transform your outdoor cooking with our guide to the best campfire grill grates out there today.
Texsport Heavy-Duty Over-Fire Camp Grill
This over-fire camp grill from Texsport is a heavy-duty piece of equipment. With its welded steel build, it's an excellent buy for those who camp frequently and want a campfire grill that will serve for the years to come.
In terms of the overall design, the Texsport camp grill is extremely simple. It's comprised of a grill grate and foldable legs for space efficiency. The cooking area is sized at 24 by 16 inches, which makes it one of the larger options on this top.
One downside with this grill is that the steel rusts if unprotected, so think about using anti-rust coatings.
Despite its rather high price, the Texsport campfire grill is exceptionally popular and highly rated. It's not hard to see why. In our opinion, if you are an avid camper, this campfire grill is going to be the best buy for the money.
Pros
Large 24" x 16" grilling surface
Tough welded steel construction
Folds for space efficiency
Cons
Pricey
Rusts if unprotected
Coghlan's Camp Grill
Coghlan's camp grill is an extremely inexpensive option – great for those who want something for occasional outings. Not only that, but this camp grill is much more compact than the Texsport grill. It's thus a great pick if you have very limited space in your RV or backpack.
Notably, even though the steel frame of this camp grill is much thinner than in the Texsport grill, it's nickel-plated and corrosion-resistant. As long as the nickel plating is intact, this thing should not rust.
The cooking area in this campfire grill is sized at 24 x 12 inches as well, which should be enough for most needs.
Coghlan's also offers a heavy-duty option of this grill. It's similar to the Texsport grill but is a little cheaper. Its steel doesn't seem to have nickel plating though, so in terms of corrosion resistance, the standard Coghlan's grill might be a better buy.
All in all, the Coghlan's camp grill is an excellent bit of camping cooking gear. This thing won't withstand tough multi-day camping, but it will serve just fine if your trip will be short and you need to stay light.
Pros
Great for occasional outings
Corrosion-resistant nickel-plated steel
Grill measures 24 x 12 inches
Relatively inexpensive
Very compact when folded
Cons
Definitely not for frequent, multi-day trips
AmazonBasics Outdoor Campfire Grill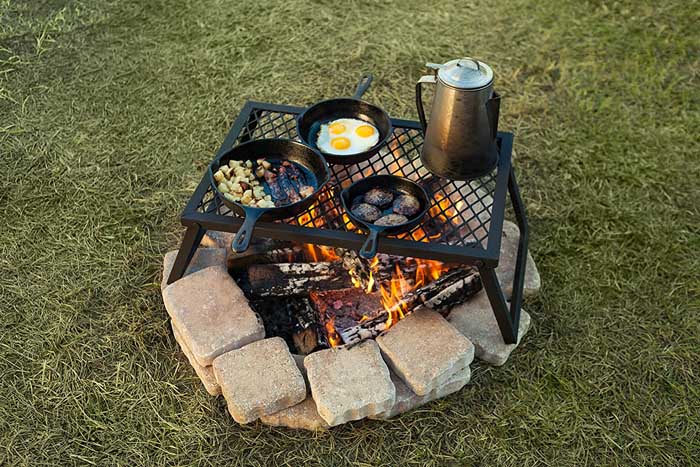 If you want something tough and compact, then this campfire grill from AmazonBasics is a good option to consider. It's sized at just about 11 x 18 inches and is much more space-saving than the comparable Texsport campfire grill.
The construction in the AmazonBasics grill is very tough too. It features a welded steel build along with a stainless steel cooking grate. The AmazonBasics grill will take heavy abuse any day, but it might be prone to rusting just like the Texsport grill. So you may want to treat it with an anti-rust coating.
The AmazonBasics grill is again foldable, so it gets very space-efficient when unused.
Note that this particular grill is a medium size, so you can find smaller and larger grills as well. But to be fair, the 11 x 18-inch cooking grate doesn't really feel "medium" – it's more like small. Don't get us wrong, the size is fine, but it's definitely not what we consider "medium".
Pros
Heavy-duty welded steel construction
Rather compact
Foldable design
Backed up by a 1-year warranty
Cons
Very small for a 'medium' size
May rust over time
Texsport Heavy-Duty Swivel Grill
This one's pretty interesting. This grill is again from Texsport, but it's very different from the campfire grill we reviewed earlier. It's a swiveling grill that is intended to be staked into the ground, which implies a number of benefits.
This swivel grill can be adjusted in height up to 17 inches, allowing you to regulate the amount of heat going to the food and thus also regulate the cooking time. Sure, you can adjust heat with any campfire grill, but here, you won't have to add or remove charcoal for that!
The grilling surface in this guy is pretty large as well – 24 x 16 inches, which is as big as the previous Texsport grill. The swivel grill is very compact too – the 28-inch stake may be easily detached and stored separately.
In terms of materials, the swivel grill is made from heavy-duty welded steel and should easily withstand abuse. But again, this grill is not corrosion-resistant, so take care to protect it from the elements.
Pros
Welded steel construction
24" x 16" grilling surface
Height adjusts up to 17 inches
Very compact and space-efficient
Cons
Won't be as stable as our previous picks
Not rust-resistant
Stromberg Carlson GR-1522 Stake & Grille
The Stromberg Carlson GR-1522 stake & grill is a little more functional alternative to the Texsport swivel grill we've just reviewed. The build in GR-1522 doesn't seem as tough, but it has many other things to make up for it!
The main material here appears to be steel (Stromberg Carlson doesn't indicate the material anywhere) that is chrome-plated. Thanks to the chrome coating, the steel should be corrosion-resistant – a great perk for camping.
Another notable benefit of this grill is that it's intended for direct-contact food grilling. Our previous picks are not, though if you sanitize the grates, you should be able to use them that way safely.
The stake in the GR-1522 grill is 36 inches long as well (8 inches longer than in the Texsport grill), so you should get a wider range of temperature adjustments with this thing. Height adjustments are easy thanks to the integrated grate handle.
What the GR-1522 grill lacks compared to Texsport (aside from durability) is cooking space. The grate here is sized at 15 x 22 inches, so you aren't getting as much room for grilling.
Pros
Intended for direct-contact food grilling
Corrosion-resistant chromed steel
Measures 15 x 22 inches
Allows you to adjust the grilling temps
Cons
Won't be as stable as other grills
---
Why use a campfire grill grate
A campfire grill grate is a great way to help you get the smokey flavors into your food and that authentic campfire taste for mouthwatering dishes. It's one of the best bits of camping cooking gear you can get. Several advantages come with using a campfire grill grate. One of those is that a grill grate will help you cook over an open fire better. 
Trying to cook over an open fire, such as a campfire, has never been my favorite experience. While I appreciate the taste of the food cooked over it, the heat burning my hands feels like it will just melt them away, so I've never thought it was worth the hassle until I found a way to have some form of a controlled environment, for lack of a better word.
A campfire grill grate provides a structure for you to still cook over an open flame, but with the support of a grate that keeps the flame a certain distance away and provides a stable surface for you to cook. It also helps you cook with just the bare basics. A grate gives you good height above the open flame, which solved my issue of direct heat as I cooked over a campfire.
Another advantage of using a grate is that you can adjust the heat and manipulate its intensity depending on how you place the grate. The closer it is to the flame, the hotter it will be, and the further away it will be, the less intense the heat will be. This is a great help since it's not very easy to control the heat a campfire produces.
The grate will also help to disperse heat. You can choose to layer your food across the grill grate targeting the different heat zones. So, for instance, if the fire is hotter in the center and dying down towards the outskirts, then you can sear meat where it's hottest whilst you cook something that needs less heat on the outskirts of the grill. This way, you get to use more surface area of the fire, thereby getting more out of a single cycle of the fire burning.
The other advantage of using a grate is to ensure your safety. It's a great way to keep everything in the same space and contained. They also make cleaning up, after all, is said and done much easier. You can choose to use them differently, whether throwing the food directly or using pots and pans. Grill grates are versatile, and this another great reason to use a grate!
Grill grate types
There are different types of grill grates that you can use. Let's take a look at some of those.
Tripod
This type is mounted on three legs, a tripod. It is a design that will allow you to adjust the height of the grate more than any other type. It could easily be said to be the most flexible when it comes to height adjustment. The grate is hung from the top of the tripod, over the fire. It looks like an Indian tepee set over a fire.
The only downside you could face is the dangling of the grate. The swaying can be disruptive, especially when cooking for long periods. Also, it is best used for small camping trips where you don't need to cook a lot of food because they tend to be small. But it will keep you safe from the heat, and you can adjust the height as you wish.
Swivel Stake
If your camp is made up of larger numbers, then you will like this swivel stake model. It is ground in the ground using one stake. The grill is then attached to the stake. Just like the name suggests, this grate swivels. When the food is done, you simply swivel the grate around to remove the food from the fire. They can be adjusted 20 inches up or down. You can adjust the height by either lifting the stake out of the ground or sinking it further.
Flat Bed
This is probably the most common, and as its name suggests, it is a flat grill grate. It's a simple grill that often has a folding mechanism. The downside is that the grates do not have height adjustment features such as the tripod or the swivel grates.
Important features
Material
Campfire grills need to be made of durable material, and that can also withstand heat well. Most grill grates are made of stainless steel or cast iron because they possess these qualities. The material needs to also contribute to how well it disperses heat and how lightweight it is. Stainless steel is easy to clean and lightweight as well. It is also resistant to rust. However, it is not as durable as cast iron is.
Cast iron disperses and handles heat very well, but also it is cumbersome, which makes it hard to carry around. It also has the advantage of being very durable. It is also the least corrosive of the grill grate materials.
Portability
You want to get a grill grate that is easy to carry around. It should fold easily and have a mechanism that allows you to pack it away easily too. For instance, the tripod grate should be able to fold up and secure when you set it up. Portability also refers to how lightweight it is. Check if you can carry it in a backpack or a car to know what options you have.
Heat retention & heat control
Ensure that the material retains and radiates heat enough to cook the food well. You want something that gets hot and cooks food evenly without burning it. This also boils down to the material used. Heat control is largely influenced by construction. Steel and cast iron do well in this department.
Size
You need enough surface area to cook enough food for the number of campers. Check on the overall size, which is usually measured by multiplying the length by the width. Typical sizes for campfire grill grates are 13 inches x 9 inches x 6 inches for small to medium grates, while large grates can measure 15 inches by 22 inches.
Last update on 2023-11-30 / Affiliate links / Images from Amazon Product Advertising API