The Ooni 3 Outdoor Pizza Oven is one of the best budget pizza ovens out there today. Make perfect homemade pizza oven with this beautiful piece of patio cookware.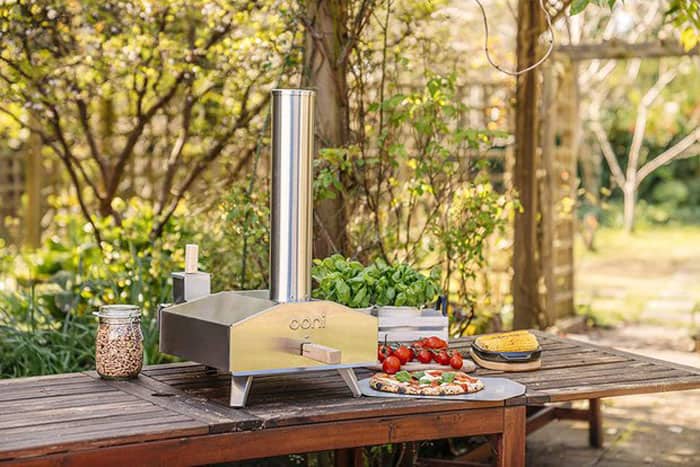 The best outdoor pizza oven brands have been bringing affordable yet authentic pizza cooking to pizza lovers everywhere. Ooni (also known as Uuni) are one of the best at it.
But what is it that makes them so special? And what makes this oven any stand out from the others.
This Ooni 3 Pizza Oven review will show you everything you need to know, and why you need to get this oven.
Ooni humble beginnings weren't in the backroom of someone's family home in Naples, but rather on Kickstarter all the way back in 2012.
If anyone had any doubts as to the popularity of a homemade pizza oven then they were quickly eating their words, as their company's funding goal was smashed by 220%.
And ever since then they've gone from strength to strength.
Let's take a deeper look at the Ooni 3.
The Build
Like any good oven or grill chamber, a strong pizza oven needs to be able to retain heat perfectly. The key to this is a strong build.
The Ooni is built in line with this perfectly. It has a fully stainless steel shell, designed to insulated the oven completely. This minimizes heat loss, and ensures that the cooking temperatures within the main chamber of your oven stay consistent as possible while you cook.
Now, I have found that the look of the design can put some people off. The chimney is definitely the first thing you notice.
It serves a very important functional purpose though, making the best of air ventilation.
But here's the cool thing:
The chimney is actually removable, so once you're done cooking you can simply unclip it and store away. This makes the whole oven far more pleasing on the eye, as well as easy to move and easy to put away.
It also has an unusual 3-legged design. This doesn't however have any impact on its stability, but has helped reduced its weight. The legs are also foldable for easy storage… or if you just want to have it resting flat on a surface.
On first look the metal might seem a little bit flimsy, but don't worry about this. It is durable stainless steel and stands up to its high temperatures perfectly.
Features
One of the things that makes this pizza oven stand out is it has a wood pellet burner at its center. The claim is that this helps to control temperatures more efficiently, and helps keep cooking temperatures constant.
When we have seen wood burners in BBQ grills or smokers we have often see the maximum cooking temperatures reach as high as 900°F, sometimes even higher.
And the Ooni is no different.
This bad boy can reach as high as 932°F. And while you might only rarely want to reach this level of heat, what this does help ensure is that your pizza can be in and out of the oven, properly cooked, in as little as one or two minutes.
Also, I get it.
If you're lazy as me (which I hope you are) then one of the reasons you're keen on pizza is because it's simple and quick.
So it makes sense that you want a pizza oven that is exactly those things too.
This is where the wood burner really kicks things up a notch.
The high temperatures that it emits means that your oven can be up and running at target temperature in just 10 minutes. For anyone who knows anything about charcoal or pellet grilling will testify, this is good.
Also, the quick startup time means that you can easily cook each pizza in 60 seconds. You could even get a production line going if you wanted (I won't judge).
Every pizza oven needs a good baking stone, and Ooni have provided one. And not just any old stone, but a brilliant cordierite stone.
Cordierite is simply one the best – if not the best – material to use for pizza baking stones, so to have one provided for free is a real bonus.
Fuel
One of the problems with traditional brick pizza ovens has been that the ongoing fuel costs can mount up very quickly.
Flavored logs can be expensive, and a large oven rips through them very quickly.
Thankfully, this isn't the case with the Ooni 3.
Because the oven uses wood pellets as its fuel souce, it's extremely energy efficient.
Wood pellets are very energy efficient, and because the Ooni is smaller than traditional pizza ovens, it takes far longer to burn through it.
Not only that, but wood pellets are relatively cheap.
Wood pellets are also organic. They come in the form of recycled wood that's then shredded and compressed into densely packed pellets. They have nothing added to them whatsoever, and are just wood in its purest form.
So your pizza will be clean, with no danger of being exposed to burning additives or chemicals.
The Wood Pellet Burner
One of the main talking points with this oven is its wood pellet burner.
This burner is fed via a slide out tray on the side of the oven, which you then fill up with pellets.
Anyone familiar with charcoal grilling or smoking knows the struggle with having to regularly refill your coals, so the tray design is a welcome addition.
The pellets are then easily lit using a simple starter cube, or using a blow torch.
Performance
Right, all the features are there. Everything looks great. The wood pellet burner sounds promising.
But how does it perform?
First of all, like any form of 'analog' (i.e. not gas or electric) cooking takes a bit of time to master. There's a definite learning curve, so if you don't nail pizza cooking immediately then don't be disheartened.
After all, you are literally cooking with fire.
Once the pellets are lit then heat up time is remarkably quick, reaching our target temperature within about ten minutes.
Because of it's clean wood fuel source, and largely thanks to its excellent airflow design courtesy of its chimney, the heat was clean and smoke was largely kept to a minimum.
The airflow design also meant that high temperatures were passing through the oven consistently without any significant temperature fluctuations (the bane of any outdoor cooking enthusasist's life).
The pizza we cooked was done in under 90 seconds. A resounding success.
What We Like
Its wood pellet fuel burns cleanly, helping you to cook beautiful food
The wood pellet tray makes it really easy to refuel during cooking
Its cordierite baking stone is superb at absorbing heat without being vulnerable to breaking
It only takes 10 minutes to warm up
Fold-up legs and removable chimney make it really easy to store away
What We Don't Like
Its tall chimney and 3-legged design won't be for everyone
The rearmost area of the oven tends to be warmer than the front (although this isn't unusual in non-brick ovens)
Final Verdict
In the Ooni 3 Pizza Oven, Ooni have managed to create one of the best pizza ovens for beginners. It's extremely energy efficient without being flimsy, and it is stable and reliable enough to cook pizza at a consistent degree of success.
One of the best budget pizza ovens that we've ever tried. Pellet fuelled and easy to use, it's delivers delicious pizza at a fraction of the price of other big name brands.
Last update on 2023-10-04 / Affiliate links / Images from Amazon Product Advertising API