Even if you've been hosting Thanksgiving meals for years and have your menu down to a fine art, there's always room to expand your selections.
Where better to do that than on the grill?
Even though Thanksgiving is very much Turkey Day, there's so much more to a good holiday menu than just poultry.
From grilled sides, to vegetarian alternatives, to even a grilled – yes grilled – apple pie, we have everything you'll need for putting together the perfect BBQ Thanksgiving meal.
Want more holiday grilling ideas? Check out our guide to the best Christmas BBQ recipes and ideas.
Pellet Grilled Turkey
Where else would we start than with a big cut of grilled Thanksgiving turkey.
Instead of putting it in the oven, why not trying it on the grill or smoker this year?
This pellet grill smoked turkey is the perfect way to bring the very best out of the holiday meat. It's brined overnight and then smoked over cherry or maple wood (probably the two best woods for smoking turkey) to bring out the natural flavors of the bird.
Learn how to smoke a turkey on a pellet grill in our full recipe guide, and don't forget to check out our turkey injection marinade.
Grilled Stout Stuffing
No Thanksgiving meal would be complete without stuffing, and it's great to see that even that can be rustled together on the grill.
Coincidentally, International Stout Day sits in November. So what better way to celebrate the two?
Stout is a great added ingredient, which is why it features so prominently in our favorite St Patrick's Day grilling recipes. It's a great way of infusing some earthy flavors to your stuffing. You'll need a skillet for your grill, but from there it's pretty easy.
Garlic Smashed Sweet Potato
If you're a sweet potato fanatic you won't want to miss out on these. They bring out everything that's great about sweet potato and takes it up to eleven.
They couldn't be easier to make, only needing about 25 minutes in the oven, before being mixed with garlic and butter. Creamy and with a bit of a kick, they're the perfect BBQ side or appetizer.
Grilled Baked Potatoes
If sweet potatoes aren't you thing, then why not go for simple white potatoes?
Taking baked potatoes to the grill is a lot easier than it sounds, and can give you far better results than the kitchen oven.
Wrapped in foil an then grilled for just an hour, these potatoes are tender, smokey, and packed with flavor.
No Small Potatoes
This unique approach to potato grilling started about 60 years ago in a restaurant named Hasselbacken in Sweden, and has remained popular around the world ever since.
It guarantees creamy, smooth potatoes, filled with a smokey flavor from the grill.
Seasoned with onion, salt, and garlic, before roasted in a pan over the grill, this might be your new favorite way of cooking potatoes.
Cider-Glazed Roasted Root Vegetables
It's easy to forget vegetables when you're trying to work your way through meat selections, but this recipe proves that there's a lot of room for creativity to be had.
This beautiful blend of potatoes and parsnips are served with an apple cider glaze and thyme garnish to give a perfectly rounded taste of the holidays.
Grilled Green Bean Casserole
Made entirely from scratch, this green bean casserole is made with cream of mushroom soup, onion, and fresh green beans, there's a lot of vegetable goodness stuffed into this beautiful baked dish.
Tuscan-Style Roasted Asparagus
Channel Tuscany this Thanksgiving with this incredibly fragrant and delicious roasted asparagus. Quick and easy to make, this is a tasty and surprisingly sophisticated appetizer.
The savory flavor of the asparagus, earthiness of the pine nuts, and sweetness of the cherry tomatoes create a mouth-watering whole that is more than the sum of its parts.
Maple-Roasted Brussel Sprouts
One of the best Brussels sprouts recipe out there – even kids will love it. These roasted Brussels sprouts are crispy around the edges but tender inside, creating a delectable combination of textures.
The maple syrup on the salted sprouts creates a delicious sweet-and-salty flavor combo, packing this simple recipe with a hefty flavor punch.
Grilled Romaine Lettuce
Perfect for vegans, vegetarians, or simply to use in salads or as an appetizer, this grilled romaine is crispy, and with a beautiful smokey flavor.
Use it in salads, or serve on its own – generously seasoned, and topped with Parmesan cheese.
Orange Turkey Brine
Serve the juiciest, most flavorful Turkey ever this Thanksgiving dinner, with this fragrant and potent Turkey brine. Making this brine doesn't take much longer than buying ready-made, but the results are so much better.
Combining the flavors of apples, oranges, and rosemary, this brine will give your Turkey maximum flavor with every bite.
Double-Smoked Kurobuta Ham
Tired of Turkey? Try this double smoked Kurobuta ham instead. The ham equivalent of Kobe beef, this pork is unrivaled in juiciness or richness.
With heady smokey flavors and a delicious, sweet and tangy peach-pomegranate glaze, this recipe is sure to become a new holiday favorite around your table.
Twice-Smoked Spiral Ham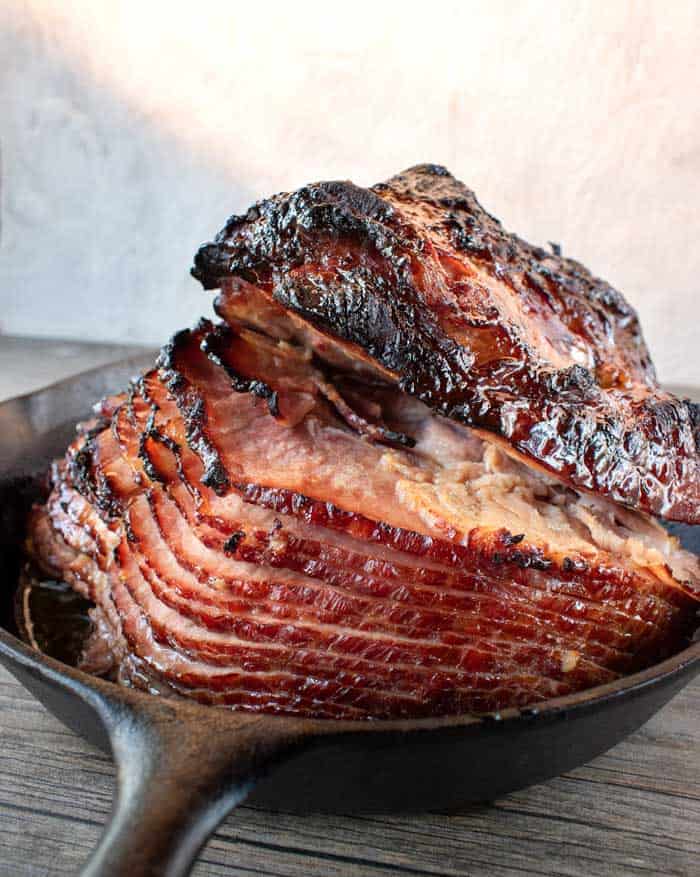 Another great smoked ham recipe. This time a beautiful double smoked spiral ham that has a sweet and delicious honey glaze. These recipes take longer to make, but they're worth every second.
With a mustard, honey, and pineapple juice glaze, your ham will wow your guests with its scents and flavors.
Grilled Bread Dressing
A delicious, hearty dressing that is perfect as a side dish, and even better as stuffing. With cranberries and leeks, this California-style dressing balances fresh notes with rich flavors.
Grilling your bread adds a rustic touch to this recipe, creating a dressing that is tasty, wholesome, and very presentable.
Flame Roasted Brussels Sprouts
Another Brussels sprouts recipe, this one is on the more savory side. With grilled fennel and Serrano ham, this recipe makes for a tasty and substantial side dish.
The crispy smokiness of the sprouts blends beautifully with the fennel and ham, creating a perfect balance of flavors.
Honey BBQ Roasted Root Vegetables
Another vegetarian option, this is a veggie-based twist on Texas-style BBQ. With hearty, roasted root vegetables and smokey chipotle peppers, this side dish can go toe-to-toe with any meaty alternative.
This great dish is very versatile, and can be served on its own, or in a variety of vegetarian or meat-based entrées.
Apple Lattice Mini Pies
Sweet, delicious, and absolutely adorable, these apple lattice mini pies are the perfect Thanksgiving dessert. Combining the mild tartness of apples with the gorgeous aromas of cinnamon and nutmeg, these mini pies are small in size but big in flavor.
Relatively quick and easy to make, these delicious (and beautiful) pies are the perfect closer for your Thanksgiving dinner.