For the perfect barbecue whole ham, you need the right smoking wood. But which hardwood will give the right aromas and flavors for your pork cut? Cook the perfect whole ham with our guide to the best woods for smoking ham.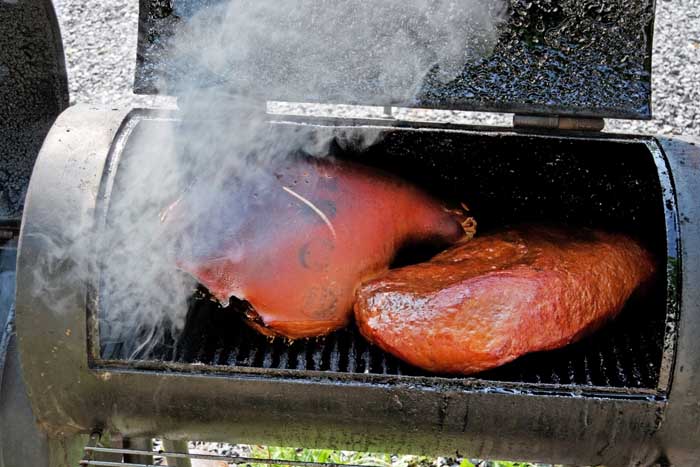 Ham can be outstanding in texture and taste if you use the best type of wood for smoking. Mixing two types or more of woods can produce the best results when smoking a whole ham. However, experts can be very good when it comes to this otherwise amateurs will mess up the whole smoking process. Smoking ham is not supposed to change its taste and texture. Apple is the best wood that enriches the flavor of ham, making it juicy and tender. It also fills the ham with flavor and improves the quality of the ham. However, you can still use the below woods to smoke ham as they can be just as good as applewood.
Apple
Apple is excellent when it comes to ham. It is mild and leaves your ham with a sweet and fruity flavor. There should be a great balance of sweetness and fruity flavor when it comes to ham so that you will enjoy it throughout the year. It can be slow, but that will not affect your ham in any way unless you fail to control your temperature.
What makes applewood good for ham is the fact it gives a mild, sweet, and fruity flavor that enriches ham to give out an improved quality and taste. It is not only great for ham but all pork products. This is what makes it versatile. A mixture of apple and barbecue sauce will be great unless you are not a barbecue fan.
Since applewood takes time to get to ham, you need to be patient enough to wait for more hours than the standard time. Since it takes more time to get the ham done using applewood, you have to be very careful about the temperature. It has to be low so that your ham will not burn before it is done. Apple and pecan can make a great smoked ham. These two will deliver a sweet, smokey taste that is quite mouth-watering.
Pecan
What makes pecan a special type of wood is that it is almost as good as hickory. It is used when you specifically want your ham to receive the smoke slowly but surely. The flavors are given in a way that leaves your ham with a very fine texture. Pecan smoking wood gives you a robust and sharp taste.
Pecan is just as good as applewood when it comes to all pork products. The only difference is that it has a richer flavor and gives a nutty taste. This can be great for nut lovers. The flavor is not very powerful that it can overpower the original taste of ham. The flavors are not well defined to the extent that you can easily tell.
Unlike hickory, which is very strong; pecan is a bit subtle. It is great when it comes to combinations. It works well if combined with cherry or apple (Source). That adds up an extra layer of flavor to your wood that is not too distinct that it overpowers the original flavors. If you have a problem with the sweet flavor, you can use the hickory wood to add a fresh earthy taste to the sweetened ham.
Cherry
If you feel like being adventurous, cherry wood is the way to go. As well as carrying a mild and sweet aroma, just like the other fruitwoods on this list, it has a secret weapon that makes it stand out from the crowd: Its color.
Cherry wood imparts a beautiful deep red color on the meat it cooks. It's this unusual quality that has led us to use it on our favorite double-smoked spiral ham time after time.
Maple
Mapke is an ideal type of wood that suits pork products thanks to its mild flavor, giving a sweet flavor to ham. Maple smoking wood can be very good in poultry as it is in ham and still works well. It is mild and gives you a sweet flavor. Unlike applewood that can be sweeter, maple does not leave ham very sweet.
Maple is just as sweet as apple. It is sweet and fruity, which makes ham taste delicious. The sweet flavor is not strong but just mild, which is good for ham. The sweet smoke it produces gives a dark appearance to the ham, which leaves it with a great smokey taste. If you are good enough, you can try mixing it with apple for a great taste.
I can say naming maple as fruitwood can best describe how it works when smoking ham. It is also closer to hickory, but the only difference is that it is sweet and mild. It does not leave the ham distorted as it has a certain way of keeping or maintaining the great flavors.
Peach
Peach also has a fruity flavor, but it has some citrus flavors added. It has some floral notes added, which separates it from the rest of other woods as it becomes unique. Peach wood for smoking does not contain a lot of acids as compared to orange or apple. The flavor is a bit light which is suitable for ham.
As much as it contains a citrus flavor, it keeps a strong and real smoked ham for you. You cannot easily get tired of the smoke as it gives quite a refreshing scent as you smoke your ham. Your ham will be left well-seasoned with both sweet and citrus flavors. It can be best described as sweet fruitwood.
Oak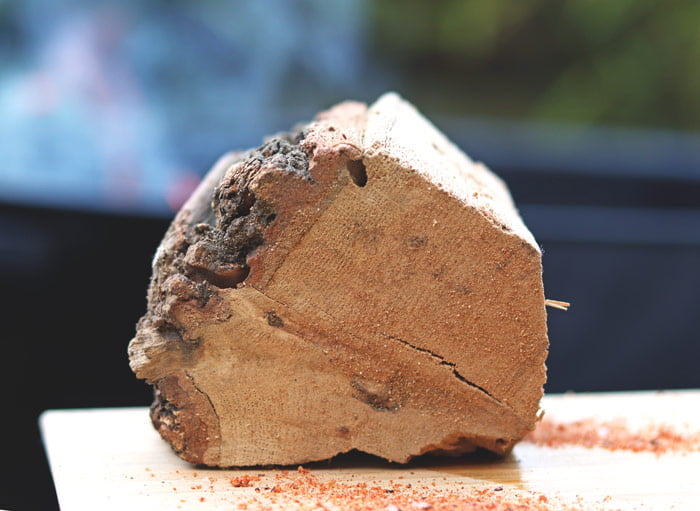 As much as oak wood for smoking is strong, it will not overpower the natural taste of ham. Oak is good when it comes to beginners. Chances are very low that it will spoil your ham. You can easily control it. Versatility best describes oak wood. It is great for combinations since it is not as strong as other woods like hickory.
A medium smoky flavor is what you get from the oak wood. Oak comes in different forms, and you need to be very careful when choosing the type of oak that works better. Red oak is the best as compared to white oak. It is quite strong, and at the same time, it remains subtle. It does not take away the original taste of your ham. It is best categorized as hardwood.
The Final Word
Considering all the woods, as mentioned earlier, it remains quite clear to note that ham works well with fruity and sweet flavors. Apple is exceptional as it strikes a good balance between sweet and traditional flavors of ham. The smoke leaves ham with a well-refined and defined texture. If it is not your favorite, it is definite that amongst other woods, you will get a perfect one.