Grilled boneless pork chops seared over high heat on the grill. Prepared with a simple dry rub seasoning, this easy grill recipe is the perfect weeknight dinner and takes less than 30 minutes to make.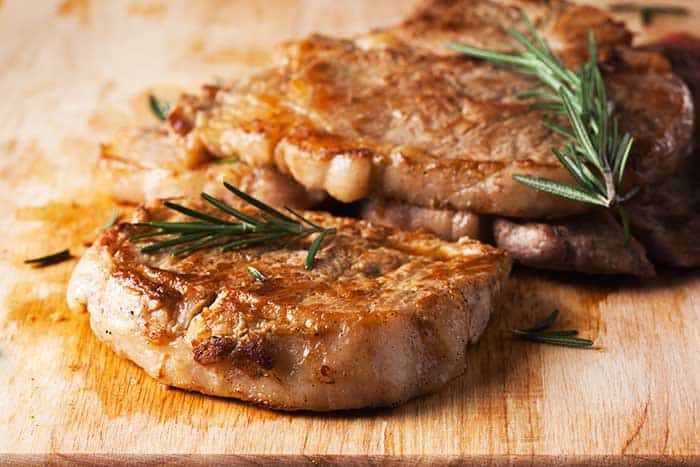 Pork chops were practically made for the grill. This delicious meat cut is tender and has a flavor that rivals bacon. This easy grilled boneless pork chop recipe is the perfect way to enjoy this unique meat cut, whether you like your meat cooked medium or with a little pink in the middle.
Pork chops are an American staple, but many people dismiss the dish because they've been burned by dry, tough chops in the past. But when you prepare your pork chops the right way and grill them to perfection, they'll quickly become one of the most requested meals in your house.
From buying the best pork chops to good meat preparation, here's how to grill the best boneless pork chops every time.
What Are Pork Chops?
Pork chops are the pork equivalent of beef steaks and come from the same part of the animal – the loin of the pig. Pork loin runs from the hip to the shoulder. Pork chops can be broken down into shoulder chops, rib chops, loin chops, and sirloin chops.
Why boneless? With the bone removed, pork chops are much lower in fat. As well as healthier, this makes them much easier to trim and prepare and much quicker to cook. With the bone left in, smoked pork chops make better use of the rich fat content through low and slow cooking.
What Should You Look for When Buying Pork Chops?
Selecting a high-quality boneless pork chop is essential. A high-quality piece of meat will dramatically improve the taste of the finished dish. When shopping for a boneless pork chop, look for an even color. Avoid pork chops with a darker-colored section separated by a piece of fat.
If possible, befriend your local butcher! There's nothing wrong with a store-bought chop. But, when you're able to work with a butcher and know where your pork chops are coming from, you'll always get a fresher, better cut of meat.
How to Prepare Boneless Pork Chops for Grilling
While it can be argued that bone-in pork chops have more flavor, that isn't necessarily true, depending on the preparation. Boneless pork chops are often better for grilling because they can be cooked quickly, and you won't risk burning a bone.
Unfortunately, it's also very easy to dry out a boneless pork chop on the grill. That's why preparing your chops the right way is crucial.
Since boneless pork chops are already trimmed, you will not have to worry about cutting the pork chops or removing any fat. More fat equals more flavor!
A great way to infuse flavor and increase the moisture in your boneless pork chops is to marinate or brine them. A good pork chop marinade will tenderize the meat and make it more flavorful. 
One of the easiest marinades you can try uses just a few ingredients:
Soy sauce
Brown sugar
Mustard
Garlic
Black pepper
Worcestershire sauce
Combine the ingredients to your desired taste, adjusting whether you want your pork chops a bit sweeter or more savory. You can also add red pepper flakes or a touch of cayenne for a kick.
Mix the marinade ingredients well using a whisk, and then place your boneless pork chops in the marinade. Massage the pork chops with the marinade so that it comes into contact with all the sides of the pork chops before covering them and refrigerating for at least 30 minutes and up to four hours.
For this recipe, we'll be using our grilled pork chop seasoning. While you can use a store-bought rub, our rub seasoning blend delivers a sweet-yet-subtle flavor that pairs perfectly with pork meat.
How to Prevent Pork Chops From Drying Out on the Grill
There's nothing worse than a dry, tough pork chop. Using a marinade will go a long way in keeping your pork chops moist and delicious, but there are also a few grilling tips and tricks to ensure juicy results.
Preheat your grill and allow your pork chops to come to room temperature before cooking them. This will ensure even cooking and less time spent on the grill so they won't dry out.
One of the best ways to keep your pork chops tender and juicy is to try a reverse-sear method. Cook them low and slow on the grill over indirect heat until they reach your desired internal temperature, then sear them quickly over a hot flame to seal in the juices. You can also search them using the more traditional method. After searing the pork chops on each side, move them to indirect heat and continue cooking them for 2-6 minutes per side until they reach a safe internal temperature. While the chops are over indirect heat, you do not have to flip them. Close the lid of your bbq and let it do the work.
Is It OK to Cook Pork Medium-Rare?
Well-done pork is usually dry and tough, but many people are afraid to eat pork if it is still pink in the middle. Fortunately, according to the latest USDA guidelines, it is perfectly safe to eat pork cooked medium-rare. The recommended internal temperature for pork is 145 degrees Fahrenheit.
It's worth investing in a meat thermometer to ensure your pork is safe to eat before pulling it off the grill. If you don't want to use a thermometer, you'll reach that temperature by grilling your chops for about 6-8 minutes per side (depending on their size). If you want your pork with no pink in the middle, cook it to an internal temperature of 160 degrees F, 8-10 minutes per side.
How to Grill Boneless Pork Chops
You're officially ready to step up as the grill master! Let's cover a few final tips to ensure you'll have the tastiest chops in town before setting them on the grill.
While your pork chops are coming to room temperature, fire up your grill and preheat to medium-high (400°F). Set one side of your grill to direct heat and one for indirect heat. Your grill should preheat for at least 10 minutes before putting the pork chop on.
Once your pork chops are at room temperature, pour some oil on the pork chops and rub them in before seasoning them with your desired spice blend. Pork chops have a low-fat content to stick to the grill. Oiling them prevents this.
Once they're on the grill, avoid flipping them too much. If you have the right heat level, your pork chops will develop beautiful grill marks without getting overcooked. Moving them around too much will make the cooking time longer and increase the risk of them drying out.
Finally, once your chops come off the grill, give them 5-10 minutes to rest. This will allow the juices to redistribute throughout the meat, so you'll have perfectly tender and moist grilled pork chops to slice into when it's time for dinner.