Pork belly burnt ends slow smoked over pecan wood and coated in barbecue sauce. These sweet pork belly cubes are addictive and will go down a treat at your next backyard cook-off.
Smoked pork belly burnt ends are a tasty flavor-packed way to spruce up a meal. They are great whether you want them for lunch or dinner and although they can take a while to cook, the wait is well worth it.
Whether you love the smoky crispness of traditional burnt ends or you want to try something a bit more supple and fatty, these are the perfect BBQ party appetizer, snack, or even side dish for your next barbecue! From smoking woods to meat prep, discover how to make the best smoked pork belly burnt ends for your BBQ platter.
What are Pork Belly Burnt Ends?
Pork belly burnt ends are sweet, sticky cubes of smoked pork belly that are slathered in BBQ sauce and smoked low and slow over wood. They are similar to traditional brisket burnt ends, but instead of using the beef brisket point, we use pork belly. Both meat cuts are rich in fat and marbling, making them perfect for smoking and a delicious bite-sized barbecue snack or appetizer.
Pork belly is a boneless cut of meat that carries a thick layer of fat and marbling. This even meat-to-fat ratio makes it perfect for slow smoking, as low and slow cooking can slowly render the fat and infuse the meat with incredible flavor.
Pork belly is often confused with bacon because they both come from the belly region of the hog, but there are differences between the two. The main difference is that bacon is cured, dried, and smoked before selling.
When you slowly smoke pork belly cubes, the barbecue sauce coating caramelizes while the fat slowly renders. These two combine to create tender, succulent mini pork bites loaded with flavor.
This darkness is why they're called burnt ends. They're not charred, but instead are dark because of the long smoke time. These morsels give you the full flavor of the seasoning and sauce on a juicy bite of meat.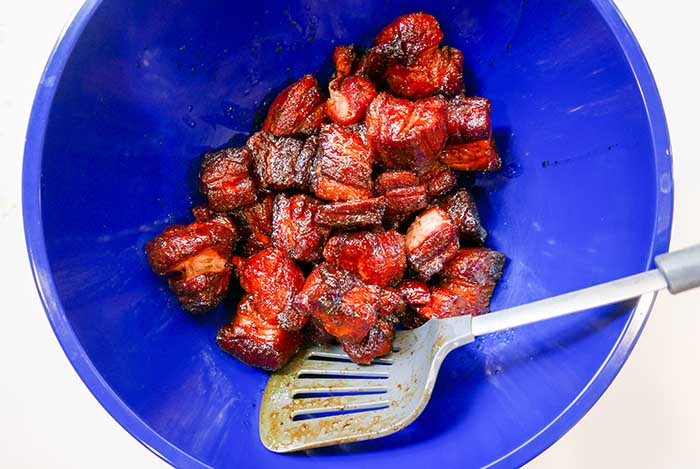 Tips for Buying Pork Belly
When you're buying pork belly, you want to get a piece that has plenty of meat for the most fulfilling dish. You do want it to have layers of fat, though, because that keeps the meat moist when you're smoking it. You'll want to check out the marbling like you would on bacon.
You can find pork belly in strips or slabs. Some places leave the skin on, which you can remove yourself, but it's easier to ask the butcher to do it for you. It'll also save you some money since you're paying by the pound.
The center of the pork belly is the best to buy if you have a choice. One end is pretty thin, and the other is mostly fat. You want an even mix of meat and fat for the tastiest burnt ends.
How to Prepare Pork Belly Burnt Ends for Smoking
Once you pick your pork belly cut, you'll need to prepare it for smoking.
Meat Trimming
If the butcher left the skin, you'll have to remove it because it won't render in the smoker. You can also trim any excess fat so that your cut looks like a 50-50 mix of meat and fat.
Cut the pork belly into cubes, tossing any cube that is total fat. The best size for the cubes is about 1.5" to 2". If they look large, don't worry – they shrink down during the smoking process, so they'll be bite-sized by the end.
Dry Rub Seasoning
Apply your favorite dry rub or seasoning all over pork belly cubes (our favorite is in the recipe below). Cover every side of the meat evenly for the best flavor. Once they're coated, place them on a wire rack with enough room for the smoke to circulate between them.
Best Wood for Smoked Pork Belly Burnt Ends
Fruitwood is the best for smoking pork belly burnt ends because it gives the smoke a sweeter flavor. Cherry wood is a great pairing with pork, and peach enhances the meat's natural flavors.
You can use oak or hickory wood for smoking as well. Oak is a step up from fruitwoods but works well with pork, especially if you use a mix of oak and fruitwoods. Hickory has a strong smoky flavor that pairs well with pork belly because it accents the bacon flavor of the meat.
Times & Temperatures
Smoke pork belly burnt ends at 225 to 250°F for two hours. At this point, you'll have bark on the meat and can add sauce. After adding the sauce, you'll cover the meat and cook it for 60-90 minutes.
Cook the meat to an internal temperature of 205℉ (96°C), which should take about three hours in total. Use a digital meat thermometer for the most accurate reading.
How to Smoke Pork Belly Burnt Ends
The broad overview of smoking pork belly burnt ends is to first smoke the meat for the flavor. Then you baste the meat with sauce to keep it moist and return it to the smoker. The sauce carmelizes for a rich coating with the juicy meat inside.
Smoke the Pork Belly
You can keep an eye on the meat at this point to get the bark exactly right. Once you add the sauce, you can't get more bark on the meat. If you like a lot of bark for flavor, let the pork belly smoke for closer to three hours with just the dry rub on it.
Add the Sauce
When your meat is dark, take it off the wire rack and put it in a disposable pan. Mix the meat with BBQ sauce and stir it to ensure it's all coated. Put foil over the pan and put it back on the smoker.
Cook to Finish
It takes anywhere from 60 to 90 minutes to finish smoking the meat once it's sauced. You can check the temperature with a meat thermometer — once it hits 205℉ (96°C), you're good to go.
Take off the foil and leave the pan on the grill. The sauce will firm up and stick to the meat for more flavorful bites.