Find out the best flavored smoking woods for one of the best BBQ fish out there: Salmon. Alder, hickory, maple, and more.
Dark strong meats like pork butt and brisket have been BBQ favorites for years, but there's nothing quite like salmon.
When it comes to cold smoking salmon, the wood that you choose will have a huge impact on the flavors and aromas of the final product.
Choose something too light and you will have missed a huge opportunity to take your meat to another level. Go for something too strong and you will overpower and ruin your fish.
So what are the best woods to smoke salmon with? Here are eight of my favorites so you can get BBQ fish smoking right away!
At a Glance: Our Top 3 Picks
Alder
Unlike a lot of smoking woods, alder is a gentle hardwood that adds a slight and delicate note of smokiness to salmon.
While it might be easy to think that this will be too weak, this is actually perfect because cold smoking salmon tends to last for at least a day. This means that we can slowly coat the salmon in alder without risking overpowering it or turning the fish sour.
This subtle flavor also makes it great for blending with other woods, as well as a great match for other types of fish. I've used it to great effect when cold smoking trout.
Alder's been a favorite of seasoned smokers for as long as I can remember, and it's not hard to see why. However, it's often seen as too weak for red meat, and too strong for poultry. Salmon sits perfectly in the middle.
Apple
Despite being a subtle and sweet fruitwood, apple is so popular that it's used with a whole range of different types of smoked meats.
It has sweet, fresh flavor with a moderate amount of smoke aroma. This gives it the perfect balance of smokey sweetness without threatening to detract from the natural flavors of salmon
If alder is too weak for you, then apple should be perfect for you. There's a reason why it goes so well with most meats. It's the best wood for smoking chicken, the best wood for smoking brisket, and even goes well with turkey.
If you want to experiment, try mixing applewood with a touch of mesquite. This should add a slight earthy tone to your wood, and enhance the smoked aromas of your wood.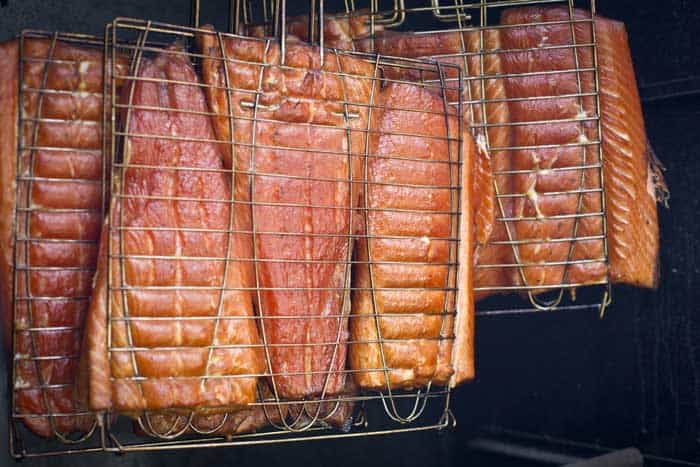 Hickory
Hickory's been a Southern grilling staple for decades, thanks to how well it matches with bacon and other types of pork.
Despite this, it actually can go well with salmon, and is the perfect hardwood if you something pronounced and earthy instead of delicate.
The smoke it emits is just the right side of powerful and pungent, and strikes a great balance between smokey and sweet.
One drawback of using hickory is that its strong flavor profile means that you have to extremely careful when smoking salmon with it. If your fish is exposed to it for hours then all the rich natural flavors of the timber could overpower the meat, leaving it extremely bitter and practically inedible.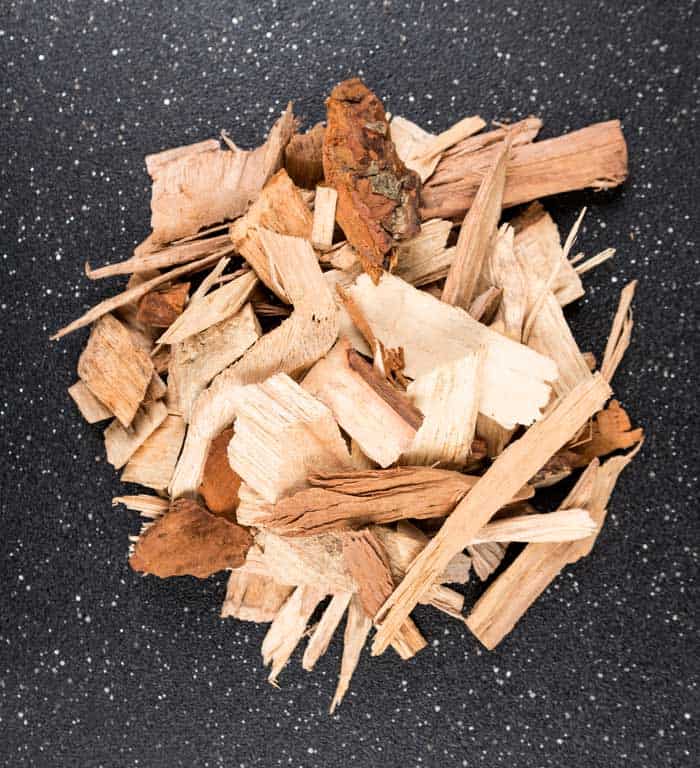 Maple
Sitting right at the other end of the scale to hickory is maple. It's a hardwood that's far more delicate and sweet in flavor, and is so mild that it doesn't really run the risk of overpowering your salmon.​
So no bitterness. No thick layers of smoke. Just beautiful, subtle sweet notes.
It's a hardwood that's normally uses with poultry, vegetables, and cheese, and it's not hard to see why.
Cherry
Cherrywood is a lot more versaitli than you might think, and is particularly great when used with poultry and fih.
It has a mild sweet taste that still allows the natural tastes of the salmon to take centerstage.
Also, if you're feeling adventurous then cherrywood can be used to paint a beautiful and thick red color on your food.
Cherry is often paired with alder, oak or pecan to create wonderfully rich and nuanced smoke profiles.
Oak
It will come as no surprise that oak is more powerful than fruit woods like apple or cherry. However it is lighter than other traditional woods like hickory or mesquite.
What makes oak so popular is that it can burn at very high heat, which means it has a large temperature range and can be very versatile.
It will infuse your salmon with a medium sweet taste, but one that is slightly different to fruitwood.
Pecan
Pecan wood is just one of the more powerful forests out there. It is part of the hickory wood household that is somewhat less powerful than hickory, but more powerful than fruit forests. You need to be cautious with using pecan smoking wood since it can make your salmon warm and pungent in the event you use a lot of.
This really is a cool-burning wood which, when utilized properly, gives fish and meat a delicate taste. You only need to be careful to be certain that you don't overuse it.
Walnut
Sourced from different forests, walnut wood for smoking has a remarkably powerful flavor and is able to make your salmon bitter if used in excess. Most people choose to use it for red meat, however you may use it together with salmon if you are cautious.
When you're trying to create the perfect smoked salmon, rich in smoke flavors, you have a lot of choice.
What you pick will largely come down to how long you plan on smoking it, how you are smoking it, and how strong you like your flavors.
As a starting point I always recommend alder. It has enough flavor to satisfy first timers without ever being overpowering.
If you like a bit more oomph to your salmon then you might want to try applewood, perhaps even mixed with hickory.
Last update on 2023-10-02 / Affiliate links / Images from Amazon Product Advertising API