The best grilled fish recipes for your outdoor grill. From seared ahi tuna steaks to lemon-topped swordfish, these simple dishes are quick, easy, and delicious.
Grilled fish is a delicious, healthy meal idea, whether you are grilling on the outdoor barbecue, in your oven, or on the stovetop. However, many people who are not used to cooking fish are intimidated by the idea of making this meal.
Here are a few of our favorite grilled fish recipes, whether you are an experienced cook with seafood or just approaching the fish counter for the first time.
Tuna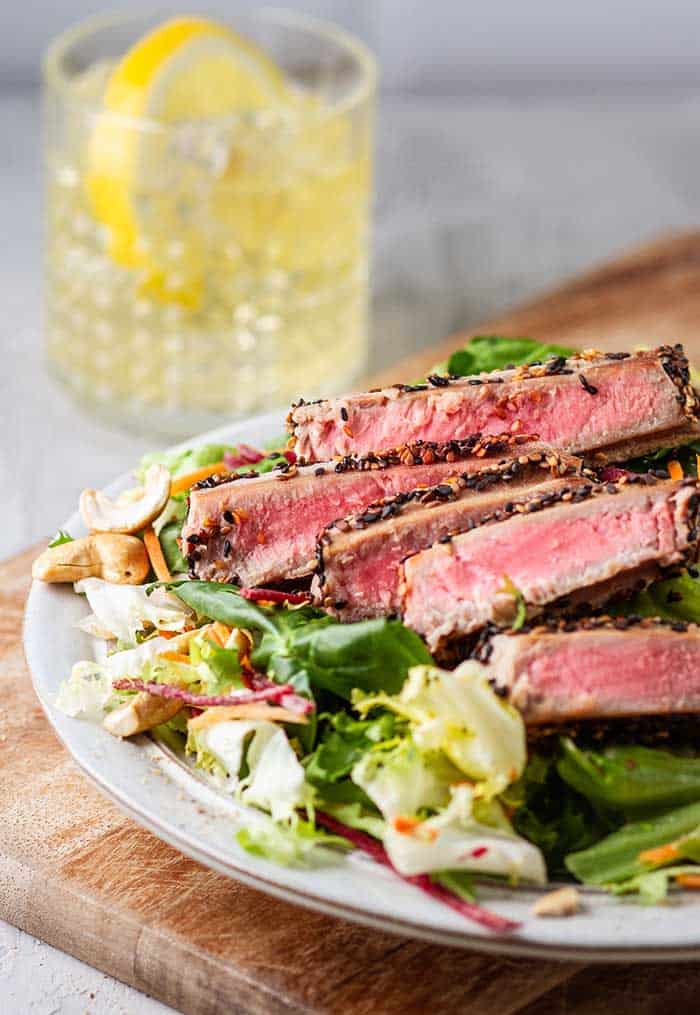 Tuna is one of the most forgiving fish for beginner cooks because it is so similar to meat in terms of taste and preparation. Tuna steaks in particular are very similar to meat, although they are much lighter and make for a refreshing summer meal on the grill.
To make grilled tuna steak, you will need ahi tuna, lemon juice, honey, orange juice, and soy sauce for the marinade. Pat the tuna dry, soak it in the marinade, then grill it on high for a few minutes, until seared.
Catfish
Catfish is another great fish for beginners to eat seafood. Even people who don't like fish normally enjoy the mild, sweet taste of catfish. Although many recipes fry or dredge the catfish in flour, grilling the fish is a light, simple preparation.
Besides catfish, you will need salt, pepper, and Worcestershire sauce. Just season the fish filets and grill.
Get the full instructions here.
Halibut
Halibut is a nice, sturdy fish for grilling because it isn't so soft that you have to worry about it falling apart on the grill. It's quick to cook but does a beautiful job of absorbing the flavors of whatever butter or marinade you use.
For our easy grilled halibut recipe, all you need are some mild seasonings to enhance the fillets' naturally mild, sweet flavor. Baste the halibut in garlic-infused butter for maximum flavor. Once you season the fish and the grill, you can cook the halibut until it is flaky. Serve with some lemon for a citrusy boost.
Salmon
Salmon is one of the most popular types of fish for home cooks, thanks to its delicious flavor, excellent health benefits, and easy preparation methods. Grilling salmon is an easy, simple way to enhance this fish's natural flavor.
You only need minimal ingredients to season grilled salmon, such as salt, pepper, and an oil with a high smoking point. Season the fish with oil and salt, then cook on a preheated grill.
Get the recipe here.
Swordfish
If you're ready to try out more exotic types of fish for your grill, try cooking up grilled swordfish steaks. Swordfish is easy to grill thanks to its sturdy texture, but your guests will be impressed when they hear that you are serving such a fancy-sounding fish.
Besides swordfish (cut into steaks), you will need olive oil, herbs, garlic, honey, and lemon zest for the marinade. Soak the fish in the marinade, then grill until it is nice and flaky.
Trout
Serving a whole grilled fish is a great idea for date night or any meal for two. Trout is a good fish for when you want to grill an entire fish thanks to its delicate flavor.
You only need olive oil, salt, pepper, and some fresh herbs to season this delicate fish. Instead of grilling directly on the grates, place it on aluminum foil to prevent the delicate fish from falling apart.
Get full instructions here.
Tilapia
Tilapia is a common fish on American dinner tables. Many people love its soft, flaky texture and mild flavor, which is only enhanced by grilling. This recipe seasons tilapia with olive oil, salt, smoked paprika, garlic powder, onion powder, and celery seed for a flavorful, savory dinner. Just put the tilapia on a hot grill and cook until flaky.
Get the recipe here.
Sea Bass
Sea bass is a great fish for those who want the health benefits of eating fish, such as high levels of magnesium and potassium, but don't like strong fishy tastes. Plus, grilling it is a quick way to get dinner on the table.
You will need butter, parsley, lemon juice, and garlic to make the sauce for this fish. Season the fish then grill, basting with the butter sauce to infuse it with flavor.
Get the recipe here.
Red Snapper
Red snapper is a popular reef fish that has a nutty, mild taste. This grilling recipe is the best way to let the natural flavors of the fish shine through.
Start by seasoning the snapper with salt, pepper, and your choice of spices such as parsley and paprika. Cover with lemon wedges (the citrus infuses the fish as it cooks), then cook on the grill.
Get the recipe here.
Turbot
For a trip to Spain without leaving your grilling patio, try this Basque recipe for turbot, a flat fish similar to flounder. It will be the center of conversation at your next barbecue!
Besides turbot, you will need white wine vinegar, kosher salt, and olive oil. The very simple seasonings help to enhance the flavor of the fish. Grill the fish, pouring the vinaigrette over it to infuse it with a punchy, acidic flavor.
Get the full instructions here.
Cod
Cod is a delicious, flaky white fish that perfectly absorbs the flavor of whatever marinade you prepare it in. Grilling cod makes for a delicious summer meal.
This recipe calls for a marinade made out of melted butter, minced garlic, olive oil, and Cajun seasoning. Season the cod, and then cook for four to five minutes on each side, until flaky.
Get the recipe here.
Pollock
Pollock is a flaky white fish commonly found in Alaska. Grilling it is one of the best ways to enhance its mild flavor.
Pollock is a great vehicle for rich, flavorful sauces, such as BBQ sauce. Brush the sauce on the filet after it's done cooking. You can even serve it with a side of coleslaw.
For more serving ideas, check out this recipe.