Grilled tuna steaks cooked over high heat for a delicious sear. Coated in a beautiful lemon and honey marinade, this grilled fish recipe is loaded with flavor.
Grilled ahi tuna is a refreshing way to cook fish in the summer. While some people might be wary of seafood, tuna steaks are as close to more traditional beef and chicken cuts as they get. And if you prepare them right, they are infused with layers of incredible flavor.
Our grilled tuna steak recipe is prepared with lemon and honey marinade, infusing the ahi tuna with a deliciously sweet flavor that's then enriched by the sear of the grill's flames.
From how to buy the best tuna for grilling to proper fish preparation, here's how to grill tuna steak from scratch. Let's get into it.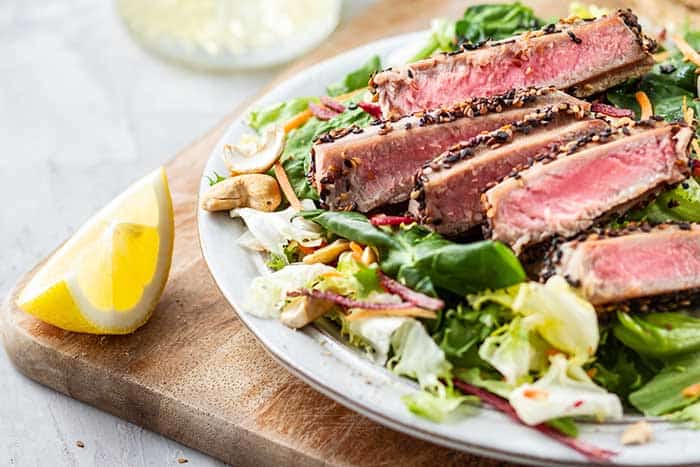 How to Buy Tuna for Grilling
For a delicious medium-rare tuna steak with that picture-perfect sear, you'll want to look at two factors: color and size.
The color of tuna varies from pale pink to dark reddish pink, and the darker it is, the fresher it is. Avoid buying fish that's started to turn yellowish or fish that's too pale.
You'll also want something thick so that it sears without drying out or falling apart. Thinner tuna steaks can be too delicate for grilling, although this is mitigated if you're using a stovetop grilling pan or countertop grill.
If you're feeling especially fancy and going to a butcher for your tuna steaks, you can ask to see a full tuna loin and choose what cuts you want from there. You can get frozen tuna that'll fit the same purpose, but you'll have to thaw it first.
Quick Tip: Freezing meat usually leads to ice crystals forming in the tissues, destroying some of the cell structure in the meat itself. This affects texture, taste, and even the nutrients found in the fish. If you get frozen tuna, don't refreeze it after defrosting it. Also, don't expect it to keep in the freezer for longer than six months.
Preparation
First, pat the tuna dry. Next, apply any oil or seasonings you wish to use before cooking it. If you're using a marinade, it'll need to be put into a covered dish and left to sit. Tuna is a lean kind of meat that's anatomically arranged so that it has uninterrupted slabs of muscle, so it shouldn't need deboning or trimming.
Times & Temperatures
This recipe is easy to make thanks to its very short cooking time. Tuna steaks are best grilled at as high a temperature as you can get, so you'll need to fire up your grill to a high heat of at least 500°F (260°C).
The fillets will need to be cooked until they reach an internal temperature of 125°F (51°C). This should take approximately 5 minutes in total, but ensure you flip the tuna steaks halfway through to get a sear on both sides. Also, use a meat thermometer to accurately measure internal temperature.
What to Eat With Grilled Tuna Steak
Luckily, tuna doesn't have to rest before you cut into it, so it's ready to eat the moment it comes off the grill. If you still have that marinade from before, you can gently heat it again and use it as a dipping sauce.
For sides, you'll want something that complements the fish. Roasted garlic potatoes, oven-baked fries, fried brown rice, and baked sweet potatoes all work as starchy accompaniments. And if you want something healthier, vegetable kabobs, stuffed mushrooms, or vegetable stir fry will also work nicely.
Quick Tip: It's important to note that tuna pairs best with red wine, unlike other kinds of fish. So if it's for a special occasion, you'll want to go with something more akin to a Pinot Noir than a White Zinfandel.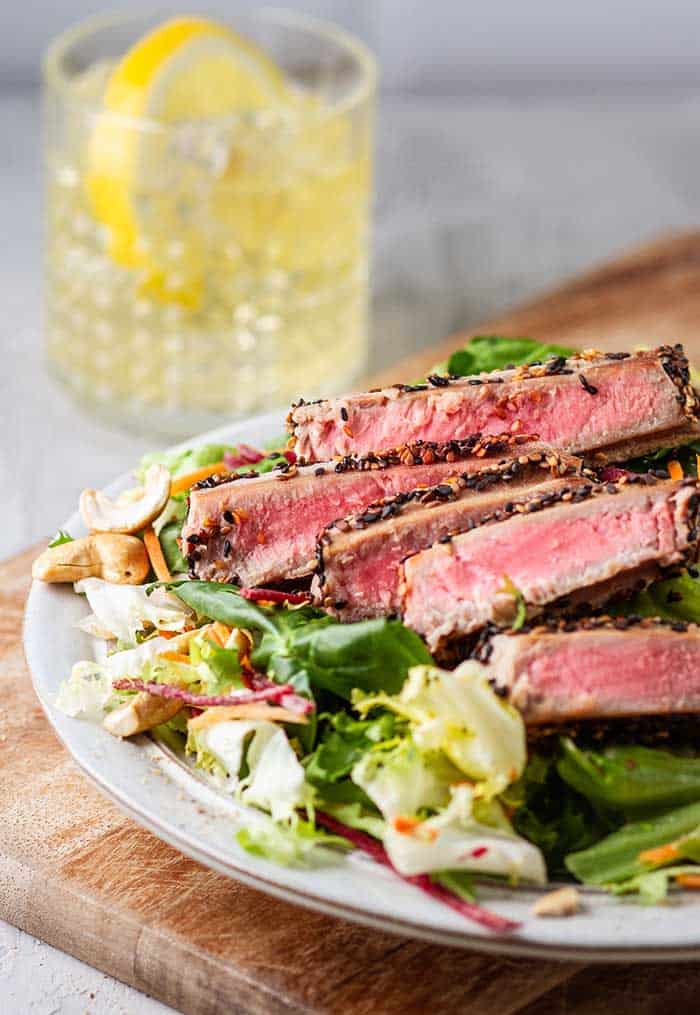 FAQ
Here are the most common questions about grilled tuna steak and their answers.
Can You Marinate Tuna for Too Long?
Acidic marinades can denature (or 'cook') the fish. You don't want to leave it sitting in the marinade for longer than thirty minutes.
Is It Supposed to Be Pink in the Middle?
Yes. Overcooked tuna tends to be dry. Unlike something like chicken, which has to be cooked through to avoid diseases, tuna doesn't carry the same risks if eaten raw. In fact, many people prefer it that way.
How Do You Know When It's Done?
You can see the transformation on a good-quality tuna steak easily. The change from uncooked to cooked is dramatic, taking it from a deep pink color to something more like tan. The middle should still be visibly pink when looking at it from the sides.
Is Grilled Tuna Steak Good for You?
Tuna steak is low in fat and high in protein, with many other nutrients to go with it. Vitamins B6 and B12, vitamin D, niacin, phosphorus, and selenium are all present.