Clean and take care of your backyard cooker the right way with our step-by-step guide. From cleaning to maintenance fixes, here's how to tune your propane gas grill.
Very few things are as annoying as a gas grill that goes bust mid-season. It can completely derail BBQ season for you, and can even mean weeks – maybe months – until you're back up and running.
One of the best ways to prevent this is to give your grill a quick mid-season tune. Just like a car or bike, regular care and maintenance can help safeguard your beloved grill against the effects of frequent use and wear.
It'll keep your grill in prime condition all summer, and protect it from the need for major repairs down the line.
Luckily, it's really quick and easy to do. Once you know how to do it you'll never look back.
One thing to keep in mind is that if you've had your grill for a couple of years then it's worth giving it a more thorough check-up (source).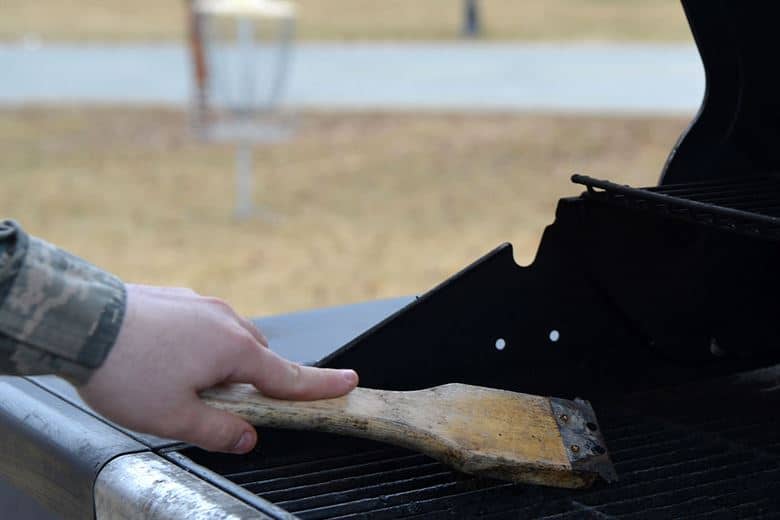 What you will need
A wire-bristle grill brush (Ideally you'll have two, with one for the grates and the other for the grill's tubes and inner chamber)
Cooking oil
Dry paper towels
Warm soapy water
A soft fabric cloth
A venturi brush (Amazon affiliate link)
How to tune up your gas grill
If still have your grill's manual then this could come in handy as a good understanding of the inner layout of your grill will be useful as you work your way through it. If you don't have it then you can usually find it online quite easily.
Clean the grill grates
Good cleaning doesn't just rid your grill of built-up dirt and grease, but also helps protect it from future wear and rust. This is especially true when cleaning cast iron grill grates.
Warm up your grill to a decent temperature with the cooking grates left in place. Turn off the grill and safely (with gloves!) remove the grates from your BBQ.
Scrub them down with your wire-bristle brush, removing as much burned on food, grit or oil as possible.
Apply cooking oil to the grates with paper towels. This step will help season your grill, guarding it against the effects of rust and general wear.
Leave the grates to cool down and dry.
Empty the drip tray
Many grills have a drip tray (sometimes called a grease pan) to help catch any fatty fun off from your meat as it cooks. This not only helps to make it easier to clean your grill but also helps reduce the risk of flare-ups as you cook.
It's a great feature to have, but it can build up quite quickly and it's definitely a lot easier to empty when it's only half full. Make the most of the opportunity to do so while you tune up your grill.
Test the ignition button
Your gas grill's igniter button provides the spark that gets your grill burners going, lighting the propane or natural gas fed into the grill by your grill's regulator hose. While it is a simple device, it's also prone to failure from time to time. Luckily, finding the causes behind your grill igniter not working is easy.
With the gas turned off, check your grill's ignition button. If it doesn't click the first time then it's quite possible that the igniter's electronics or circuits have failed.
More often than not the easiest solution is just to replace the system's batteries. If this doesn't work then you will need to test the connections between the wires and the igniter box.
If neither this or applying new batteries work then you may need to replace the ignition system altogether.
Check the lines or tanks for leaks
Natural and propane grills are different here. First I'll start with natural gas.
If you're familiar with repairing a puncture on a bike's inner tube then you'll be familiar with the concept here.
To test for potential leaks in along your BBQ's fuel line, wipe it down with a light amount of soapy water and a cloth. If bubbles appear then there is likely to be a leak at that point.
If this happens, tighten the connectors in your grill and then test again. If the issue persists then you may need to replace the regulator or main hose.
For a propane gas grill, check the propane tank for leaks or if the connector is loose.
Also if you're using a propane gas grill then make sure that you have a decent supply of propane. Nothing's more irritating than running empty halfway through cooking.
Check out my natural gas grill reviews guide
Clean the grill's chamber
Tuning your grill doesn't mean just testing the ignition and scrubbing the grates. Learning how to clean a gas grill, from inner tube to chamber, is the key to long term use.
Use a venturi brush to clean your grill's inner tube. A lot of things like grease or even insects can find their way up here and can easily cause blockages, so be sure to give these a good clean. Venturi brushes are fairly cheap and easy to find online so I urge you to get one (like this one on Amazon).
Clean all your grill's inner parts as best as possible using a light amount of soapy water, your grill brush, and a cloth.
Follow that by washing the outer shell of the grill with soapy water.
If your grill has porcelain enameled grates then I recommend using glass cleaner. This will help preserve the quality of the grates without breaking the enamel.
If you have stainless steel grates then you can either use soapy water or specialist stainless steel cleaner.
Allow your washed components to dry properly before reinserting your grill parts.
Fixing common issues
It's not uncommon to encounter issues with your grill, particularly after a year or two of frequent use. Fortunately a number of these are simple to solve.
Ignition: If your grill is having problems with its ignition system, you may have to either replace its batteries of the igniter altogether. Test each in isolation before diagnosing the problem. Replacement batteries and igniters are fairly easy to buy, particularly from popular brands like Weber or Char-Broil.
Heat distribution: Modern gas grills have become increasingly stronger and better at ensuring good heat distribution across their surface. If your grill is suddenly experiencing problems with cold spots of poor heat distribution, then you might have a blocked burner or even a burner malfunction.
Blocked burners can be easy to clean, as this guide from Char Broil demonstrates.
If you burner is broken then you will need to replace it. Luckily this is much easier than you might think. Check out this guide.