Smoked mettwurst is the best way to enjoy this classic German sausage. Made from minced pork and lean beef, this meat is bursting with flavor. Learn how to cure, season, and cold smoke mettwurst with our barbecue sausage recipe.
What is mettwurst?
Mettwurst is a strong-flavored German sausage made from raw minced pork that has been cured and smoked to retain its flavor.
It's usually made from ground pork and beef, although some versions also include veal or turkey. Ingredients can vary from region to region, but they also typically contain garlic, onion, and herbs.
Mettwurst comes from the Low German (a form of the German language from the North of the country) word for minced pork, 'mett'. Interestingly, it shares a root with the English word 'meat'.
The combination of the smoking process, minced pork, and herb seasoning creates a strong flavor that has won fans from all over the world. We're also big fans here, so we're proud to introduce our very own cold smoke mettwurst recipe here.
How to eat mettwurst
Smoked mettwurst is popular either as a snack or appetizer and in Germany is often enjoyed either with bread or in stews. I love having smoked mettwurst with homemade sauerkraut or sliced as a sandwich filling.
Mettwurst vs. Bratwurst: What's the difference?
With both being popular German sausages, mettwurst and bratwurst are often confused with one another. Mettwurst is long and thin and has a much stronger flavor than bratwurst thanks to its heavy herb ingredients.
It's not to be confused with metts, which is an uncured and uncooked type of raw minced pork used as a spread. This is known as a type of Rohwurst.
Bratwurst also contains pork and beef, but is often cooked in a broth or beer, and can be fried as well as barbecued. Smoked brats have a flavor much milder than mettwurst, and are lightly seasoned with nutmeg, caraway, and ginger.
What does curing salt do?
Many cold smoked sausage recipes need curing salt, and this mettwurst is no different. For our recipe, we have used Prague Powder #1 (also called Instacure 1 or Cure 1).
It's important to note that there are other curing salts out there, but they can't all be used for the same purpose. You might come across Instacure 2 or Prague Powder #2, but they have slightly different applications.
All of these curing salts are used for meat preservation, like for sausage, ham, or bacon. These help to improve the flavor of the meat and create a pink color, while also stopping the onset of botulism or other harmful bacteria.
Where they differ is their application. Prague Powder #1 and Instacure 1 are used for short curing periods, making them suitable for any cured meat that will be cooked, like smoked sausage. This is why we use it for this smoked mettwurst recipe.
Instacure 2 and Prague Powder 2, on the other hand, are used for long curing periods. This makes them best for air-dried meat that will not be cooked. This includes salami, pepperoni, and some air-dried hams.
Why are they pink? The reason is simply so you don't confuse it with regular salt. The sodium nitrate in all these cures can be extremely harmful if consumed pure, so it's important that they are handled responsibly.
What is sausage blooming?
Blooming sausages is a stage after smoking where we allow the sausage to dry and 'age' at room temperature, developing a deep brown color. While it should already have a brown color after smoking, allow it to bloom will create a more even coverage. The longer the blooming, the darker the color.
The best way to do this is to hang the mettwurst on the racks or hooks and hang off the back of a chair. Leave to bloom for two hours. After this, store the sausage in the refrigerator overnight to enjoy the next day.
Showering
Also referred to as a cold water bath or spray, showering involves cooling the sausage immediately after it's removed from the smoker. This stage in sausage making is crucial because if it's not cooled, the casings will shrivel and deform the meat.
This can happen as soon as you remove the meat, so you need to ensure that you are prepared. Use a cold spray or hose to shower the sausages, or submerge them in a cold water bath. Aim to get the internal temperature down to 120°F (50°C) as quickly as you can.
If the sausage does shrivel, you can plump it back up again by putting it in a saucepan of hot water, at about 160°F (71°C).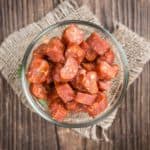 Smoked Mettwurst
Delicious smoked mettwurst. Made with ground pork, lean beef, and herbs, this German sausage is an instant classic for your barbecue cold smoking repertoire.
Print Recipe
Pin Recipe
Equipment
Meat grinder

Sausage stuffer

Pork sausage casings
Ingredients
3

lbs

pork shoulder

trimmed and cubed

2

lbs

beef chuck

trimmed and cubed

1

tsp

Prague Powder #1 also called Instacure #1 or Cure #1
Seasoning
2

tbsp

kosher salt

1

tsp

garlic powder

1

tsp

onion powder

1

tbsp

ground white pepper

1

tsp

whole mustard seed

1

tsp

ground coriander

1

tsp

all spice

½

tsp

ground dried marjoram

½

tsp

ground caraway seed

1

tsp

nutmeg powder

1

tsp

smoked paprika
Instructions
Set up your meat grinder with a medium or fine plate. Grind the pork and beef cubes through.

Transfer minced meat to a large mixing bowl. Add Prague Powder #1 and all seasoning. Combine thoroughly.

With seasoning fully incorporated, work meat through the meat grinder one more time, using the fine plate or setting.

Using your sausage stuffer, stuff your ground sausage meat into casings.

Fire up your smoker to 100°F (38°C). Transfer sausages to the smoker. If you have hooks, suspend your sausages on them. If not, rest them on your smoker's grates.

Smoke for 6 hours. Increase smoker temperature to 160°F (71°C) and cook until meat internal temperature is 150°F (65°C).

Remove sausages from the smoker. Spray with cold water (also called 'showering') to prevent the cases from shriveling. Rest at room temperature (also called 'blooming') to allow the meat to dry and age. Bloom for 2-3 hours.

Move sausages to the refrigerator overnight. Eat within 3-4 days, or vacuum seal and enjoy within 3-4 weeks.
Nutrition
Serving:
2
lb
|
Calories:
244
kcal
|
Carbohydrates:
0.84
g
|
Protein:
20
g
|
Fat:
17
g
|
Saturated Fat:
6.4
g
|
Polyunsaturated Fat:
1.45
g
|
Monounsaturated Fat:
7.22
g
|
Trans Fat:
0.1
g
|
Cholesterol:
82
mg
|
Sodium:
737
mg
|
Potassium:
360
mg
|
Fiber:
0.3
g
|
Sugar:
0.04
g
|
Calcium:
24
mg
|
Iron:
1.7
mg