Smoked beef tri-tip will soon be your new favorite barbecue steak. Usually cooked on the grill, preparing it on the backyard smoker produces an unparalleled cut of flavorful and tender smoked beef. Learn how to prepare, dry brine, and smoke tri-tip with our barbecue guide and recipe.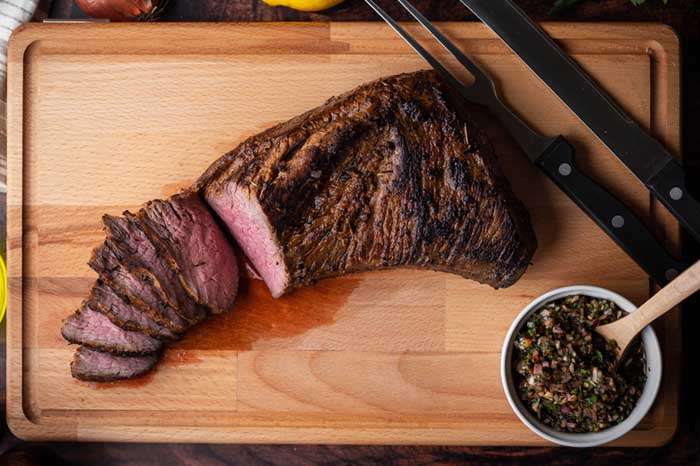 Tri-tip is one of the most tender and flavorful cuts of beef for smoking. From the beef's bottom sirloin, it has an unrivaled mouthfeel and hearty flavor.
While beef tri-tip is usually grilled over high heat or reverse seared, it is incredible when smoked. Because it's a lean cut of beef and low in fat content, It can be difficult to get right on the smoker. But if you nail it, you'll have a beautifully tender plate of tri-tip that's great by itself or as part of a beef sandwich.
For our smoked tri-tip recipe, we trim and prepare with a simple dry brine followed by a simple BBQ spice rub. We then smoke it over indirect heat for about 2 hours until tender and juicy.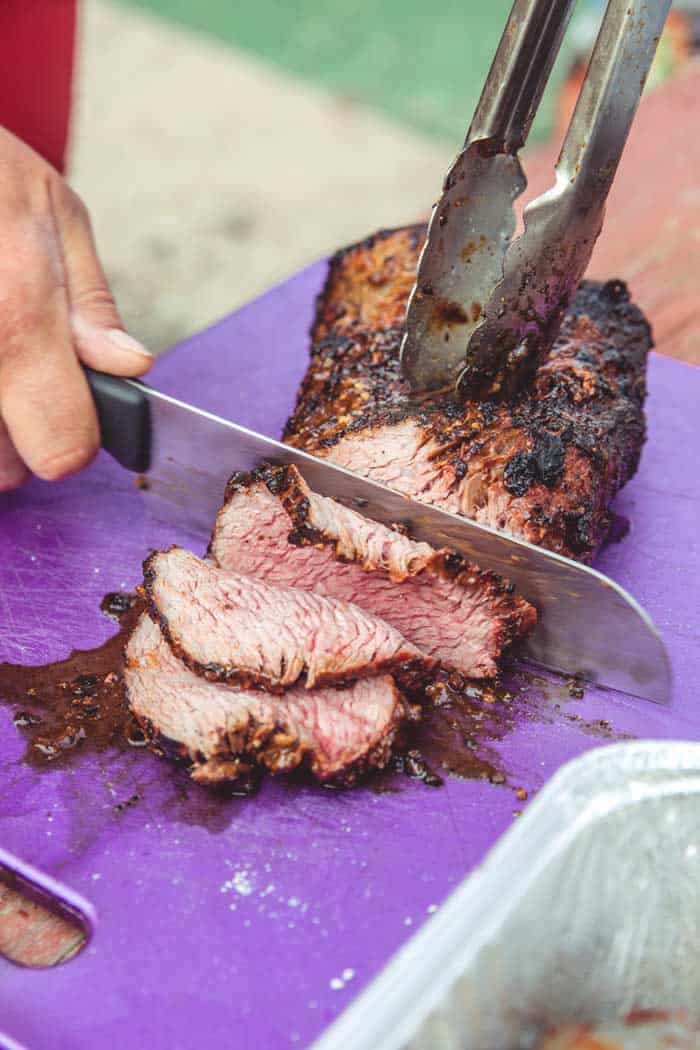 What is Tri-Tip?
Beef tri-tip is a flavorful and tender cut of meat from the bottom sirloin of the cow. It's usually about eight inches in length and weighs between two and three pounds. It has a unique triangular shape to it and tapers at one end. It's lean and low in connective tissue and fat.
Its flavor is unlike any other cut of beef. It boasts a strong, rich, beefy flavor. Thanks to its low fat content, tri-tip steak can be very chewy and will need to be sliced carefully to ensure it's not too tough. Get it right though, and you'll have a cut of beef that's as delicious and tender as any other.
Traditional Santa Maria tri-tip originates from a town with the same name, in California's Central Coast region. Tri-tip steak is a specialty in the area and was originally cooked on the unique Santa Maria grill. It has a grate that's controlled by its wheel-pulley system, where you can raise or lower it to bring the meat closer to the fire.
Purpose-made Santa Maria grills are difficult and expensive to buy, but you can build your own Santa Maria grill at a fraction of the cost. If you're a DIY grill fan, you'll love the project. The clever grill cooks tri-tip as it was intended, and helps to make it more tender.
Where to Buy
Tri-tip can be difficult to buy, depending on where you are. Due to its Californian origins, people in the southern region of the state might find it easier, but otherwise you may need to visit a specialist butcher or reserve ahead.
The good news is that there are some fantastic online vendors who sell fresh tri-tip, and can deliver across North America.
Meat Prep
Before you can throw tri-tip onto the smoker, you have to prepare the meat.
The first step is to trim the fat off of the tri-tip. The meat has patches of hard fat that are hard to eat even after smoking. Take a small, thin trimming knife and work it under the pieces of hard fat and silver skin.
Once your meat is clear of fat, prepare the dry brine, which will improve the flavor and the browning process. Rub the meat with kosher salt, then let it rest for 12-24 hours.
Finally, your meat is ready for the dry rub. Dry rub preserves the texture of the tri-tip better than a liquid marinade. You can make your dry rub out of any seasonings you want, but a good suggestion is brown sugar, garlic powder, salt, paprika, and chili powder.
Times & Temperatures
Smoked tri-tip needs about 2 hours to cook at 225°F (107°C) to a medium-rare internal temperature of 130-135°F. This time will vary depending on meat size, smoker heat retention, and preferred doneness.
Always use a meat thermometer to test the internal temperature of your meat. I know some people swear by judging on texture or even appearance, but a thermometer is the best way to guarantee the best results.
Best Smoking Wood
The best wood for smoking tri-tip is oak, particularly red oak. Oakwood burns at a consistent rate over long periods of time, making it perfect for low and slow barbecue smoking. It also provides a smokey taste without being too bitter, which allows the naturally deep beefy flavors of tri-tip to come through.
Serving
After your tri-tip is done smoking, let it rest for a few minutes. Then slice it and serve.
You need to cut tri-tip against the grain for the best results, but the meat's grain goes in two different directions. First, cut it in half diagonally from the corner to the crook.
Then, turn each piece so you can see the muscle fibers and cut against the grain for tender slices. This is the best way to work around tri-tip complicated grain.
Leftovers
Not sure what to do with any spare beef? The best way to use leftover tri-tip is to incorporate it as the steak ingredient into slow-roasting recipes. This includes chili con carne, pot pie, or stroganoff. It also works well as a filling for steak sandwiches as well as fajitas and quesadillas.
Reheating
If you want to have tri-tip leftovers the next day, paying attention to how you reheat the meat will help it retain moisture and flavor. Heat up an oven, then wrap the tri-tip in aluminum foil. You can put BBQ sauce or some beef broth in the foil with the tri-tip to keep it moist.
Tri-tip reheats best when you reheat the whole piece instead of slices, which is why you should only slice off as much of the roast as you will need. However, the foil method can even help with reheating sliced tri-tip.
FAQ
Got burning questions about barbecue smoking beef tri-tip? These answers to our most frequently asked questions are here to help.
What is Santa Maria Tri-Tip?
Most recipes for smoking tri-tip mention Santa Maria tri-tip as this is the most common way of preparing tri-tip for a barbecue. The dish is named after Santa Maria, a city in California that popularized tri-tip as a barbecue cut (the city is also the center of California's small but mighty barbecue scene). A Santa Maria tri-tip is rubbed with salt, black pepper, and garlic salt, then smoked over red oak. The choice of wood is crucial to making an authentic Santa Maria tri-tip.
How Much Does Tri-Tip Shrink When Smoked?
All meat shrinks when it cooks because cooking breaks down muscle fibers and drains away some blood and juices. The percentage depends on the cut of meat, preparation method, and cooking time. On average, tri-tip loses 20-30% of its weight after it cooks. Smoking shrinks meat more than wet cooking methods, so err on the side of putting in more tri-tip. Try not to smoke it for more than two hours as going too much over the cooking time will make the meat smaller and tougher.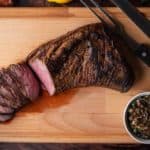 Smoked Tri-Tip
Beef tri-tip cooked low and slow over wood and charcoal for the ultimate cut of barbecue steak. Prepared with a dry brine and simple seasoning, this smoked tri-tip is dripping with flavor!
Print Recipe
Pin Recipe
Equipment
fillet knife

smoking wood chips
Ingredients
2 lb

tri-tip steak

1

tsp

kosher salt
Dry Rub
2

tbsp

smoked paprika

2

tbsp

garlic powder

1

tbsp

ground black pepper
Instructions
Place the beef tri-tip on a cutting board. Use a fillet knife to remove the silverskin on the meat's underside, and any remaining surface fat.

Apply kosher salt to meat for the dry brine. Transfer beef to refrigerator and leave to dry brine for two hours.

Fire up your smoker to 225°F (107°C). If you are using a charcoal grill, set it up for 2-zone cooking or indirect grilling.

Remove tri-tip from refrigerator. Combine dry rub ingredients in a small bowl. Apply dry rub to tri-tip, covering and working into as much surface area as possible.

Place the tri-tip on your smoker's grates, with the thick end closest to the heat. Close lid or door and smoke for 90-120 minutes, or until internal temperature reaches 125°F for medium-rare or 135°F for medium.

Optional: Finish tri-tip over high heat, a couple of minutes on either side to get a seared finish. Note: If you do this, take the meat off the smoker when the internal temperature hits about 115-120°F so it's not overdone when seared.