BBQ grilled tri-tip kabobs are the best excuse to fire up the backyard grill. These beef steak skewers are marinated in a Worcestershire sauce and balsamic mix before seared over high heat. This is tender beef tri-tip done right. Learn how to do it right with our grilling recipe.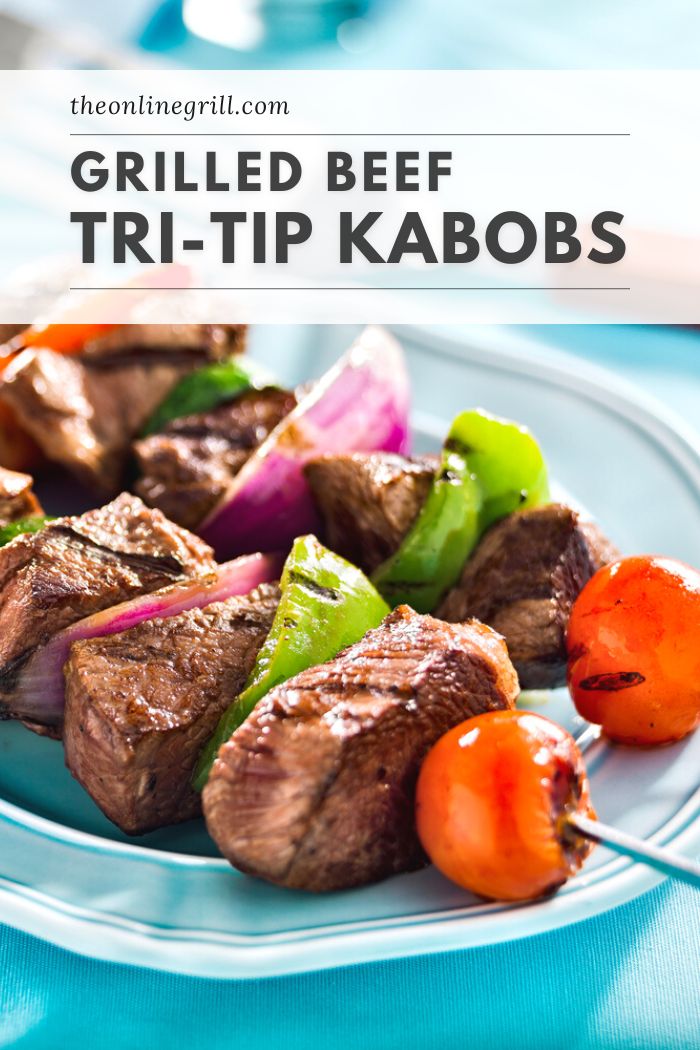 Grilled kabob skewers are a great option to have in your barbecue repertoire. They're quick, versatile, and always a crowd-pleaser.
While many people might go for chicken, veggies, or even fish, we're going to use beautiful tri-tip steak to make our kabobs. It's best with freshly marinated beef, but this recipe is also a great way to use up any leftover tri-tip you might have.
Why tri-tip? Simply put, this cut of beef packs in incredible flavor. It's tender, making it perfect for soaking up marinade, and its marbling content will let it render beautifully over high heat. Let's take a look at everything you need to know to make the perfect grilled tri-tip kabobs.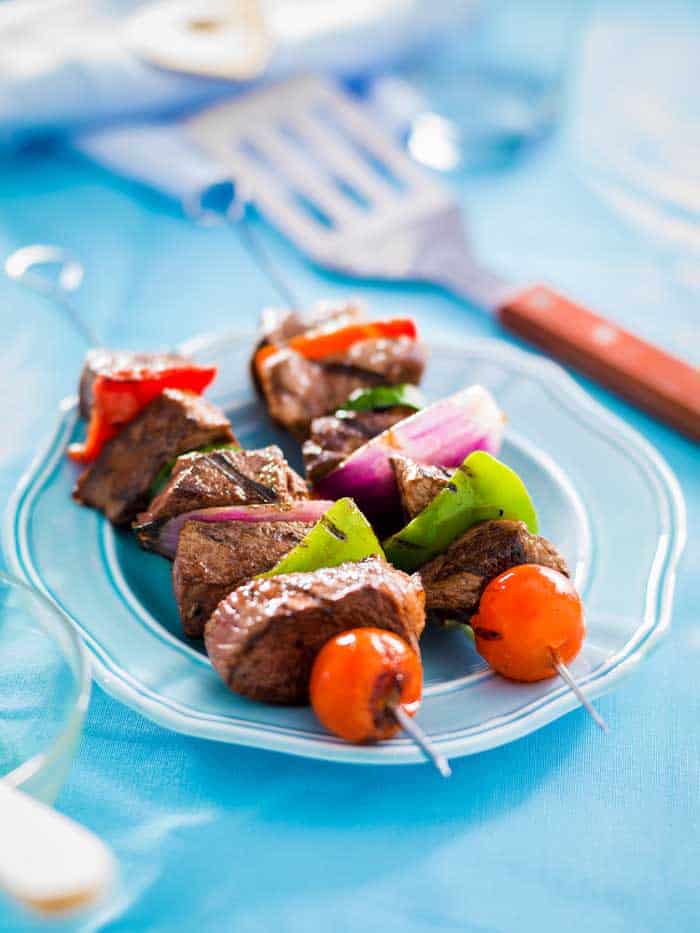 What is Tri-Tip Steak?
Beef tri-tip comes from the bottom tip of the sirloin (or groin) area of the cow. It's triangular in shape which means it's big enough for us to cut chunks out of for kabobs.
It is a tender and juicy steak that gained popularity in the 1950s, when it's believed a Californian rancher cooked it whole rather than grind it. Its tenderness makes it an excellent cut for roasting and grilling.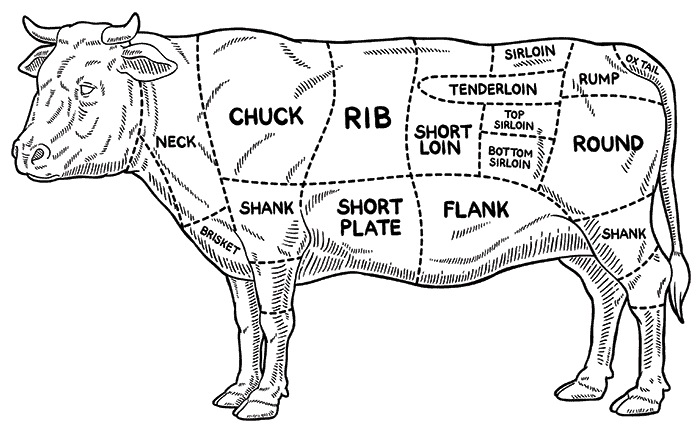 One of the great things about this cut is that it has more protein than saturated fats and calories. Tri-tip steak and roast have a large portion of marbled fat, and this contributes to its juicy state. The marbled fat also comes in handy when making skewers. The extra marbling creates juiciness that will easily flow to the other components of your skewer.
The other reason why it's a great cut of meat for skewers is that it cooks quickly. This is something that you want for your ingredients. Often, skewers are cooked rapidly and on a whim. You don't want a meat cut that takes forever to cook. You can then easily toss it on the grill, knowing that it won't need extra time.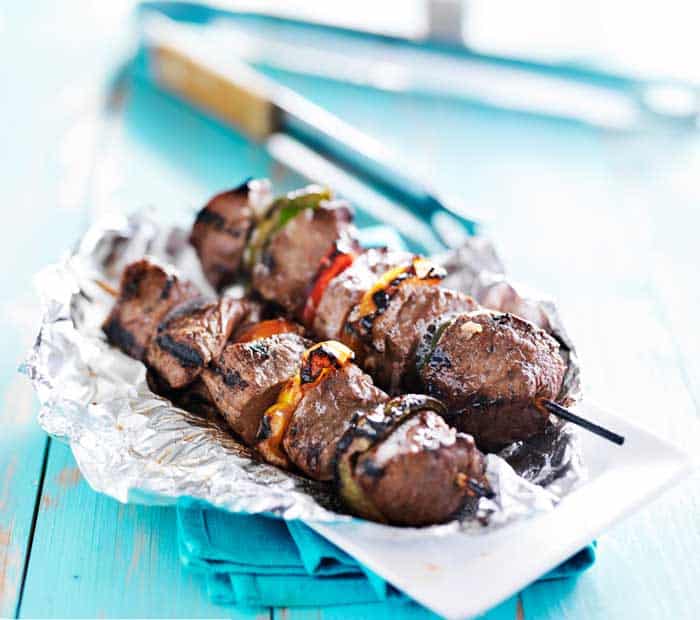 Tri-Tip Kabob Marinade
There are various means of marinating meat regardless of how you will want to cook it. Skewers are no different. The meat that you use on skewers also benefits from being marinated. This process is a great way to infuse flavor in the meat, by soaking the meat in different flavors for a period.
By the time you are ready to cook it, the taste would have changed and sometimes the texture. It all depends on the marinade and the amount of time that you marinate the meat for.
Usually, marinades will differ according to the flavor that you are out to get. I love using Worcestershire sauce as a base for marinating just about anything. But that's me, and that may not be your taste. The great thing about marinades is that you can alter them according to what you prefer.
If you're going for something with a savory hint and not too much labor, you can mix Worcestershire sauce (told you it's my favorite, so I had to tell you about this recipe), soy sauce, balsamic vinegar, garlic, pepper, and oil.
Times & Temperatures
Tri-tip needs to be grilled at 350°F to 450°F (176°C to 232°C) for 10 to 15 minutes, or until the internal temperature has reached 140°F (60°C). Turn the skewers a quarter every 3-4 minutes to ensure even cooking.
How to Make Grilled Tri-Tip Kabobs
I recommend marinating before grilling as well, which adds flavor while keeping things moist deep inside those juicy morsels.
Heat a small pan over medium-low heat and add all the marinade ingredients, whisking continuously until everything has combined and dissolved. Bring the mixture to a simmer, then remove from the heat. Allow the marinade to cool completely (this usually takes 20-30 minutes).
Add the tri-tip to a large bowl and pour the marinade over top. Cover the bowl with plastic wrap (or use Ziploc bags) and leave in the refrigerator for a few hours, or even overnight. When ready, remove the beef from the fridge and pour out the remaining liquid.