Check out these best vegan BBQ recipes and ideas for the perfect meat-free cook-off. Ideas including classic sides, burgers, vegan ribs, veggie kebobs, and more!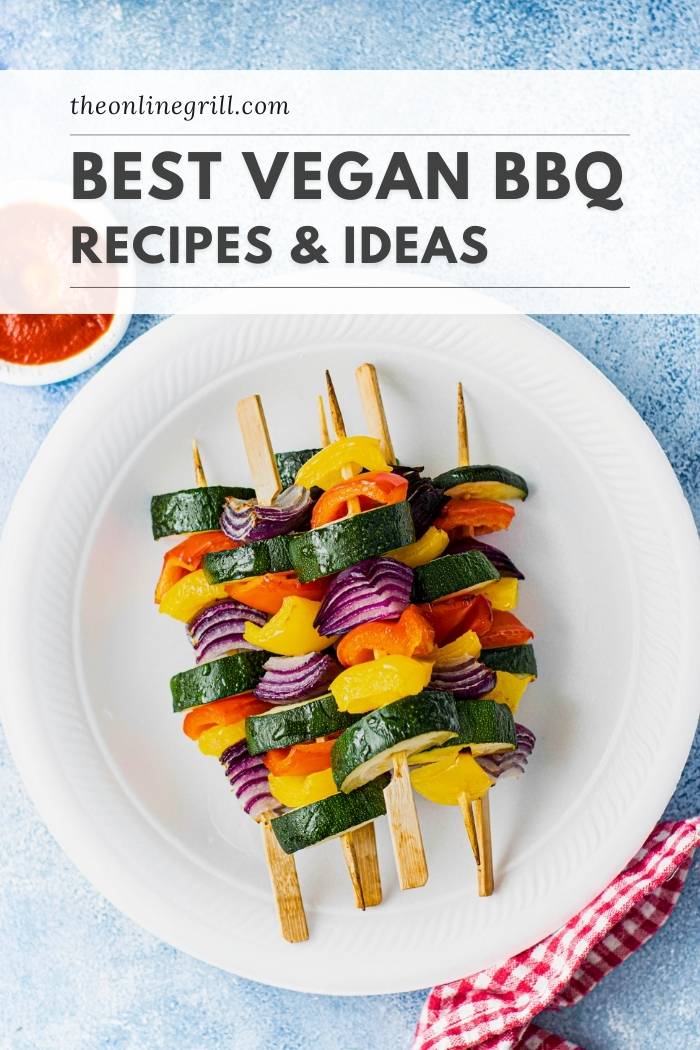 Barbecues can be intimidating for people who are trying to live a plant-based lifestyle.
How do you navigate around an event that is so deeply entrenched in meat cooking?
Luckily the answer isn't to buy piles of expensive meat substitutes. There are lots of beautiful ideas that can be brought to life with regular, everyday vegetables.
So here are 20 of the best vegan BBQ ideas to prove that barbecues are for everyone!
Beet and Quinoa Burger
Where else could we start? This beet and quinoa vegan burger has been one of our default recipes for years, and it's not hard to see why.
It boasts beet, quinoa, onion, and chili, all packed into one thick patty. If stuffing your burger bun to its limits is your goal, then look no further. Plus, that color is something to behold.
Grilled Cauliflower Wings
Nothing says 'grill party' more than BBQ wings, and these grilled cauliflower wings fit the bill perfectly. Cauliflower offers the exact texture we want in as a meat substitute, while its mild flavor and firm texture make it the perfect vegetable for loading with flavor before we fire it on the grill.
Cauliflower Steaks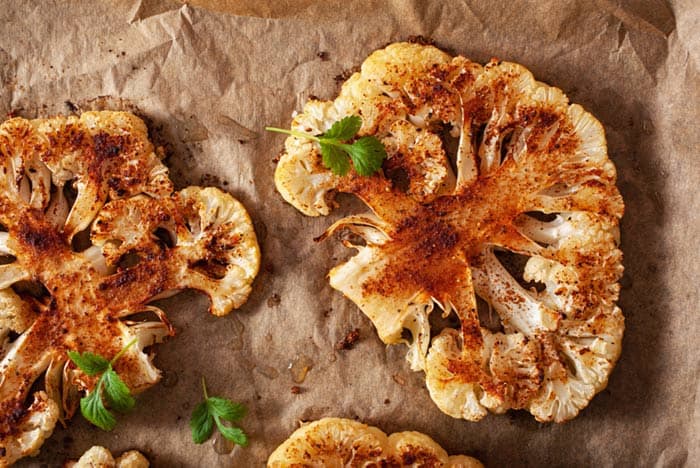 These spicy and smokey grilled cauliflower steaks are prepared in paprika and cumin dry rub and cooked until tender. Spicy and smokey, this meat-free recipe perfectly delivers classic barbecue flavors on a vegetable plate.
Grilled Vegan Kabob Skewers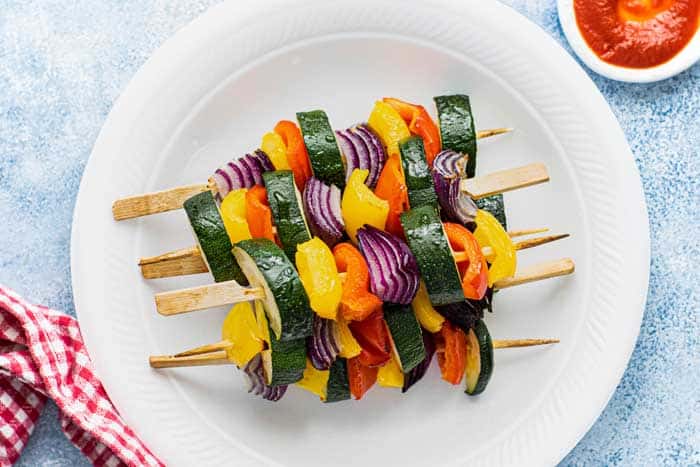 Vegetable skewers practically scream summer. Thankfully for someone as lazy as me, these take next to no time to put together. They're marinated in a creamy peanut and miso sauce before being chucked on the grill for just 5 or 10 minutes.
The marinade is what does it for me, and anything containing peanut has my attention. A great option for any veggie-skeptics at your party!
Mushroom BBQ Ribs
Get a load of these drool-worthy vegan ribs. I did a double-take on these just to make sure they weren't meat, and I'm glad to say they're the real deal! These drool-worthy meat-free ribs have an awesome texture that looks like the real thing. Seitan manages not to go mushy or soft like most other meat alternatives, while the recipe's hickory-flavored liquid smoke provides an unmistakable barbecue flavor.
Mushroom caps are used to form the meat texture, while a mashup of spices, seasoning, and smoke are used to give you something that is as close to the real thing as you're ever likely to get. Goes perfectly with crispy grilled potato wedges, or a vegan ranch dressing. Give it a go!
Portobello Mushroom Fajitas
You can't go wrong with fajitas, and they're one of the best and easiest foods out there to 'vegan-ize'. This recipe is made with a beautiful combination of sweet potato, portobello mushroom, and cashews to give you a warm, hearty filling. They're then finished with jalapeños and lime for a bit of spice and kick. A seriously addictive combination.
Vegan Chick'n Satay with Spicy Peanut Dip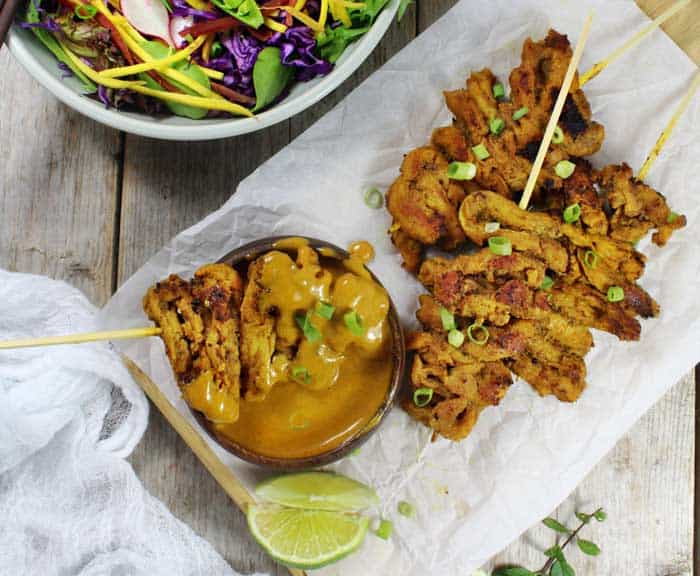 This satay and peanut sauce is the perfect finger food. Combining a beautiful blend of vegetables and tofu, it has a coconut marinade that adds a beautiful sweet finish to the whole thing.
With onions, baby corn and mushrooms also in the mix, there are enough flavors and textures going on here to keep you coming back!
Cabbage Asian Coleslaw with Lime Dressing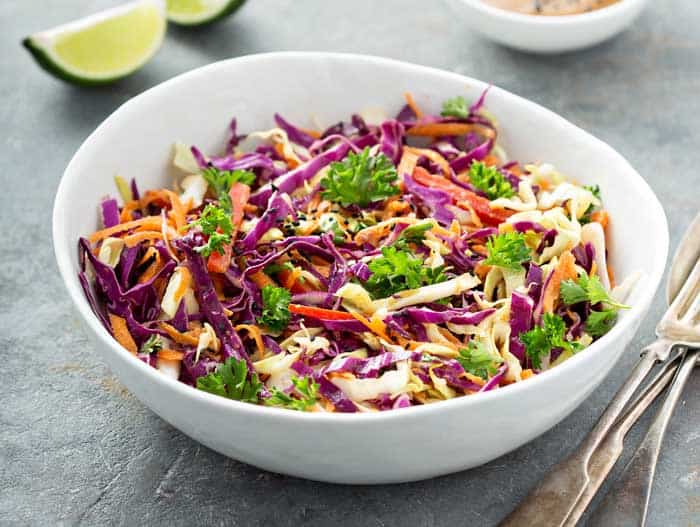 Some of the best recipes are the most simple, just like this grilled Asian coleslaw with sesame and peanut butter dressing. The quick vegetable dish can be put together in just a couple of steps. Topped with an Asian lime-flavored dressing, it adds some beautiful crunch and sharp zest to your table.
Buffalo Cauliflower Wings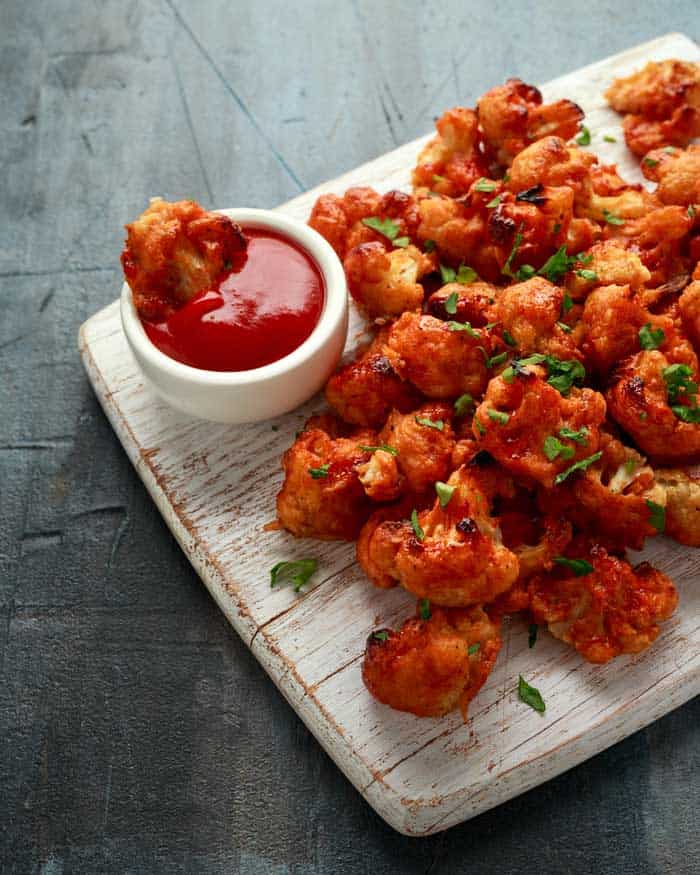 These vegan wings are as close as you can get to chicken, and the taste isn't far behind either. They pack in beautiful buffalo heat and can be cooked low and slow on the grill or smoker. They're the perfect grill BBQ party appetizer.
Mushroom Burger
The big challenge with egg-free burgers is getting them to stick together, especially while they're grilled. Once the moisture starts to evaporate, problems can quickly arise.
Not with these bad boys. With button mushrooms and chickpeas, there's plenty in his vegan burger to keep everything together. All combined to make a delicious and healthy meat-free BBQ dinner.
Grilled Baby Potatoes
I've had a love-hate relationship with potatoes over the years but once I had them off the grill, I knew I was in love.
What sets this recipe apart is the charred skin on the potatoes. It gives them a crisp outside that matches perfectly with the soft and creamy inside.
Hawaian Seitan Skewers
Seitan often makes it way onto best vegan BBQ recipe lists, and it's no wonder why.
The versatile protein source can be used in so many BBQ recipes, like meat-free buffalo wings, but here we're using it with these beautiful vegan skewers.
Mexican Street Corn
No BBQ party would be complete without some grilled corn. Its sweet, charred taste is exactly what I think of when I daydream about summer grilling sides and appetizers.
This Mexican take on the classic is upgraded with a marinade containing almond milk, cilantro, paprika and cumin. It's total barbecue heaven, and it's totally mea-free.
Sweet and Spicy Black Bean Burgers
A lot of my meat-eating friends prefer veggie burgers over meat, and it's this kind of recipe that demonstrates exactly why.
Black beans are the perfect veggie patty ingredient, with their meaty texture and moist binding agents.
This recipe is served with a delicious mango habenero cream to give you a burst of spicy and zesty flavor.
Vegan and Gluten-Free Tofu Satay
When done right, tofu is the perfect chicken substitute. It isn't easy to get hold of recipes that are both vegan and gluten-free, but this fits the bill perfectly. These tofu skewers show just why. Served with delicious peanut satay, the tofu is marinated in a tamari and peanut butter mix to lock in layers of added flavor. Trust me, these are the real deal.
Peanut Carrot White Bean Burgers
If you're not sure what topping or relish to include with your veggie burger then this is the recipe for you.
Richa's white bean burgers are served with a carrot and peanut topping, giving you a rich layer of flavor in each bite.
Lentil Burger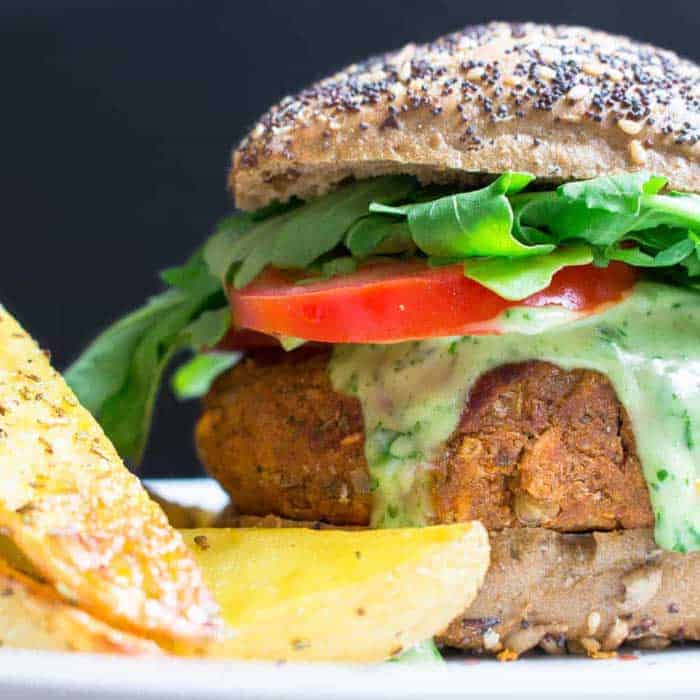 No list would be complete without a lentil ingredient, and what better way to serve it than in a burger?
If you want a bit more of a herb topping, then the basil mayonnaise might be the perfect fit for you.
Mini Coriander and Lime Burger
Not a lot of people like coriander (cilantro), but those who do… Boy, do they like it.
This recipe pairs the herb with lime for the perfect flavor balance. Combine in a blender with chickpeas and hazelnut, there's a lot of taste packed in here.
Seitan Satay with Spicy Peanut Sauce
These skewers do away with the tofu, and swap in delicious seitan instead.
This recipe is rich in umami flavors and served with one of my favorite peanut dipping sauce recipes out there.
Tofu Skewers
Tofu gets a bit of an unfair rep sometimes, but I find that people quickly change their mind once they've had it grilled.
If you ever miss the texture of meat, the dry, firm texture of tofu is the perfect substitute. These tofu skewers show just why.
Coated with just a touch of bbq sauce, they couldn't be easier to throw together. Easy and only needs mere minutes to make. Perfect.