Grilled bratwurst soaked in beer and served in a mustard, onion, and sauerkraut topping. Discover how to make this delicious German recipe today.
This easy grilled bratwurst recipe is the perfect way to enjoy this delicious German sausage. The pork brats are simmered in beer before being added to a yellow mustard and sauerkraut glaze for an incredible punch of flavor. Saving the best until last, the soaked brats are seared over high heat to create a caramelized and crispy finish. This is grilled sausage at its finest.
The good news is that this is much easier than it sounds, and can be done from scratch in just 40 minutes. From the best pork bratwurst to easy grilling tips, here's how to make the best grilled bratwurst.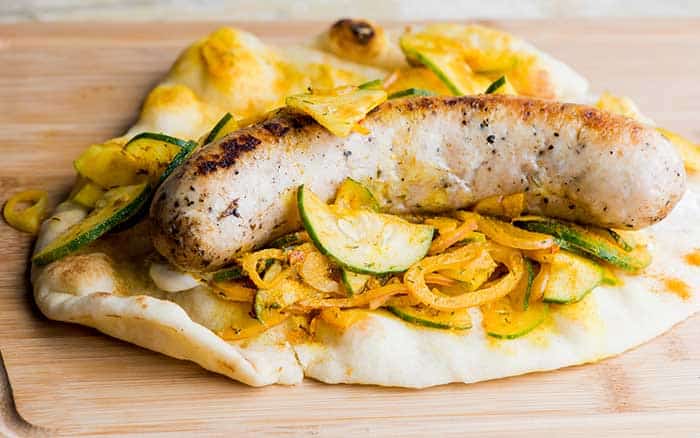 What Is Bratwurst?
Bratwurst is a type of German pork sausage, with some varieties also made from beef, or veal. The name is derived from Old High German, with brät- meaning mined meat, and Wurst meaning sausage.
Classic brat sausages contain ground pork with garlic, mustard and spices, and are stuffed into a natural pork casing. It's different from hot dog sausages not only in the choice of meat but also in the use of seasonings like nutmeg, ginger, coriander, or caraway seeds. Brats also have a thicker and more coarse casing and aren't usually steamed before being packaged.
Over the years, several sizes and varieties of bratwurst have been created, with states like Michigan and Wisconsin having 'brat fry' like they have barbecues in the South.
Bratwurst can be bought in either pre-cooked or raw form. Pre-cooked brats are lightly colored and standard in most grocery stores. The German variation is also labeled stadium brats and has pork as its main ingredient.
Uncooked brats are thicker than the pre-cooked type and have a natural pork casing. Most local butchers or counters at the grocery store make their brats with added flavors or seasoning.
Times & Temperatures
Timing and heat are two crucial factors for the perfect grilled bratwurst. These are the recommended temperatures and time it will take.
You should grill brats slowly over low to medium heat at 300-350°F (150-180°C). It's important to keep the temperature low so as to prevent the sausage casings from splitting.
Cook to an internal temperature of 160°F (70°C). Use a digital meat thermometer for accurate and safe readings.
Grilling time should be about 20 minutes for the pork brats to reach our target internal temperature.
Main Ingredients
Grilling bratwurst requires you to have the right ingredients. To get started, you'll need:
Bratwurst
Fresh bratwurst has a juicy and natural meaty flavor. They are available in most local butchers. Artisan brats have an authentic European taste and are delicious compared to other types. Stay away from brats that come in plastic-wrapped cardboard containers or foam trays.
Ensure that you bring the brats to room temperature before grilling them to keep them moist and juicy.
Beer
Simmering your brats in beer enhances their flavor and makes the casings pliable. The best beer to simmer your bratwurst in is a pilsner or lager style beer like Coors Lite, Miller Lite, or Bud Light. These beers are readily available and affordable.
You can also use a German beer like Carlsberg to maximize the juiciness of your bratwurst.
Flatbread
We've used large flatbreads for this recipe, but you can also use bratwurst buns. You'll need good-quality buns to hold up the bratwurst and any toppings you plan on using. For example, Panini buns, baguette buns, brioche buns, or classic Italian buns pair well with a bratwurst.
Toast the buns on the grill for a minute per side to add a crispy and toasty texture.
Mustard
German mustard is the best to use on brats as it has a deeper flavor and more heat than yellow mustard.
You can also use the yellow mustard if you're looking for a tart and tangy flavor that isn't too hot. Its mild flavor pairs well with other condiments.
Expert Tips
Are you wondering how to get perfectly grilled brats? Here are some quick tips to help you master the grilling game.
Don't simmer the brats in beer for any longer than 15 minutes. While you would be forgiven for thinking that the longer the simmer, the richer the flavor, this isn't really true. A study by Amazing Ribs showed that beer can penetrate the meat surface up to a couple of millimeters, but no further. Simmering the brats for 15 minutes is just as effective as doing the same for an hour.
You can soak and prepare the sausages ahead of time, making this a great tailgate grilling recipe. If you do make this recipe on the road, make sure you get disposable aluminum pans to carry the meat in.
If you enjoy this recipe, try making our smoked brats. They take longer, but are loaded with juicy flavors.
Bringing the brats to room temperature for 15-20 minutes before grilling will keep them juicy and moist. You won't need to add extra cooking time or reduce the grill temperature to have well-cooked brats.
Serving Ideas
You can serve brats in different ways, depending on your taste preferences. Some of the sides/toppings to consider include:
Caramelized onions: Caramelized red or yellow onions add a unique flavor to the grilled taste of your bratwurst. You can also use French fried onions to add extra crunch.
Sauerkraut: Sauerkraut or fermented cabbage adds a tangy flavor that's faithful to Bavarian recipes. Try our homemade sauerkraut for the best results.
Cheese: Try melted cheddar or swiss cheese for a tasty bite