BBQ grilled volcano potatoes are a delicious appetizer featuring bacon, melted cheddar, and cream cheese. Cooked over high heat on the grill and dipped in BBQ sauce, these will go down a hit.
The flavors in this recipe are as explosive as their volcanic appearance suggests. Smoky barbecue grilled potatoes wrapped in salty bacon and filled with gooey melted cheese and sour cream. There's a lot going on here, and will give you an incredible flavor hit when you bite into them.
It's an easy recipe that can be made ahead of time or fresh. These little beauties are perfect as a BBQ party appetizer before the main centerpiece or even as a side dish. Whichever way you go, they'll certainly make a statement at your table.
You can customize the toppings if you want, while you can also drop the bacon if you're hosting for any vegetarians or people on a pork-free diet.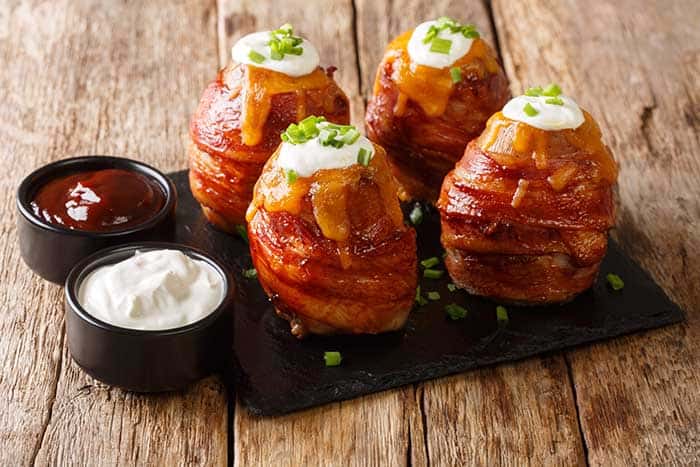 What is a Volcano Potato?
As their appearance suggests, volcano potatoes are stuffed potatoes with a filling that erupts as it's cooked. They're loaded with a lava-like filling of shredded bacon, chives, melted cheddar cheese, and anything else you decide to cram into it!
They're a fun twist on your regular (boring) baked potato, and we take it to another level by firing them up on the grill. This adds a smoky taste to the appetizer that perfectly complements the bacon meat and melted cheddar cheese.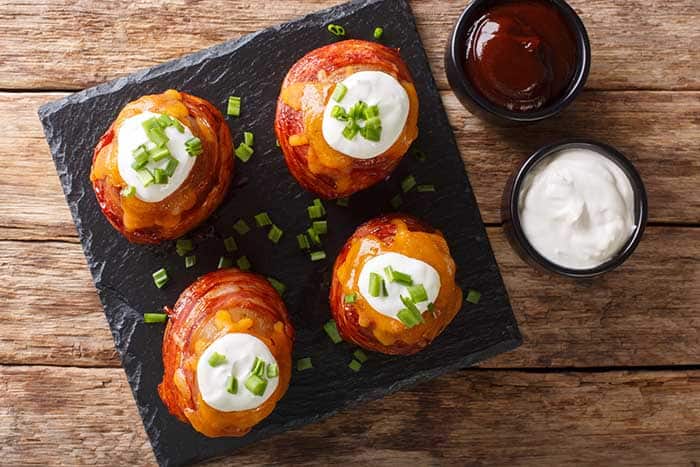 Why Should I Use Bacon?
We love using bacon because it adds flavor to the outside of these potatoes while adding juiciness inside too! You'll notice that as you're cooking them over moderate heat they start to crisp up just like regular oven-cooked bacon but without any oil needed. It crisps up into crunchy-salty goodness that's out of this world.