Want the best of both worlds from grilling and smoking? Gas grill smoker combos help provide the speed and convenience of propane grilling, while giving you the authenticity of long form BBQ smoking.
While grill-smoker grills are widely available, gas-driven grill options are a lot more limited.
So I've compiled a list of 5 of the best for people with all needs and budgets in mind.
Camp Chef SmokePro SE
It should be said that this is a smoker first, and a grill a distant second. It's built with smoking in mind, but does have a searing that can be connected to a propane tank in order to be gas powered.
Searing in essence grilling at very high temperatures, but using a propane input will help us control the temperature far easier, and bring the temperature down a bit to levels that are better for good grilling.
Its smoker chamber is big. It can be fuelled by wood pellets, and achieve a mightily impressive 500 degrees fahrenheit.
Its digital temperature display makes it easy to use, and helps give you far great control over how hot you cook your meat.
AT A GLANCE: Camp Chef SmokePro SE
Digital Controls and lectronic auto-ignitionAutomatic pellet augerGrease drip disposal system with bucket429 square inch total cooking area18lb hopper capacity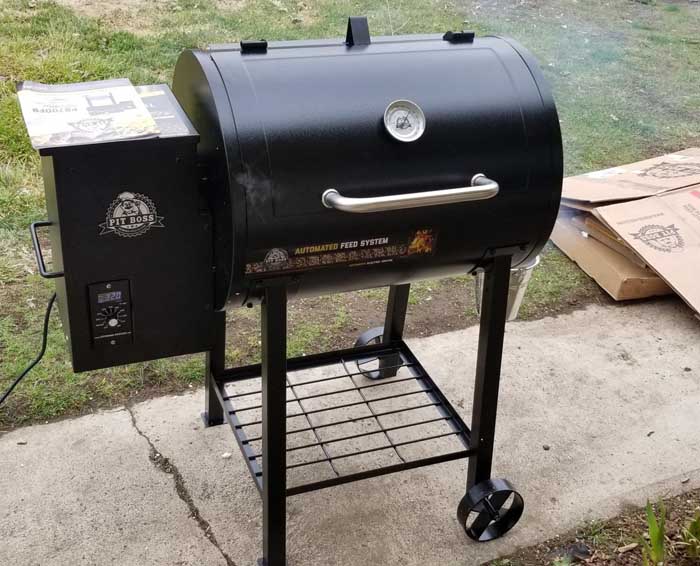 Pit Boss 700FB Pellet Grill
I've always had a soft spot for Pit Boss, so it was inevitable that they'd feature in this list.
Hear me out though, they more than deserve it.
They're Boss by name, and Boss by nature. Their grills have long packed in a punch, and the 700FB might be the perfect example of just why.
This powerful unit has a temperature range (up to 500°F) that can match any other grill, while its large chamber means that creating the environment needed for good BBQ smoking is easy.
Check out our full Pellet Boss 700FB review
AT A GLANCE: PIT BOSS 700FB
700 sq. in. total cooking surface.Porcelain coated cast iron grids.Digitally controlled burn system.Fuelled by 100% natural wood pellets.
Comes with side shelf option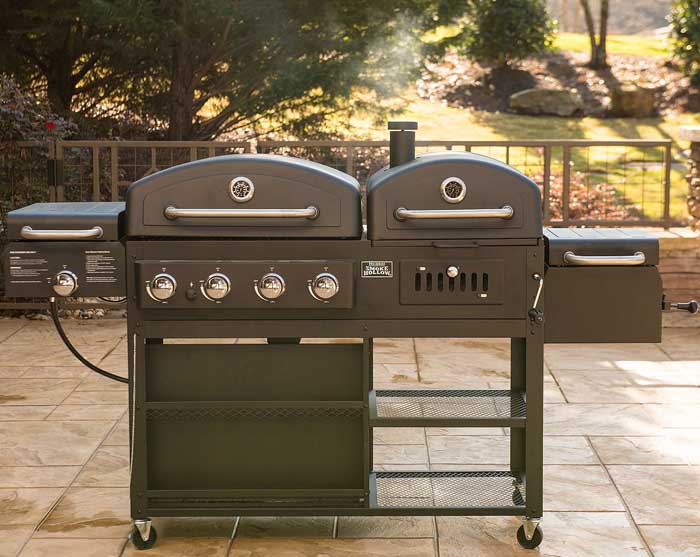 Smoke Hollow 4-in-1 PS9900
I mean, where do we start here? This thing is an animal of a grill.
It has a whopping 860 square inches of cooking space, which is incredible compared to almost any other grill or smoker we've seen.
Across this cooking area it has a 3-burner gas grill, an offset smoker, a charcoal grill, and a side burner for searing. Between these three, it has all aspects of BBQ cooking all taken care of.
It has two separate temperature gauges, so you can be across different cooking activities all at once.
It has beautiful porcelain enamel coated iron grates, which make it extremely good at maintaining even cooking temperatures across its surface. Not only this, but that makes it very easy to clean.
This does all come at a price though, and it is certainly one of the most expensive items in this list. However, it is worth every penny.
AT A GLANCE: Smoke Hollow PS9900
​Features infrared searing burner
3 liquid propane burners
Charcoal grill with adjustable charcoal pan
Offset side smoker with capacity for wood chunks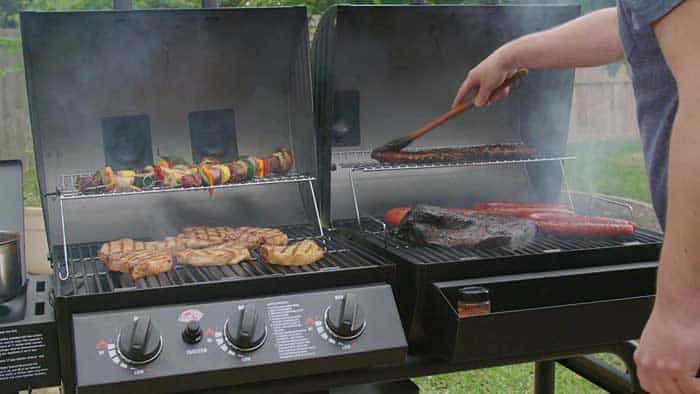 Char-Griller 5050 Duo
Strictly speaking, this is a gas and charcoal combined grill, but it has the type of chamber that makes it perfect for barbecue smoking too.
Incredibly it has 1260 square inches of room across its cooking surfaces, and its 3-burner gas grill component has 40,800 BTUs.
This is a beast.
It's not just about power though, this is a brilliantly efficient grill too. It features porcelain enamaled grates, which help distribute heat evenly.
It has an electronic igniriont feature, making it easy to get this thing up and running in mere seconds
On the charcoal smoker side, it has 580 square inches of space, as well as a warming rack and ash bucket for easy ash removal.
Not only that, but its durable insulated, making its heat retention outstanding.
AT A GLANCE: Char-Griller 5050
1260 square inches of cooking space40,800 BTUs of power with and 12,000 BTU side burnerAdjustable grate height for temperature controlStainless-steel heat gauge; porcelain-coated cast-iron grates; easy-dump ash pan
Camp Chef SmokePro DLX PG24S
Camp Chef have long offered great value for money, and options for people on tighter budgets.
This doesn't mean that it's lacking in quality however, and in fact this grill packs in an awful lot despite its more relatively modest cost.
Camp Chef argue that the DLX offers more features than other combo grills at its price point, and in all fairness it's hard to disagree with them.
It has a combined grill surface area of 570 square-inches, including a warming rack. It also backs in 25,000 BTUs which, while not as high as some of the others on this list, is certainly impressive compared to other budget options. This helps provide a temperature range of up to 500°F, which is as good as anything else we've reviewed here.
AT A GLANCE: Camp Chef SmokePro DLX PG24B
Pellet Purge and Grease Management Systems25,000 BTUs cooking power500 Degree Cooking Temp570 Sq Inch Cooking AreaAuto-Ignite feature
FAQ
What is a smoker grill combo?
These combo grills are a great way to offer two very different styles of cooking. While in the past you've had to have two very different setups, sometimes forcing you to keep on top of both of them at once, the introduction of these hybrids means that BBQ enthusiasts can have greater dynamism while barbecuing.
Check out our guide to the best gas charcoal hybrid grills