Smoked bacon-wrapped chicken thighs are cooked low and slow for the ultimate barbecue flavor. Learn the best woods and dry rubs to use with our backyard BBQ recipe.
Smoked bacon-wrapped chicken thighs are a delicious barbecue dish to please any crowd at your next BBQ party or tailgate. This delicious barbecue meat is easy to prepare and cook, and only takes a couple of hours in your smoker. Adapted from our popular smoked chicken thighs recipe, this appetizer is wrapped in bacon for a meaty bite bursting with flavor.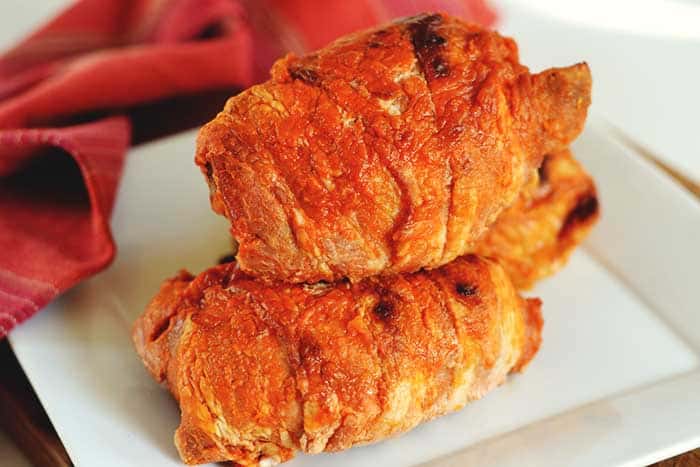 Meat Prep
Use a paring knife to trim the excess fat from around the thigh, including any loose skin or meat. Pat dry with a paper towel to prepare for our BBQ dry rub.
To wrap the bacon, stretch each strip to double its length. Wrap one bacon strip per thigh and use a toothpick if you need to. Leave the ends of the thigh uncovered to allow excess juice to run off during cooking.
Dry Rub
We're going to use my favorite BBQ chicken dry rub recipe to add some extra flavor to the meat. This simple rub uses a beautiful blend of paprika and chili powder spices to give the meat a kick when they come straight from the smoker.
Combine the dry rub ingredients in a small bowl. Arrange the chicken thighs on a baking sheet or aluminum pan, spaced apart. Apply the rub to the thighs generously, covering both sides. Find any parts where the skin pulls away from the meat, and rub in the seasoning mix there too.
Best Wood
Use apple wood chips for smoking chicken thighs and bacon. Fruit woods pair superbly with poultry and pork, and apple fits the bill perfectly for both meats on show in this recipe.
Avoid heavy woods like hickory or mesquite. These emit thick smoke with an aroma that can engulf and overwhelm white meat and pork.
Times & Temperatures
Chicken thighs need to be smoked at 225°F (107°C) for 45 minutes per pound of meat until the internal temperature of the thickest part of meat has reached 165°F (74°C). For our recipe, this means we need to smoke for approximately 2 hours.
Quick Tips
Before cooking your chicken thighs, brush the grill grates with a light layer of canola oil. This will help prevent the thighs from sticking to the grates as they cook. Canola oil also has a high smoke point, so will withstand the heat well.
When you do place the meat onto the grates, one or two inches between each thigh. This will allow good airflow in your smoker chamber, evenly coating each thigh in smoke.